Sports
Albert Pujols Strengthening His Contract Duration And Career Stats; Gets A Step Close To 600th Career Homerun
Albert Pujols Strengthening His Contract Duration And Career Stats; Gets A Step Close To 600th Career Homerun Dominican-American professional baseball first baseman Albert Pujols plays for the Los Angeles Angels in Major League Baseball. He is an accomplished person and is a fan favorite, who has been able to cement a firm place in the hearts of the Angels' fans.Today, we shed some light on how he is bolstering his career stats and contract duration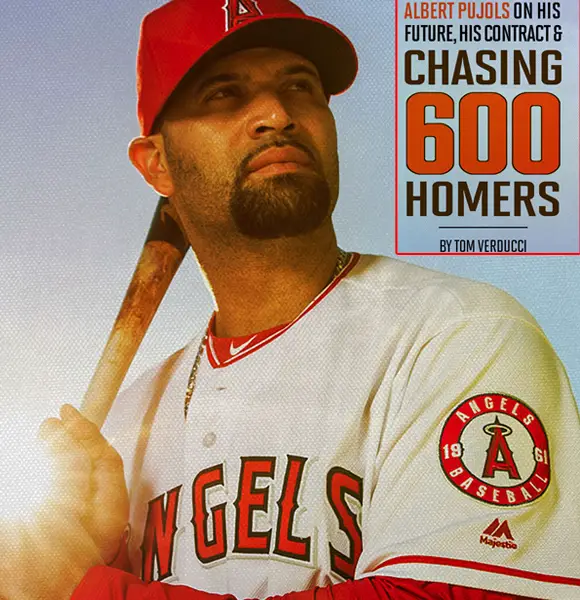 Dominican-American professional baseball first baseman Albert Pujols plays for the Los Angeles Angels in Major League Baseball. He is an accomplished person and is a fan favorite, who has been able to cement a firm position in the hearts of the Angels' fans.
Today, we shed some light on how he is bolstering his career stats and contract duration. Also, the case that he is so close to smashing his 600th homerun makes his next appearance interesting.
So let us get started.
Facts About Pujols Career: Career Stats and Representing Teams.
Pujols previously played 11 seasons for the ever developing St. Louis Cardinals. He became a three-time National League champion, a three-time Most Valuable Player (MVP) ( in 2005, 2008, 2009), and a nine-time All-Star during his stint with the Cardinals from 2001-2011.
After the 2011 season, Pujols drew major attention from the Miami Marlins, and the Los Angeles Angels and the Cardinals. The Cardinals presented Pujols with a 10-year, $210 million worth contract (with $30 million deferred) and also the Marlins offered a similar deal to Pujols. But eventually, Pujols ended up signing with the Angels for close to a whopping $254 million contract. 
Albert Pujols signed a ten year/$240,000,000 contract with the Angels of Anaheim, a contract that included $240,000,000 guaranteed amount, and a yearly average salary of $24,000,000.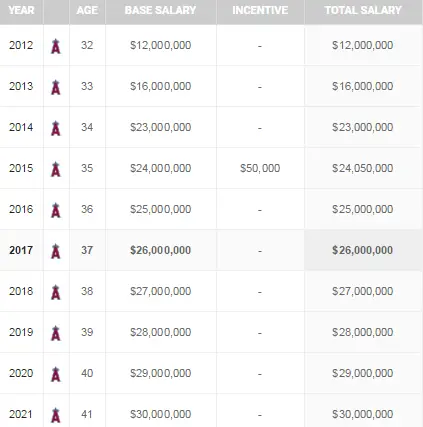 Caption: Pujols' Detailed Contract with the Angels.
Photo Credit: spotrac.com
Despite such a whopping contract, he, however, tops the list of the worst contracts in the MLB.
Pujols, a man with such a powerful swing, is someone who has always been successful with his career which includes a staggering amount of hits, 2,873 to be precise and moreover, he gets better every season.
His stats suggest what he brought to the table to every team he has ever represented, despite having suffered several injury blows like the one he did recently when he suffered a hamstring injury.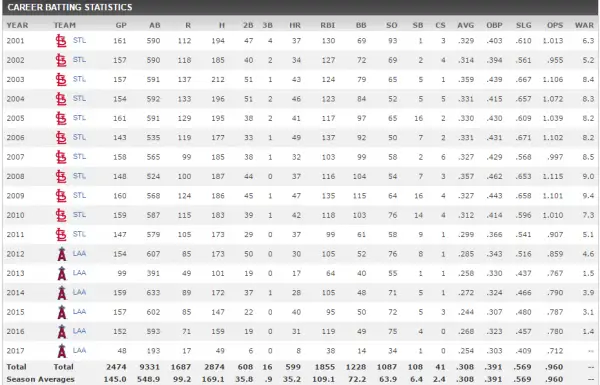 Caption: Alberto Pujols Career Stats.
Photo Credit: espn.com
Based on these amazing stats, he surely is going to get better on the list of baseballers with a healthy salary, and it is also going to have a say on his net worth, which as of now stands in the $110 million mark.
Close To His 600th HomeRun:
Also, did you know that he has just hit his 599th homerun and is one HR away from reaching the 600 mark?
He hit his 599th home run in Tuesday night's 9-3 Halos victory at Angel Stadium over the Braves.
However, he said that he is unaware of the landmark.
"When I play the game during the season, it's hard for me to focus on what's in front of me. I'm aware of the history, don't get me wrong, I respect that, but I think that's the kind of distraction that I don't want to bring into the game for me.Numbers are numbers, but my main goal is to try to win a championship and to try to do whatever I can to help this ballclub day in and day out."
Furthermore, the Angels' manager Mike Scioscia also said,
"That's really pretty cool,To be able to witness that, we're all having a kick out of that."
We could be in for history soon folks!
Pujols' Married Relationship With His Wife.
Pujols is happily married to his wife Deidre Pujols since 2000 and has five children namely Isabella (Deidre's daughter from her previous relationship), Albert, Jr., Ezra, Sophia, and Esther Grace.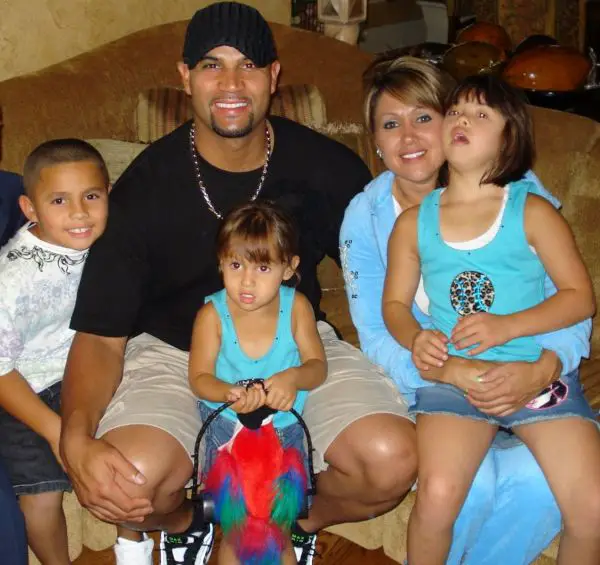 Caption: Alberto Pujols and his adorable family.
Photo Credit: Name of Sport
He keeps his wife way from the spotlight mostly, but back in 2011, his wife lashed out at the Cardinals as the Cardinals offered just a 5-year deal to Alberto Pujols despite the couple making it clear that Pujols would stay in St. Louis even if they pay him less.
Deidre said,
"The offer that people have seen on television I want to tell you what, listeners especially, had that offer been given to us with a guarantee, we would have the (Cardinals) bird on our back. When it all came down, I was mad. I was mad at God because I felt like all the signs that had been played out through the baseball field, our foundation, our restaurant, the Down Syndrome Center, my relationships, my home, my family close. I mean, we had no reason, not one reason, to want to leave. People were deceived by the numbers."
She then added,
"When you have somebody say 'We want you to be a Cardinal for life' and only offer you a five-year deal, it kind of confused us. Well, we got over that insult and felt like Albert had given so much of himself to baseball and into the community ... we didn't want to go through this again."
She indicated the key moment was the St. Louis Cardinals' initial offer was for five years and was worth $130 million.
Good to know that he has his wife's full backing in his life.
Stay with us for the emerging updates on Albert Pujols!