Sports
Andrea Pirlo: Divorced With Wife of 13 Years, Enjoying Beach Vacation With Girlfriend Valentina Baldini
Andrea Pirlo needs no introduction. "The Architect," "Mozart," "the Professor" & "The Metronome," whatever you call him, he is a maestro. 
The veteran player, who went through a divorce in 2014 ending his thirteen years of marriage with Deborah Roversi, was seen enjoying a vacation with his new girlfriend.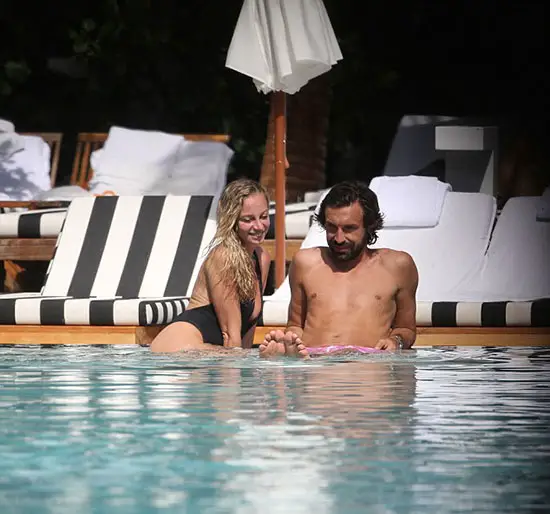 Caption: Pirlo showed off his impressive physique  with his girlfriend Valentina enjoying a holiday in Miami on Nov 3, 2015
Source: dailymail.co.uk
Now Chelsea boss (then Italy Manager) Antonio Conte hesitated to pick the legendary free-kick taker Pirlo for Italian Euro 2016 team. And in return, Andrea Pirlo decided to take a break at Miami Beach with his stunning girlfriend Valentina Baldini and his daughter Angela while his country continued to impress at Euro 2016.
The 36-year-old legendary sportsman was seen enjoying sun bath alongside his girlfriend blonde beauty Valentina, who looked sexy and stunning, showed off her curves as she was seen featuring in a plunging black swimsuit.
Divorced With the Previous Wife:
In 2001, Deborah married Andrea Pirlo following their love life. Pirlo was a budding star at that time and his best year was yet to come.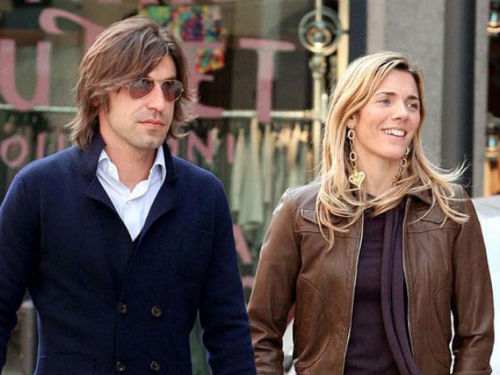 Caption: Pirlo with his then-wife Deborah. They have two lovely children together: Niccolo who was born in 2003, and Angela, born in 2006.
Source: playerwags.com
After around 13 years of their marriage, the couple decided to end their marriage relationship in 2014. The separation took place following Andrea's affair with Valentina Baldini, the woman Deborah met at his golf club while Pirlo was in Italy.
This separation came as a shock to many of his fans as Pirlo had this clean and family-oriented image. The main reason behind this divorce was involvement of the third women, Valentina Baldini, who is a real estate agent. The allegations were very much true, and they were seen many times together.
Quotes on Pirlo:
Andrea has demonstrated all his great talent and worth. When we played together, everything started with him. He always had the great gift of being able to visualize and anticipate plays before everyone else. His vision, what he can do with the ball, and what he's able to create, make him a true superstar. Andrea has something which you don't see very often. — Roberto Baggio on Pirlo in 2007.
When Andrea told me that he was joining us, the first thing I thought was: "God exists." A player of his level and ability, not to mention that he was free, I think it was the signing of the century! — Gianluigi Buffon on Pirlo's transfer to Juventus in 2011.
Pirlo is a silent leader. He speaks with his feet. — Marcello Lippi
To pass the ball to Andrea Pirlo is like to hide it in a safe. — Zbigniew Boniek
Is he the best player of his generation? Not quite, but he is the most important. — Michael Cox
New York City midfielder Andrea Pirlo, an Italian Maestro, has become Major League Soccer's highest-paid player following his arrival from Juventus in 2015.
According to ESPN, the Italian international enjoyed a whopping $8 million (£5.175m), which is the highest salary in MLS – more than Frank Lampard, Steven Gerrard, David Villa and Didier Drogba.
Being Dad soon!
Caption: Andrea Pirlo was seen with her girlfriend Valentina with baby bumps on streets of New York.
Photo credit:app news.be
The clock is moving, and once again Andrea Pirlo will become the father the of her third children, the first born of his relationship with Valentina Baldini, after divorce to his wife Deborah Roversi with whom he shares two children, Nicholas and Angela.
The star of the New York Fc from MLS was photographed by "Who" around the US city with his girlfriend Baldini, who was six months pregnant moved somewhat 'tired from new forms of a future mom.
Pirlo's Short Bio:
Andrea Pirlo, (born 19 May 1979) is an Italian professional footballer who plays for New York City FC in America and also plays for the Italy national team. Pirlo is a free-kick specialist.
He is usually deployed as a deep-lying playmaker in midfield for both his club and national sides but is an expert in midfield due to his vision, ball control, creativity and passing ability. He is widely regarded as one of the greatest ever exponents of this position.
Pirlo started his club career as an attacking midfielder with his home-town side Brescia and helped his team to win the Serie B title and later to obtain Serie A promotion in 1997. He has two UEFA Champions' League medals, Six Serie A title medals and a World Cup medals under his belt. Currently, Pirlo is playing MLS (Major League Soccer) for NY City FC in America.