Sports
Athlete Paula Radcliffe' Life With Husband and Children, Training Her Daughter to Be Athlete?
Paula Radcliffe is the mother who did something unimaginable while other women if in her shoes would rest at home. We know she is a professional runner but what exactly did she do that other woman could not even think of doing?
That unimaginable thing that Paula Radcliffe did was that being a professional runner, she even ran a day before she gave birth to her first daughter who was born on January 17, 2007. This is not the end because Paula continued her running in just 12 days after her daughter was born. She did this because Paula's then Gynecologist suggested her that it would be beneficial for both child and mother if she would exercise instead of lying around while pregnant.
Boyfriend and Dating History: Also Married Life and Husband
Paula has been getting support from her husband Gary Lough, a fellow runner who was first her friend for five years and afterward began dating her after meeting for the first time in Loughborough University. The couple got married in 2000.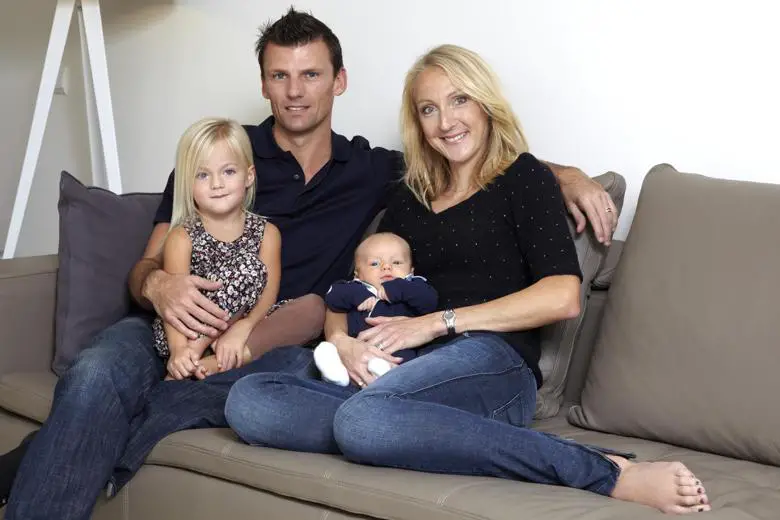 Caption: Paula Radcliffe with husband, daughter, and son in 2010.
Source: liverampup.com
Arguing how supportive Gary is she, in Jan 2008, described to Belfast Telegraph stating,
"I couldn't do all this without Gary's support. Before the New York Marathon, I don't think I changed a nappy for about three days."
She further described the support of her husband in July 2012 to standard.co.uk saying,
"No, Gary is so much more than a house husband. He does have to play a lot of that role and there aren't that many guys who would willingly do as much nappy changing as he has done. But our relationship is such that we do not take it in turns to look after the kids it is just whoever is free at the time."
Later in 2010, the couple welcomed a baby boy and named him Raphael and revealed the news to her fans on Twitter.
So happy to announce that Raphael arrived at 19.28. Our gorgeous little boy now sleeping peacefully.

— Paula Radcliffe (@paulajradcliffe) September 29, 2010
Paula's Daughter is a Little Runner:
Paula's daughter has already stepped into her mother's shoes. Little Isla has already begun training for 10 hours a week. Paula says,
"She is very, very competitive. She's only happy if she beats everyone in a race. But her big thing is gymnastics, which she trains for seven and a half hours a week. She'd do more if we let her. She also does one and a half hour's running and half an hour's tennis a week."
Moreover, she has already started to achieve medals alongside her mother. Paula's little daughter won a medal for participating in the Young Athletes Run in Worcester.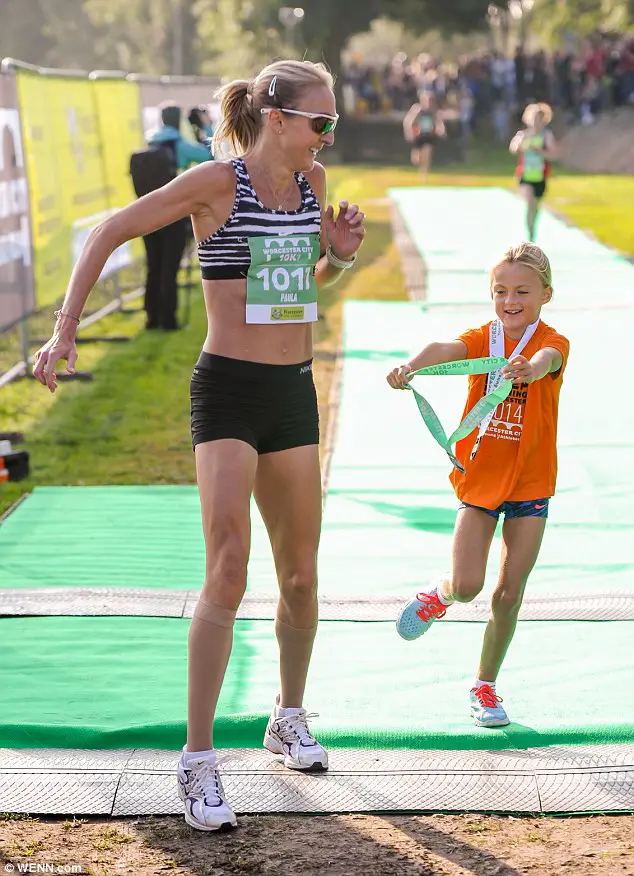 Caption: Paula Radcliffe running side by side with daughter Isle.
Source: dailymail.co.uk
It looks like the mother and daughter are all set to dominate the running track in near future. Despite being that open about her personal life, she is not the same when it comes to revealing the pile of fortune she has. The 42 years old has decided not to unveil her income of net worth till now.