Sports
Baseball player Freddie Freeman and His Wife Welcome a Baby Boy to the Family!
Well well, it looks like a newly born baby is a boon for a Canadian-American baseball player, Freddie Freeman. But why is it so? Why is a newly born baby a boon for this star player?
It all happened in a game between Marlins and Braves. The Braves first baseman was in a rush during the game and was replaced by Blake Lalli. What was the main reason behind it?
A Baby Boy Arrives
With his wife in final stages of labor, Freddie Freeman decided that it was the time to leave the game. Freeman went hurryingly out of dugouts during his game against Marlins, according to Fox Sports.
Moreover, it was in March of 2016 when Freddie's wife, Chelsea Freeman disclosed to the world that both of them were expecting a baby boy when she tossed up a ball to her husband to hit it.
On September 15 of 2016, Chelsea Freeman gave birth to a baby boy and posted on Twitter after the birth of Frederick Charles Freeman II with a caption "He Is healthy And Perfect!!"
Additionally, Freddie took his wife and newly born son home and headed straight from Atlanta to New York for his next game. He was pumped up, and adrenaline rushed through his veins, and that's the very reason he had four hits which included a home run and three RBIs that helped Braves win 7-3 over Mets. Freeman said after the game,
"My flight was at 11:30, but that doesn't mean I got any sleep last night because my son was screaming his head off,"
Moreover, he added,
"He found out what his lungs can do last night."
Married To His Love of Life in 2014 After Three Years of Relationship!
The two love birds had been dating since July of 2011 when Chelsea was still in college. After one and half years, she migrated from Florida to Atlanta where Freddie played.
The relationship was in a flow then and onwards. Both of them had successful stints in their respective careers where Chelsea worked in Atlanta, and Freddie had established himself as an upcoming star in MLB.
Finally, Freddie popped up the question in 20th January of 2014 to his bikini model later turned into realtor girlfriend Chelsea Goff on a boat and the answer was obvious yes.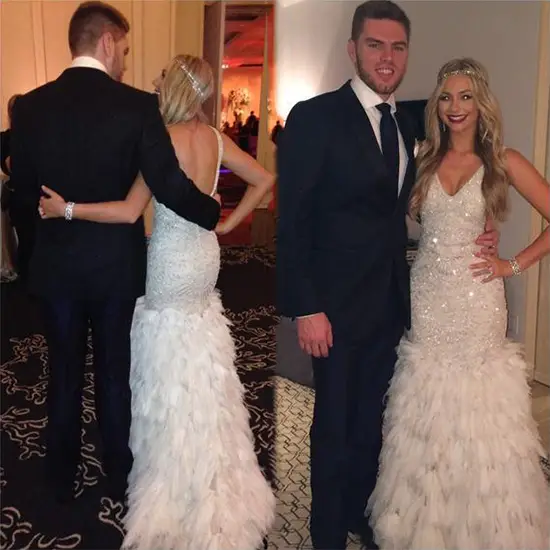 Caption: Freddie Freeman and Chelsea Goff on their wedding day on November 24, 2014
Photo credit:bustedcoverage.com
Approximately after three years, Freddie and Chelsea were engaged. The couple married on November 24, 2014, in Florida at St. Regis BAL Harbor. The marriage ceremony was attended by MLB players such as legendary Chipper Jones and Jason Heyward.
Freddie Freeman signed a long-term contract when he agreed to the eight-year deal with Atlanta Braves in 6th of February, 2014 making it the longest contract in the history of Atlanta Braves. The deal was worth as that of $135 million, and his salary is 12 million USD as 2016. Wren said in a statement released by the team.
"Freddie has established himself as one of the best young talents in the game,"
Moreover, he added:
"We are excited to sign one of our homegrown players to a contract that will keep him in a Braves uniform for the next eight seasons."
The deal is certainly worth for two-times all-star player as of 2013 and 2014. Braves certainly believe he is the man to carry the legacy as Freddie is a sixth generation Salvationist.