Sports
Basketball Player Jordan Hill On Signing His New Contract; Dealt With Girlfriend Issues Back In Time.
The contract is simply a legally binding agreement between two parties. Jordan Hill played for four clubs in his seven years career and had recently signed a new contract with a new club.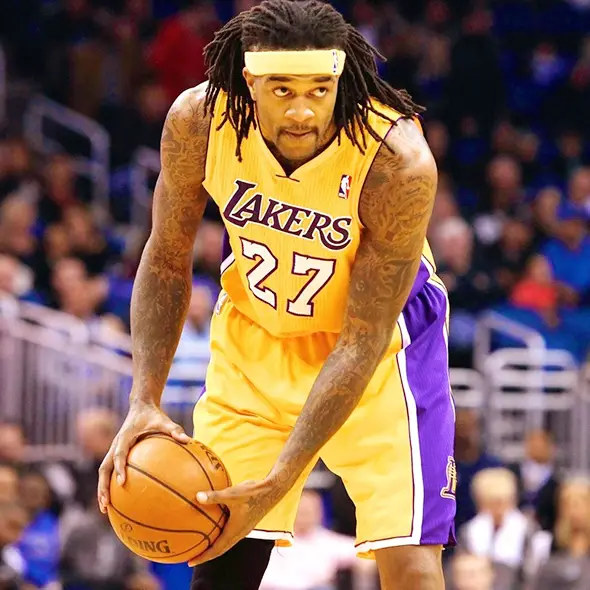 Jordan Hill played for four clubs in his seven years career and had recently signed a new contract with a new club. There is more than playing career in Hill's life. Along with his legendary career, his love life has been a subject to news as well.
A New Contract!
On July 20, 2016, Jordan Hill was signed by Minnesota Timberwolves. The big veteran basketball player was signed for two years. The Timberwolves declared the signing following the agreement to terms with Hill on a deal worth $8 million.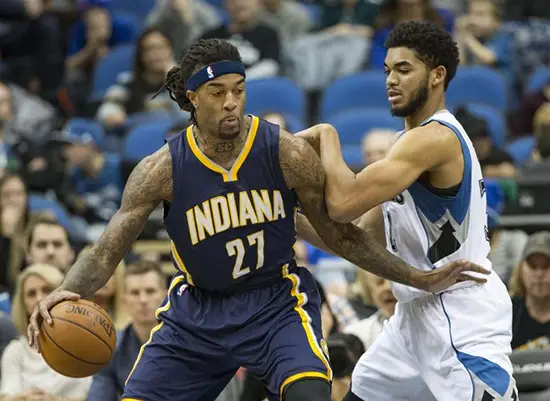 Caption: Jordan Hill is playing for Minnesota Timberwolves.
Source: hoopshabit.com
The 29-year-old Hill averaged 8.8 points and 6.2 rebounds in total 73 games last season for the Indiana Pacers. The big 6-foot-10 guy Hill has also played for the Knicks, Rockets, and Lakers in his career.
Caption: Jordan Hill played for Lakers in 2015 season.
Never a star-level talent who was No. 8 pick in 2009, Hill has found a role everywhere, and in each position, he's been in the NBA. He's one of the tough defender as well as a good rebounder who uses his height and athleticism along with charisma to make plays near the basket. There were few better pick-and-roll runners available in the market and by Minnesota Timberwolves nailed it.
The 6-10 forward/center has played all over seven seasons with Indiana, Los Angeles Lakers, Houston, and New York. In his overall 420 games which include 120 starts, Hill's career averages as that of 8.0 points and among that 49.7 percent is on shooting and 5.9 rebounds in 19.0 minutes per contest. Hill's best season till date came two years ago with the Lakers where he made a career-best 57 starts over the season, totaling career-high averages of 12.0 points and 7.9 rebounds in 26.8 minutes per contest. 
Hill was firstly selected 8th overall in the 2009 NBA Draft by the Knicks. According to Celebrity glad, Hill's net worth is that as of $90 million and market value is that as $29 million.
Girlfriend relating issues!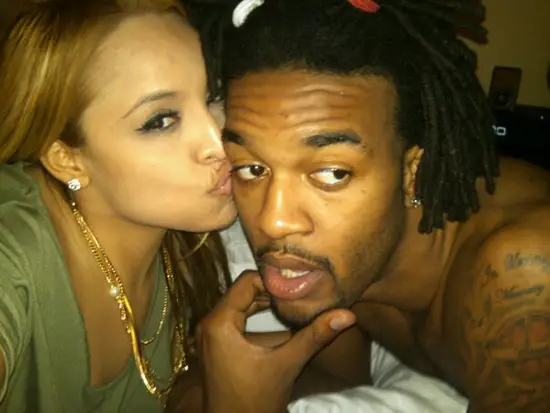 Caption: Hill and his then-girlfriend Darlene Luna.
Source: playerwives.com
Along with his career, Hill was accused of hitting, choking and provoking his girlfriend, Darlene Luna. Jordan Hill, who was playing with the Houston Rockets during that time, got into a dispute with the woman on Feb. 29, 2012, while they were discussing their future at his apartment in Houston, according to court documents.
Hill's then girlfriend then flew back to her residence in Orlando and called police in Houston after four weeks, on March 29. Moreover, Luna also emailed pictures of bruises on her legs as well as her upper body and also copies of plane tickets to Houston and returned ticket as well. She was in a relationship with Hill for about two years which started in 2012.
Later, Hill said in a written statement that:
"I'd like to apologize to the Lakers organization and to all of their fans for the untimeliness of these accusations. I promise to keep my focus and attention on the playoffs during this time and to helping my team win another championship."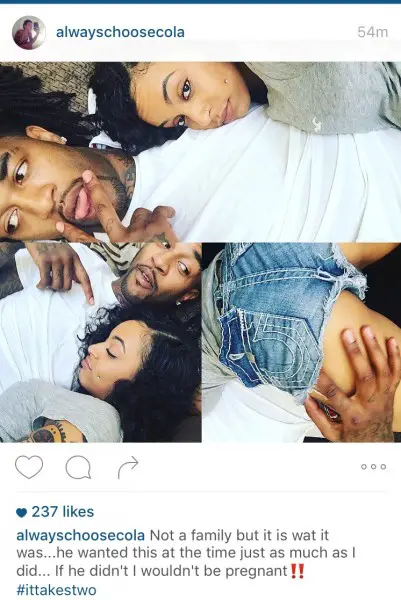 Caption: Jordan Hill's current girlfriend Cola posting the trending news.
Source: blacksportsonline.com
Moreover, news also broke that Jordan Hill is expecting a baby with his Magic City stripper girlfriend, Cola.
Cola also lashed out at haters on Instagram about Jordan leaving her after she got pregnant saying they are not a family. Hill is not married and has no wife till this date.