Sports
Cancer Survivor Tennis Icon, Martina Navratilova, on Gay Marriage: New York Wedding With Lesbian Partner
Marriage is not always between same sex. You don't need to get hitched to the opposite sex in the name of the wedding. You can marry anyone with whom you feel comfortable, but you must be sure that you can spend rest of your life with him/her.
Today, we are talking about Tennis icon Martina Navratilova, who got bound in marital relation with her long time partner at the age of fifty-eight.
Martina Navratilova, 59, Enjoyed a Lesbian Wedding at New York
On December 15, 2014, Martina married her longtime partner Julia Lemigova at the Peninsula Hotel in New York City. Their marriage was seen very much as a public statement. During that time, Martina was fifty-eight, and Julia was forty-two. At the U.S open, Martina proposed her longtime girlfriend Julia for the wedding by going down on one knee while on camera. Their wedding was attended by Julia's two daughters Victoria Lemigova and Emma Lemigova.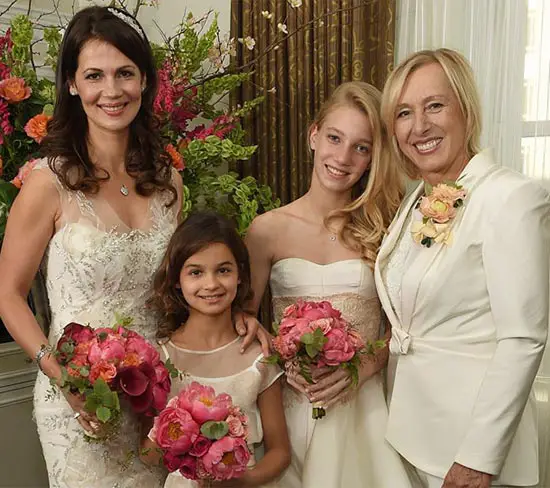 Caption: Martina married her longtime partner Julia Lemigova at the Peninsula Hotel in New York City.
Source: tinypic.com
According to Julia, her daughters like Martina. She said to daily mail in Jan 2015-
 "Martina was just a part of the family. My girls adored her — right from the off really. She'd play tennis with them, do their homework with them and cook. They call her Marti — a short, sweet version of Martina."
BBC caught up with Julia and Martina just moments after their wedding.
Caption: Both Martina and her wife Julia are overwhelmed to get married and hope to inspire family setup like them(2014)
Martina and her Lesbian Partner Julia Met Each Other Fifteen Years Ago:
Fifteen years ago, Martina met Julia at a Parisian dinner. During that time, Julia was modeling and meeting different famous and royal people which included tennis icon, Martina Navratilova.
 Talking with daily mail, in Jan 2015, Julia also said-
'I suppose our similar Eastern European backgrounds provided the connection at first. There was a lot in common. I remember her being very funny, and us just laughing a lot.'
They again met each other in a restaurant with Victoria and Emma. Julia introduced Martina to her daughters and chatted. After that, she was sure that she wanted to meet Martina again. In the beginning, they were friends and later on their friendship turned into love.
Martina Navratilova: A Cancer Survivor
Martina was diagnosed with a breast cancer in 2010. To the U.S.A Today Newspaper in 2010, she said-
'I thought, "I'm going to lose my boob and then my hair, and I don't have that much."
She fought with cancer for six months and now she is cancer free. To fight against cancer is itself an accomplishment. But American tennis player and coach, Martina Navratilova once said that she don't know what normal life is and doesn't look forward to living a normal life.
"I shouldn't say I'm looking forward to leading a normal life, because I don't know what normal is" – Martina Navratilova.
Martina's Short Bio:
Born on October 18, 1956, Martina Navratilova was raised by her tennis coach and accomplished gymnast mother as her parents had a divorce when she was three years old. She started to play tennis since the very young age and finally pursued her career on it. 
Today, she has excelled as one of the most accomplished tennis icons. She was also selected as the greatest tennis player by "Tennis magazine" in 2005. Martina has ten major mixed doubles titles, 31 major women's doubles titles and 18 Grand Slam singles titles. Navratilova was awarded an honorary fellowship at Lucy Cavendish College of the University of Cambridge on 12 May 2016.