Sports
Chris Gayle Reveals Name Of His Child But Is He Married Or Welcomed The Baby With Girlfriend?
World boss of Cricket or call him Jamaican Superman, Christopher Henry Gayle is one of the most powerful hitters of cricket ball today. He's been equally in highlight due to his games as well as controversies.
Chris Gayle and his to be wife Natasha Berridge have revealed the name of their newly born baby, but it is somehow controversial matter. So how is it full of controversies?
Chris Gayle announced the birth of his child on 20th April 2016 via social networking sites. His Instagram caption read:
We would like to welcome the arrival of our beautiful daughter 'Blush' to this world 2 hours ago, Thank God. #GoodHealth&Strength - The greatest gift and feelings anyone would want. Great experience witnesses every bit of it. ????????????????. Have to give my blessings to Tasha, strong woman ????. #Amen
Gayle welcomed the arrival of his baby daughter and named her 'Blush' which is a bizarre throwback to his notorious interview with Australian sports reporter Mel Mclaughlin last summer.
Don't blush baby-Chris Gayle!
Caption: A controversial comment of Chris Gayle which caused a sensation worldwide on 4th January 2016.
Chris Gayle was fined $10,000 for 'inappropriate' and 'sexist' comments to then Channel 10 reporter Mel McLaughlin on live television during a Big Bash Game in Hobart in January. Gayle said to McLaughlin after getting out:
'I wanted to come and have an interview with you as well ... That's the reason why I'm here, just to see your eyes for the first time.'
Moreover, Gayle added:
'Hopefully we can win this game and have a drink after. Don't blush baby.'
The former West Indies captain stated in an interview that he was a victim of double standards and that people have an agenda against him.
'Even before I did that interview the players were laughing because they knew I was going to do some crazy thing or say something to make people laugh,'
The hard-hitting West Indian batsman insisted that he was not affected by all the media reaction to his controversial interview with McLaughlin, but wasn't happy how it all blew up.
'I didn't feel I was being treated right. The media made a big meal out of it,'
Caption: Mel McLaughling accepted gayle's apology.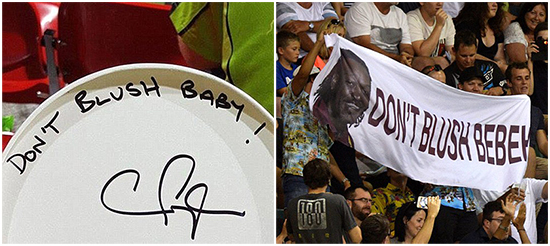 Caption: 'Don't blush baby' became somewhat of a sensation theme, with fans using the phrase to cheer on their cricket team.
Moreover, Chris Gayle fired a shot in his Instagram post which was aimed at "the haters" and all of those who failed to defend him publicly.
Chris Gayle has been in a relationship with his girlfriend Natasha Berridge but is not married. His family consists of Natasha as well as a newly born baby. Gayle has a reported net worth of $15 million, and his annual salary is that of $7.5 million with an income of $4.5 million through premiere leagues such as IPL, BPL, and PPL. He has also earned $3 million through various endorsements as well.