Sports
Football Coach Bret Bielema Getting Romantic With Wife On Television, Wondering How Did They Getting Married?
Football Coach Bret Bielema Getting Romantic with Wife on Television, Wondering How did They get Married?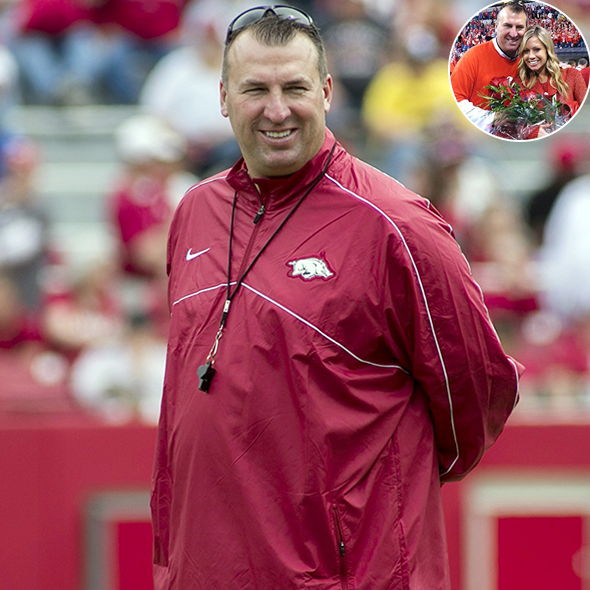 No matter how successful you are on your professional front, your success inevitably depends on your family happiness along with wife's constant support. The happiness and the extravagant energy are the essential ingredients for the ultimate success in a man's life.
Now the question arise, is the success achieved by the football coach Bret Bielema is due to his happily married life? If yes, let's make the time machine go back to their marriage event and learn about how did they got married.
Right or Wrong: Expressing your love in television?
True love sees no place and feels no restriction. Same had been the case for the football coach who got captured by the camera of every media personal while sharing a quick love with his wife.
As posted by Seccountry.com, the camera caught a candid moment between Razorbacks coach Bret Bielema and his wife, Jen when the coach football team Arkansas enjoyed a heart content victory over Ole Miss by 34-30. The camera caught a classic moment when Jennifer leaps in the arm of Coach Bret while the media was interviewing Arkansas quarterback Austin Allen.
Kristen Keith, the host, and reporter of FOX Sports tweeted the entire moment of coach and her wife on her Twitter on 16th October 2016: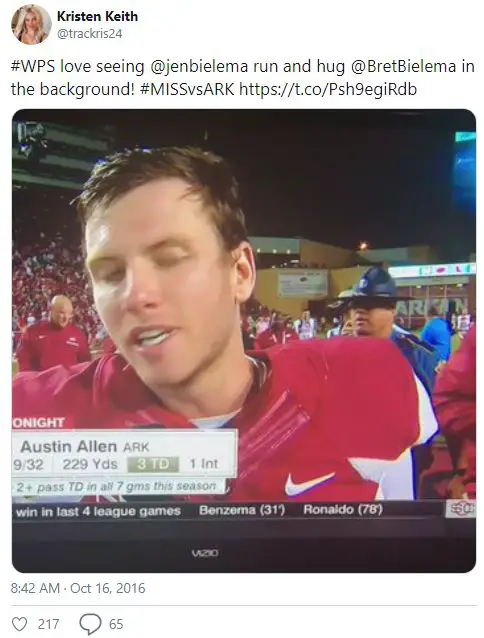 The act caused a sensation in the media, where plenty of his fans enjoyed the hilarious moment the coach shared with his wife. Despite having confusion in their meeting events, Jennifer surely loves her man and has displayed her affection about their consistency in their relationship through her Twitter account as posted on 16th October 2016:

Well, Coach Bret beside being a good football coach you have earned the title of a kind and loving husband of your wife. That moment was a happiness moment for you as well as your wife, so it's not bad to share your happiness with each other though you completely forgot the camera right in front of you!
Get to know story behind their Dating:
You might have seen in movies how men hide their real identity to impress the women they like secretly. Same was the case of the coach Bret who ultimately kept his identity hidden before revealing his real profession to his wife.
As posted by Dailycaller.com on 16th September 2016, the coach recalls the series of incidents on his first meeting with his wife around eight years earlier. He said:
" I don't know if I remember the opening line, but I remember the opening sequence. It was about eight years ago, I still had some game, brought some A-game. The thing I didn't do or what I do. I was with some guys with Wisconsin, one of them might have had a Wisconsin shirt on. I didn't. I told her I was an MBA history professor."
Whereas, the lady of the coach spells out a different version of the story regarding their first meeting. As per her details, they both met in Las Vegas when Bret was still a coach, but she claims to have no knowledge about his profession till four months after they had met. She said:
"I didn't even know he played football or coached or anything until about four months after we met."
There exists a sharp contradiction between their first meeting, as the Fox Sports Radio gives a different version of the story through their tweet post on their Twitter account as on 14th September 2016.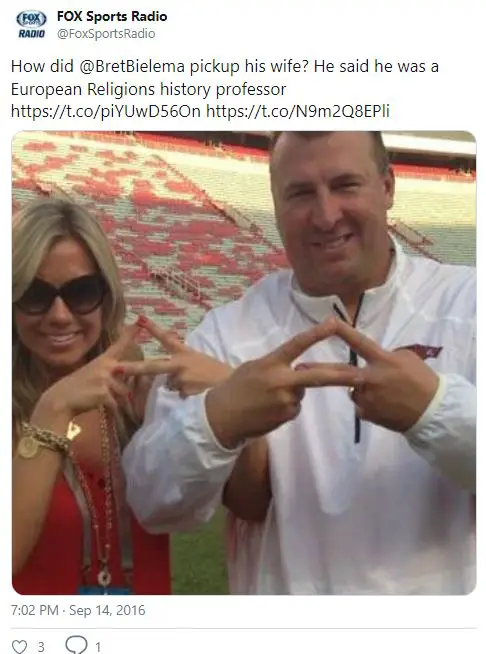 Well, this is an absurd situation as both the couple are not well acquainted about what exactly happened on the day they met and how had they taken an initiation to know about each other.
Maybe they were so involved with each other making each day special making them difficult to mesmerize their day of meeting or maybe they are not such a lovey-dovey couple type to remember their first meeting.
Whatever may be the case but we are undoubtedly enjoying the confusion on the story right!
Are they confused about their marriage like their dating too or not?
On 1st April 2011, Bielema announced the news of his engagement to his long-term girlfriend, Jen Hielsberg. The celeb coach has not shared his profound moment with the lady as he might want to keep the special moment within himself or he wants to have all the memory retained within himself.
However, immediately after the one year of engagement, the coach got married to his Fiance on the 11th March 2012 in Madison.
As posted by bustedcoverage.com on 13th March 2012, the coach had registered his marriage in five different stores to keep an athlete marriage record.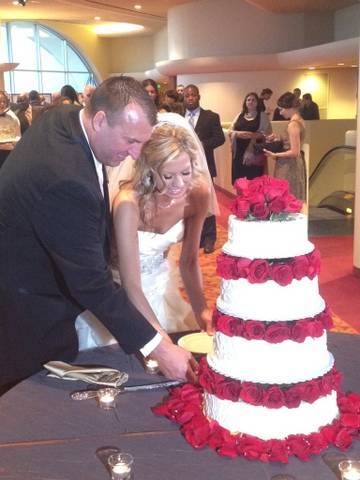 Caption: Bret Bielema with  Jen Hielsberg on their wedding at Madison in 2012.
Source: btn.com
The wedding held in a private ceremony where the groom was seen in a handsome suit while the bride dazzled in a lovely white wedding dress was the most pleasant moment of their life.
The couple is really into each other as there is no rumor of him getting divorced or having any kind of affairs with any other women. 
Although their marriage has crossed three years till date, he has not given his fans the news of his wife getting pregnant. We along with your fans are waiting for the big news Coach! Hope to get it soon.
How much has Net Worth he accumulated?
Being a coach of a well-known football club amounts to a huge fortune. Currently, the coach has an estimated net worth of $8 million, and he earns the annual salary of $3.2 million. The coach is said to have accumulated the net worth through his excessive hard work towards his football club where he has rewarded an extension in the contract for two years from the Arkansas along with raise in the pay making him an additional member of $4 million.
By espn.com on 8th February 2015, the coach earns $4 million annually with an increment of $1 million every year. He shall also be given an incentive of $1 million every year which has made him the top eight coach in the SCH list after achieving the salary of $4 million.
The coach really deserves the extension in the contract as he has been giving his hundred percent for the sake of the club and is continuously monitoring the players even during his hard times. We'll coach you deserve it!