Sports
College Dropout Eli Apple Has Some Serious Stats To Flaunt Backed By Contract With Giants
Eli Woodard or Eli Apple, like people know him, is an NFL cornerback for New York Giants. He has made quite an impression in his NFL career which is evident through a big fan base following him. But how many of you know that Eli is a college dropout? But being a dropout did not hamper his professional career as he boasts a mighty contract with the Giants. Now, let's get hold of his contract and how much he gets paid for doing what he loves. 
Apple's NFL Stats And Stunning Contract With The Giants:
With the 10th pick in the opening round of the 2016 NFL Draft, New York Giants selected Ohio State cornerback Eli Apple. That came as a surprise to many, along with disappointment with the draft pick.
Apple Grade: C. They need linebacker speed. He's their third corner. Plus, I like William Jackson more

— Pete Prisco (@PriscoCBS) April 29, 2016
But his style of play since his college days in Ohio shows why he was worth the pick for the contract with this decorated team. Speaking of his contract, he has been offered a huge 4 year, $15,152,320 contract with the New York Giants.
That includes a $9,219,869 signing bonus, $15,152,320 guaranteed, an average annual salary of $3,788,080. Not only that, in 2017, Apple will earn a base salary of $1,138,742, while carrying a cap hit of $3,443,709 and a dead cap value of $12,397,353. What else can you ask for given the fact that you were termed as a shocker of a signing by many?
Also,  NFLDraftScout.com's Dane Brugler elaborated the pick in an interview. 
"Apple showed improved route anticipation and field/sideline leverage while in man coverage. Tough-minded with a short memory, not allowing negative plays linger. Survivor mentality and developed strong work habits at a young age. Battle-tested with experience in man and zone coverage. That said, Apple is too hands-on downfield and lacks savvy at the top of routes."
Moreover, he added,
"An obvious target for penalties due to undisciplined hand placement, grabbing too much cloth. Experienced in press coverage at the line of scrimmage, but needs to improve his balance and jam technique. Tends to open his hips too early and struggles to recognize routes from bail position, creating too much of a cushion and allowing too many comeback completions."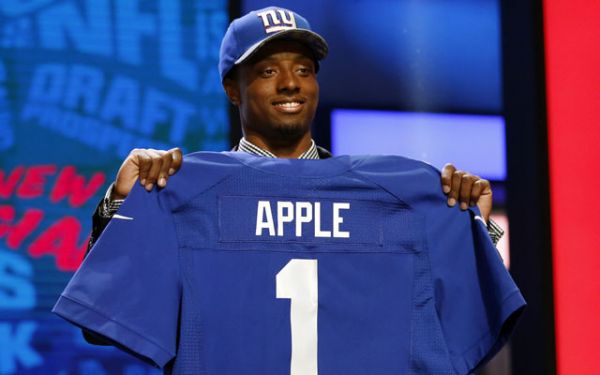 Caption: Eli Apple with his New York Giants Jersey after the pick in the 2016 draft
Photo Credit: cbssports.com
Brugler also ranked Apple as the third-best cornerback in the 2016 draft only behind Florida's Vernon Hargreaves III (who went to Tampa Bay with the 11th pick) and Houston's William Jackson III. 
Not only that, Apple's records does justice to the rank awarded by Brugler as he has been able to impress the authority at the Giants and also get out of the rookie tag by showing his mettle, proving that he belongs in the NFL. 
Caption: Some Highlights of Apple's days at Ohio (Published on Dec 14, 2015)
Eli's Mother On Her Son's Journey:
The journey that Apple has made so far is beyond unimaginable. But what was it like for his mother? Annie Apple who is the mother of NY Giants' Eli Apple elaborated in an interview what was it like on the day of the draft. She shared,
"Eli was offered Rolex watches and diamonds to wear on draft day. I told him, 'Dude, you're an unemployed college dropout. You will not be on TV with a Rolex.' So we decided if he needed to know what time it was, he could just look at his phone. I bought him a portable charger."
Moreover, on reaching Chicago for the draft, she added, 
"There was a wonderful welcome reception for the family, though whoever planned the event forgot to include desserts. This is what happens when skinny women rule the world: they forget the chocolate. Clearly, the commissioner owes me a brownie."
Furthermore, she kicked the rumors of Eli not being able to cook and also explained her asking Carson Wentz for money.
"I had to set the record straight that my husband is a former five-star chef and by the extra 15 pounds I'm carrying, we eat quite well."
"Of course I had to ask the $25 million dollar man for some change. 'Hey Carson, can I hold three dollars?' He laughed and said, 'Ask Eli.'
Surely, his mother is proud of him. But Annie Apple is not the only one in the name of his parents as he has a stepfather named Tim Apple who raised  Eli since he was at the age of 2.