Sports
Controversial Bomani Jones in Twitter Wars: Married? Or, Girlfriend?
We will be talking about Bomani Jones whom we would like to address as a controversy magnet for today.He is a co-host at ESPN alongside Dan Le Batard for "Highly Questionable." So, why did we labeled him as a controversy magnet? Stay with us to know all about it.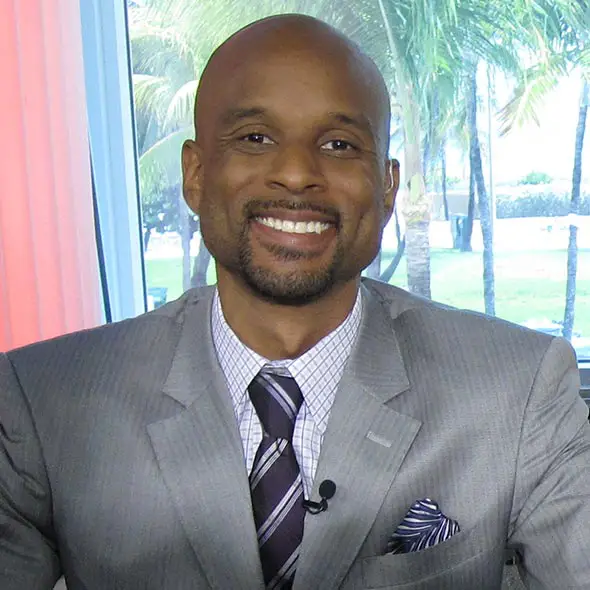 We will be talking about Bomani Jones addressing him as "a controversy magnet" for today. He is a co-host at ESPN alongside Dan Le Batard for "Highly Questionable." So, why did we labeled him as a "controversy magnet"? Stay with us to know all about it.
So yes, Bomani Jones dragged himself into the abyss of controversy when he contradicted  Russell Wilson's statement on practicing celibacy with his to be wife Ciara. He expressed his distrust saying, "I don't believe him because I don't think either one of them looks especially stupid," on his show on July 7, 2015. He also added that it was none of their business too. 
The controversy aggravated when he got into a war eventually. Now don't panic as it's just only a twitter war; however, it came with a twist when we came to know about the person with whom he was actually arguing. It wasn't Russell this time, but it was another guy instead.
Bomani Jones @bomani_jones was approached by Chris Broussard, @Chris_Broussard, a fellow ESPN sports analyst who had been unsatisfied by the words of Jones, on the very day he dropped his perception over Russell Wilson's decision.
Now let's have a closer look at it.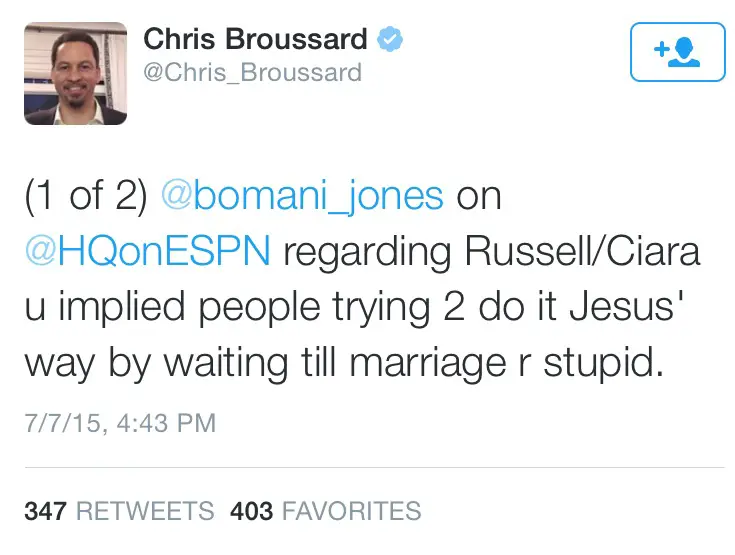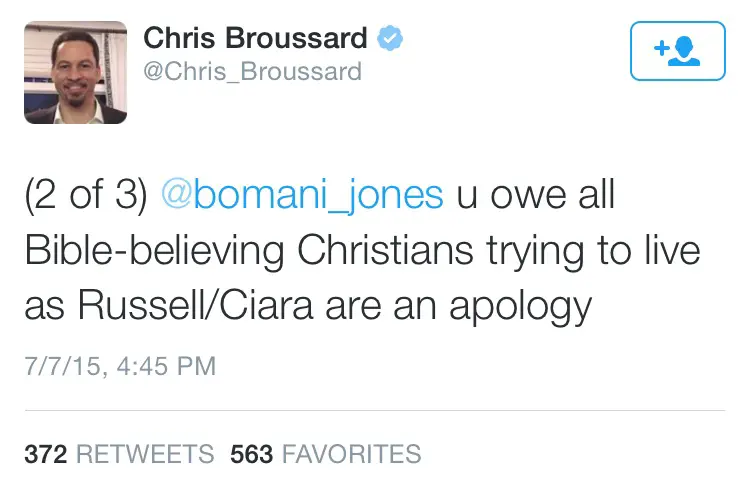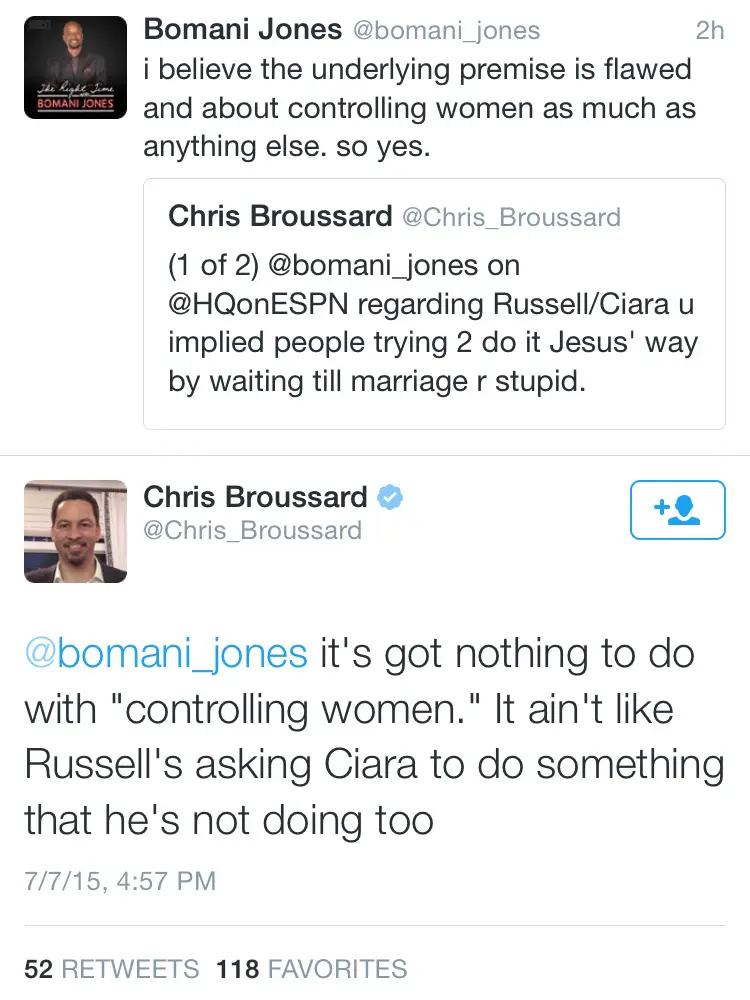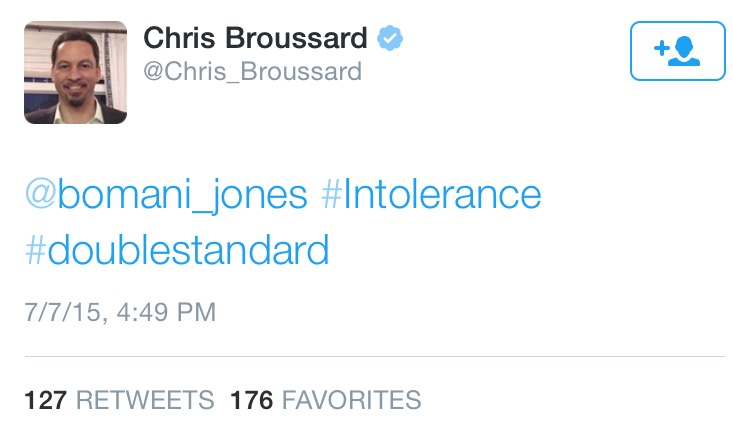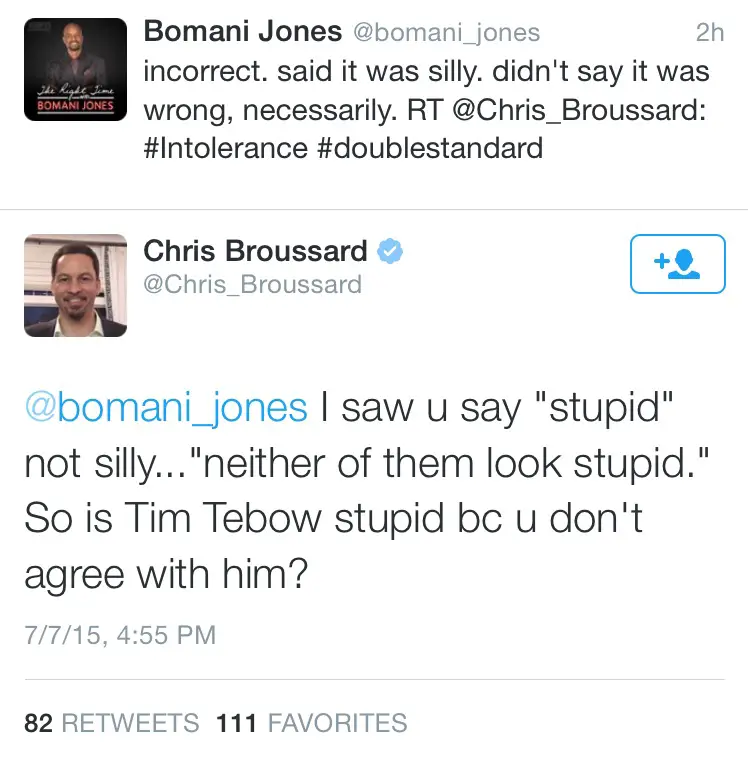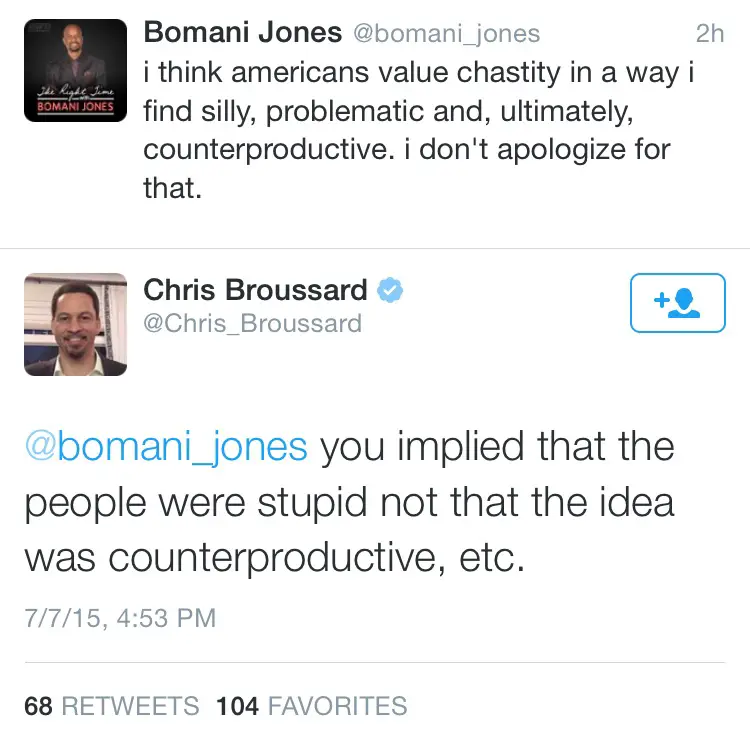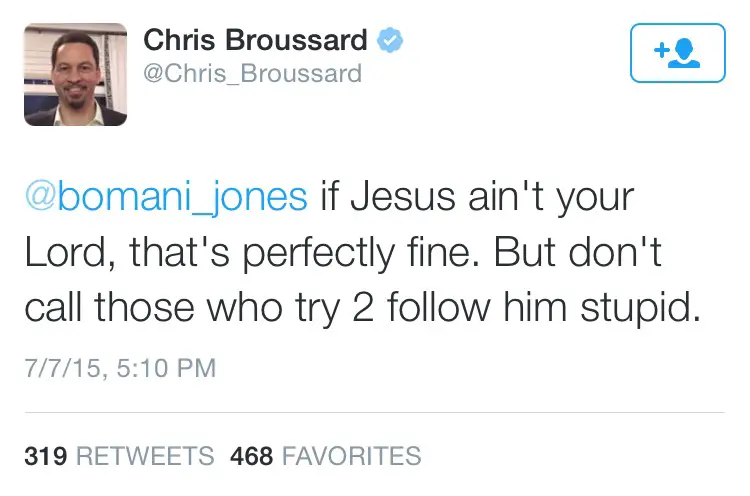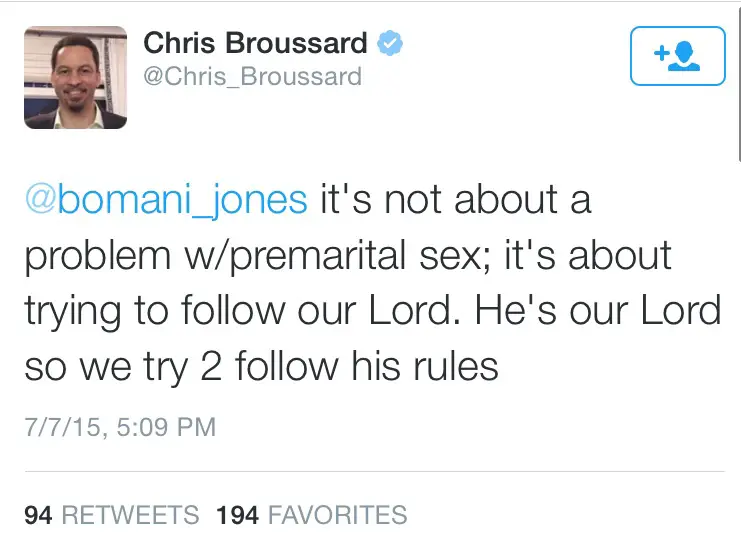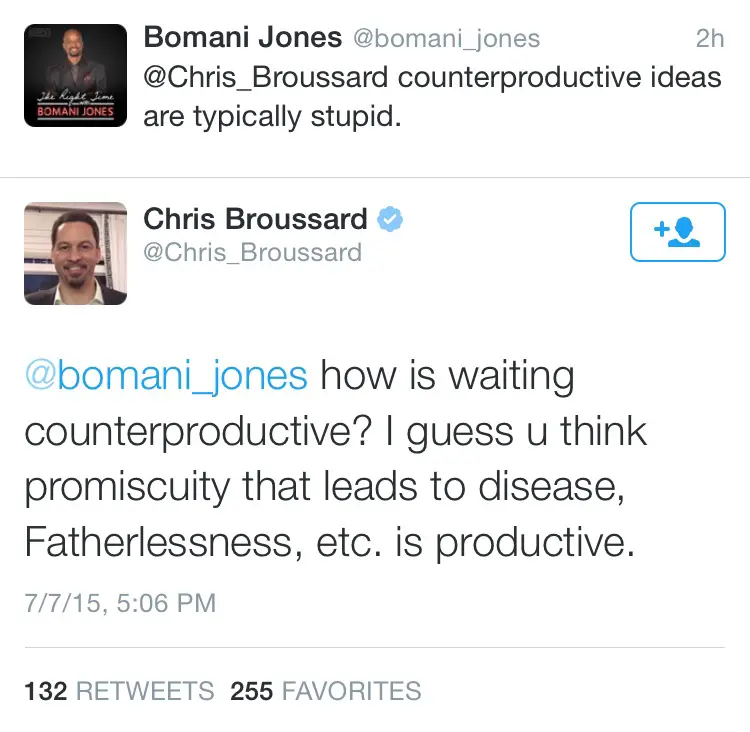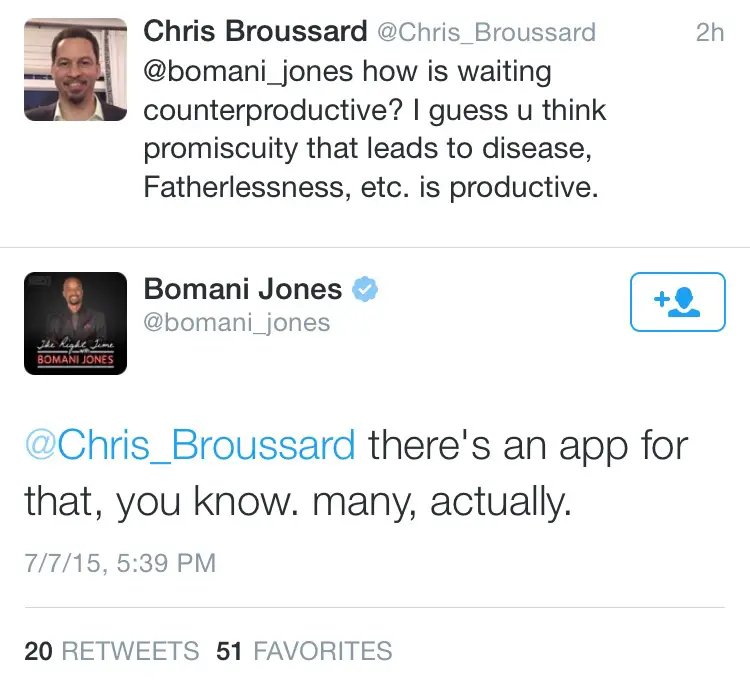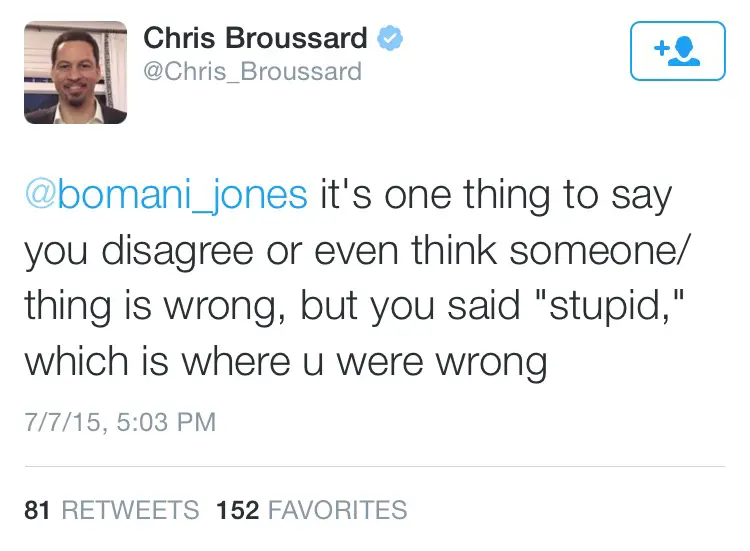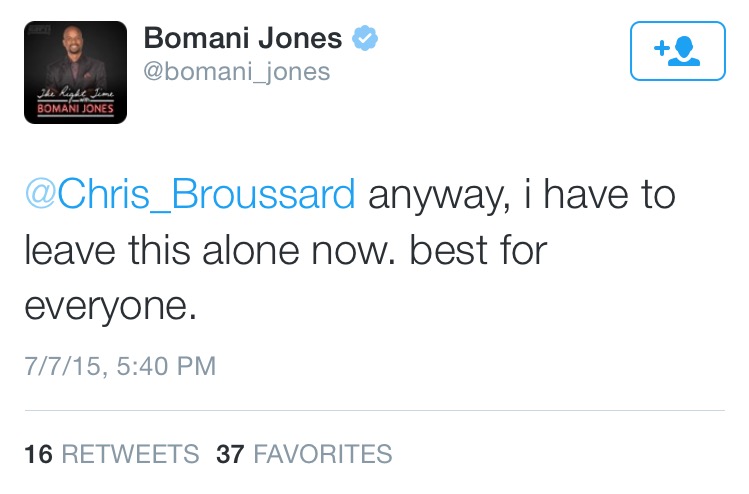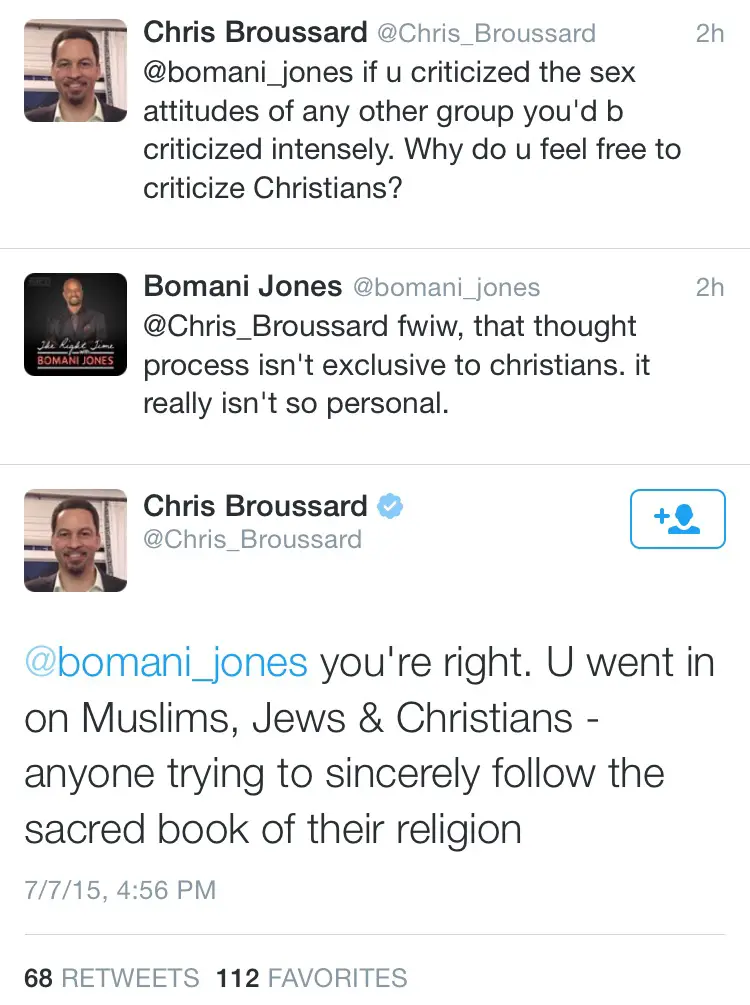 Caption: Bomani Jone and Chris Broussard's Twitter warfare.
Source: wordpress.com (14)
Bomani has been known as a controversy magnet. He made the news a few months back when he attended an ESPN show wearing a controversial t-shirt that read 'Caucasian' but later clarified when ESPN's Molly Qerim questioned him. He said,
"Because it was clean, the other thing is, I think it's funny."
He further added,
"It's just like the Cleveland Indians shirt, exactly the same as the Cleveland Indians shirt with just one small change. That's it".
Back in May, he participated in a Twitter war with Clay Travis after he cited a new poll titled "Native Americans Aren't Offended By Redskin Name, PC Bros Riot" that apparently had a picture of Bomani wearing his Caucasian t-shirt. And, that was more than enough to put them into the Twitter battlefield.
Just as after he took his one foot out of one controversy, he stepped right into another; not completely but he is sort of into to the controversy that took place after Colin Kaepernick did not take the liberty to stand up during the national anthem before a game in August.
However, Chris Bomani is kind of defending him by saying Kaepernick's critics are all white and that black people are yet to be a part of the 'free country'. He fur
Apart from his professional life and his controversies, we tried to know about his personal life as well, but Bomani seems to have nothing on him till now. There are no records of him having a girlfriend or his dating history. Is he a married man?
Well! We don't have the information regarding it. But what we do know is that the 35-year-old still has a lot of time left in him to get a wife.
Bomani Jones' Short Bio:
Bomani Jones was born on August 26, 1980. He was born in Atlanta, Georgia and is an alumni of Clark Atlanta University with a bachelor's degree in economics. Previously, he had worked as a sports writer, and he was also a music and pop culture critic.
It was since 2012 that he started appearing on Dan Le Batard show. He became the co-host of Highly Questionable in May of 2013, joining his father, Papi and Dan Le Baterd.
ESPN writer and commentator since the last  10 years, Bomani also co-hosts his regular ESPN radio program. Bomani is also known for his provocative opinions and reputed guests on the topical show, The Right Time With Bomani Jones, at ESPN  Radio.
Caption: Bomani Jones hates NFL's draft
Source: Tony q