Sports
Derrick Henry And His Stats Which Just Cannot Be Affected By Any Kind Of Injury
Rookie for the Tennessee Titans of the National Football League (NFL), Derrick Henry had quite an impressive season in NFL in 2016 despite his injury as he was drafted in the second round of the 2016 NFL draft by the Titans.
Henry Ends The Season With a Bang!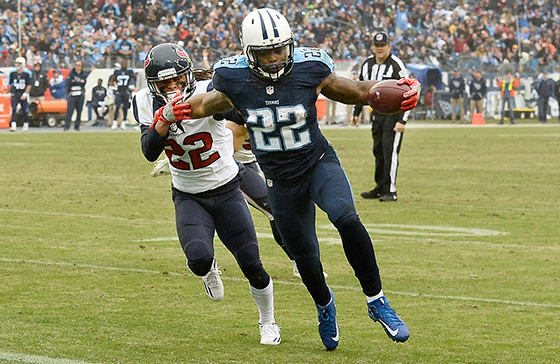 Caption: Henry in his game against Texans on January 1st, 2017.
Photo Credit: Titansonline.com
Derrick Henry's rookie season in 2016 with the Titans was more a learning experience in his words, from the time he walked in the door as the Heisman Trophy winner to his final carry.
After his run for a season-high 65 yards and a touchdown in Tennessee's 24-17 win over the Texans on January 1st, he expressed,
"A lot of learning from good guys, good vets. Being on a team that's been down, but fought this year, fought hard with great players, great competitors. Fought to the end and finished strong."
Derrick Henry, who was a second-round draft pick in the 2016 NFL Draft, finished his rookie year for the Titans with his stats of 490 yards and five touchdowns on 110 carries. Henry played behind starter veteran DeMarco Murray, who finished as the AFC's leading rusher with 1,287 yards.
Some of the veterans of the game watched Henry play and were highly impressed. Delanie Walker praised Henry in his statement:
"I think he handled himself well knowing we have DeMarco Murray. For him to come in and sit down and bite his tongue and wait for his opportunity, it means a lot."
A Setback Couldn't Stop Henry!
Titan's rookie Derrick Henry suffered a setback against the Chargers because of a minor calf injury.
Derrick Henry's 2015 season ended on Jan 11, where he celebrated Crimson Tide's 45-40 victory over Clemson in the CFP national championship game. He carried the ball 36 times for 158 yards and did three touchdowns to complete his Heisman Trophy season with overall 2,219 yards and 28 touchdowns on 395 rushing attempts.
Moreover, Henry's 2016 season ended just 356 days later with the Tennessee Titans' 24-17 victory over the Houston Texans on 1st January 2017 of the NFL's regular season. Henry carried the ball 15 times for 65 yards as well as a touchdown to complete his rookie NFL campaign for 490 yards and five touchdowns on 110 rushing attempts.
Derrick Henry signed a four-year, $5,407,928 contract with the Tennessee Titans on May 9, 2016, including a $2,133,038 signing bonus, $2,828,853 guaranteed as well as an average annual salary of $1,351,982. In 2016, Henry earned a base salary of $450,000 and a signing bonus of $2,133,038. Henry also has a cap hit of $983,259, and his dead money value is $2,828,853.