Sports
Dina Asher-Smith's Hard Training Pays Off: Gained Height in Young Age, Britain's Fastest Woman In Rio Olympics
Fastest Women of Britain, Dina Asher-Smith has already reached new heights in 2016. Recently, she not only competed in Olympics (Rio) for the first time but also won a bronze medal.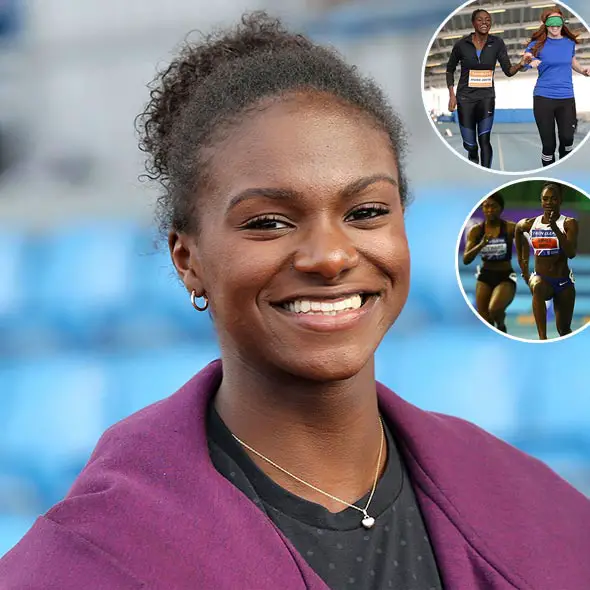 Fastest Women of Britain, Dina Asher-Smith has already reached new heights in 2016. Recently, she not only competed in Olympics (Rio) for the first time but also won a bronze medal.
Caption: Dina Asher-Smith in Rio Olympics 2016. She won bronze in women's 4*100 m relay
Source: twitter.com
Hard Work Never Killed Anyone!
Asher-Smith is a speeding machine who broke the national 100m and 200m records in 2015. Rome was not built in a day. Asher-Smith didn't break the national record as a fluke. There was lots of hard work and rigorous training behind it. And she has admitted it saying:
'As a clean athlete, I'm looking round and thinking, "Good!" because it needs to get dragged out. I work hard balancing uni, training five times a week, going through so much pain and I want to be able to go out there and perform to the best of my ability and finish in the place I deserve. At the same time, it's hard to see the backlash because you want to scream, "Don't fall out of love with it!" because there are so many clean athletes.
She had been running up and down crazily packing her 3 x 32kg bags for Rio when she managed to stop by ELLE office this March to express how she was set to turn her nerves into excitement giving priority to both her mental health and physical strength.
'I love to run and I love getting an adrenalin rush when I compete so I am literally counting down the days until I can step onto the track in Rio. You can have all the physical ability in the world but if you can't perform when it matters then it's of little use. You need to be mentally resilient and confident in your own ability.'
She also seemed pretty confident in herself about Rio:
'Being happy, confident and relaxed. These three things together make me feel like I can put out a good performance at the Olympics.'
Sparking Height at a Young Age!
Still, only 20, the history undergraduate from Kings College, London equaled the British 60m record en-route to winning European silver last winter and also added the national 100m and 200m to her astonishing resume. 
At the young age of 20, she became the fastest woman in British history. It was August of 2015 when she set the new British record for the women's 200m with a startling 22.07 seconds.
She has expressed her feelings being the fastest British woman in history in the category 100m and 200m.
"It's really cool. I like it. But at the same time, it's a name, it's not a medal. At any time someone can run faster and it can go."
Performance in Rio 2016:
Asher-Smith ran from lane two in her first Olympic final in 200 metres - posting her fastest time of the year, but the 22.1 secs under her personal best weren't enough to win the gold at Rio. Jamaica's Elaine Thompson won Olympic gold in the 200m completing a sprint double in Rio under 21.78 seconds.
"I am really happy, I think I still could have done a bit better, but I can't be disappointed with that," she said being happy with her performance.
She further added-.
"It is a learning curve and hopefully, I'll have more world championships and Olympics to get it right."
She also expressed her feelings via Twitter:

Dina Asher-Smith's Short Bio:
Dina Asher-Smith (born 4 December 1995) is a British sprinter and also a British record holder for both 100m and 200m. Having grown up in Bromley, South East London with parents being of Jamaican descent, Dina's running career started at her local athletics club when she aged just 13. She is currently doing her studies at King's College London along with athletics.
Caption: Three things to know about Asher-smith before Rio Olympics.