Sports
Dodgers' Cody Bellinger Is Unstoppable And So Are His Stats! A Scouting Report For A Better Look
Cody Bellinger redoes it for Los Angeles Dodgers! And this time a much wider way.
Cody etched a history at Dodger Stadium last Tuesday against New York Mets, as he hit ten home runs in ten games. He has become the first rookie in Major League Baseball history to hit ten home runs in ten games after the match with New York Mets.
The rookie sensation seems unstoppable for now, and that's what his records explain about him. This season is turning to be a great one for the rookie, as he has completed 22 home runs in 52 games and is now just two dingers behind the New York Yankees right fielder Aaron Judge.
Scouting Report Of Cody Bellinger:
Cody Bellinger is none other than the son of Clay Bellinger, who himself is a famous baseball player and had been a member of two times World Series Champion; New York Yankees at the end of the 1990s and beginning of the 2000s.
Cody has probably got his firm base and learned baseball techniques from his father to become what he is today.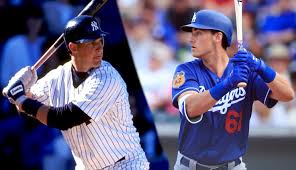 Caption: Clay Bellinger (L) and Cody Bellinger in action.
Photo Credit: liverampup.com
Cody has an impressive height of 6 feet and 4 inches and weighs 210 pounds. He has his unique style of defense as supported by his long legs which make him a 70-grade defender.
The hitting style of the player is much dominant which he manages by an uppercut finish to his swing. Moreover, he is a 50-grade runner that isn't that notable, but he steals bases with his smartness in the field.
These all assists Cody to be a successful player and currently unstoppable, we can say. A vital part of Los Angeles Dodgers, Cody accompanies the position of the first baseman and left fielder in the team.
He is ranked in the high ranking players. Baseball America ranked the rookie #7, and MLB Pipeline had him positioned #13 while Baseball Prospectus ranked him #23.
He always lives up to that with his excellent hitting .343/.429/.627 with four doubles, five home runs and seven stolen bases in 77 plate appearances.
Knowing Stats, Contract And Salary of Cody Bellinger:
Cody Bellinger, who started his career this April, is already on his way to make records with his excellent performance. The on-going match between Mets and Dodgers has proved to be a silver lining of his career with the record.

Cody Bellinger's current stats according to ESPN.
With this brief look at the rookie's career, he is supposed to have a tremendous future. The projected stats of the player is even more outstanding which compels us to expect more from him in the coming days.

Overall Stats of Cody Bellinger.
Cody Bellinger played baseball for his college Arizona High School in 2007 and continued the same for later years. He made his debut with the Arizona League Dodgers, batting .210 in 195 plate appearances.
Later, Los Angeles Dodgers drafted Cody Bellinger in the fourth round of the 2013 Major League Baseball Draft for a $700,000 signing bonus. The same draft fixed Cody's salary to $535,000. Before the contract of April 25 with Major League, he was a part of the Oklahoma City Dodgers in early 2017.