Sports
ESPN's Barry Melrose Dazzling Net Worth of $16 Million: What's Contributing To It?
Every people want to yield an enormous net worth, but not everyone can do that. It may be because of people's failure to know how to use their skill and ideas in a most productive way. Unlike these people, here we are with a story of a spontaneous person who relentlessly used his skills in different sectors and today enjoys a staggering net worth.
His Dazzling Net Worth: Contributing Factors?
Former professional hockey player, Barry Melrose, enjoys a dazzling net worth of $ 16 million. The reason behind this enormous revenue is not only his salary but his continuous hard work in many sectors ranging from sports to television. 
His Career in Sports:
The large part of Barry's revenue is rendered through sports. Barry who entered as a player in the sports world continued to work as a coach even after the retirement. In 1974, Barry started his hockey career as a defenseman in the WCHL with the Kamploos Chiefs where he stayed for two years.
Then, Barry took a chance in 1976-1977 seasons with the AHL and later moved in the mid-season to the Cincinnati Stingers in the WHA where he stayed until 1979.
After WHA collapsed and got absorbed into NHL, he joined Winnipeg Jets for the 1979-80 seasons. Barry tried his career in Toronto Maple Leafs, Detroit Red Wings, and Adirondack Redwings as well. Barry completed 300 games, scoring ten goals, with 23 affiliates and 728 penalty minutes during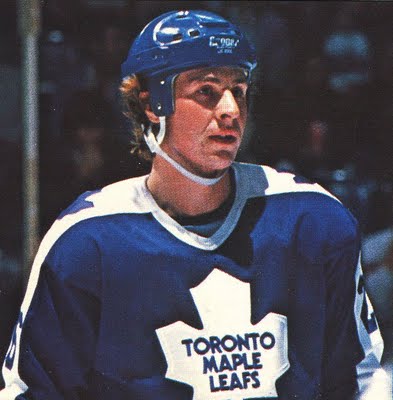 Caption: Barry Melrose when he was playing for Toronto Maple Leafs.
Source: nocookie.net
After his retirement as a player, Barry immediately started coaching. He tutored the Medicine Hat Tigers of the WHL for the 1987-88 seasons which led them to create a record 44-2-6 and win Memorial Cup title. He then coached Seattle Thunderbirds and jumped to guiding Adirondack Red Wings and make them worthy for the Calder Cup in 1991-1992 season.
Similarly, NHL's Los Angeles and led them to 1993 Stanley Cup final. Barry also spent thirteen years as ESPN's hockey analyst. But he again returned to coaching and coached The Tampa Bay Lightning and Atlanta Thrashers.
His Television Career
Barry entered ESPN as a commentator and NHL analyst in 1996, but he left in June 2008. However, he returned to ESPN on January 1, 2009, when the winter classic was coincidentally played between the Detriot Red Wings and Chicago Blackhawks.
Furthermore, he entered the NHL network on September 11 as a contributor. He has appeared as a guest in the season 5 of Spin City, named "Hey Judith". He also featured in the second Slapshot movie, Slapshot: Breaking the Ice and the other movies like Mystery, Alaska with Russell Crowe.
Barry also starred in Tony Robbins's series infomercials. With this, we can assume that Barry has been lucky from every side. His television performances s also credited for the collection of substantial revenue.
Caption: Barry Melrose making the analysis of ice hockey game on Sportscenter on April 15, 2011
His Married Life and Wife:
Barry and his wife, Cindy, are blessed with two grown sons named Tyrell and Adrien. The sweet family of four lives together in Glens Falls, New York. He has a best friend named Kip Knutson. Barry is the cousin of former NHL players Joe Kocur and Wendel Clark. Barry took the American citizenship only in March 1998.
We did find one of his photos with his wife on his Twitter account.
Belonging to the Canadian nationality, Barry Melrose was born on July 15, 1956. He is popular for signature left the shot. He is a broadcaster and former ice hockey player.