Sports
Even With A Shower Of Injuries Adam Lallana Managed To Extend His Contract For Years With Liverpool
One of the most impactful players on the pitch for Liverpool in an ongoing season is Adam Lallana. Naturally attacking midfielder Lallana plays in front as attacking midfielder for Liverpool FC as well as England. Has the English midfield been affected by injury hitting career?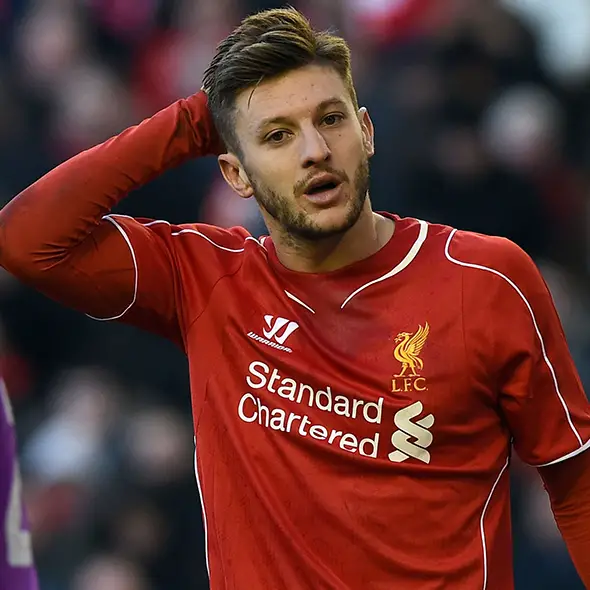 One of the most prominent assets of Liverpool in the ongoing season is Adam Lallana. This outstanding midfielder plays in a position of attacking midfielder for Liverpool FC as well as England. But has he been any injury that may cost the end of his career? Let's find out.
Caption: Lallana's top 10 goals for Liverpool Football Club.
Injury Prone Career?
Caption: Injury Stats of Adam Lallana.
Photo Credit: liverampup.com
Adam Lallana has missed 35 games till date because of various injuries like Groin strain, Calf Problems, Thigh problems, Groin Injury and Hamstring Injury. Lallana's latest injury is reported to be a wound, before Liverpool's trip to Bournemouth on November 16, 2016. Liverpool boss Klopp gave his statement on Adam's return,
"I am happy about each player back in training. Adam is training; Yesterday was the first session. We need to see how he reacts. Yesterday was quite intense.
The 28-year-old enjoyed an excellent start to the season, scoring seven goals and laying on another seven total in 20 games for the club. Adapting to a new attacking role in Klopp's three-man midfield, Lallana looks to be at his best, beginning to show the form that earned him a £25 million move to Merseyside in 2014 from Southampton.
New Contract on cards?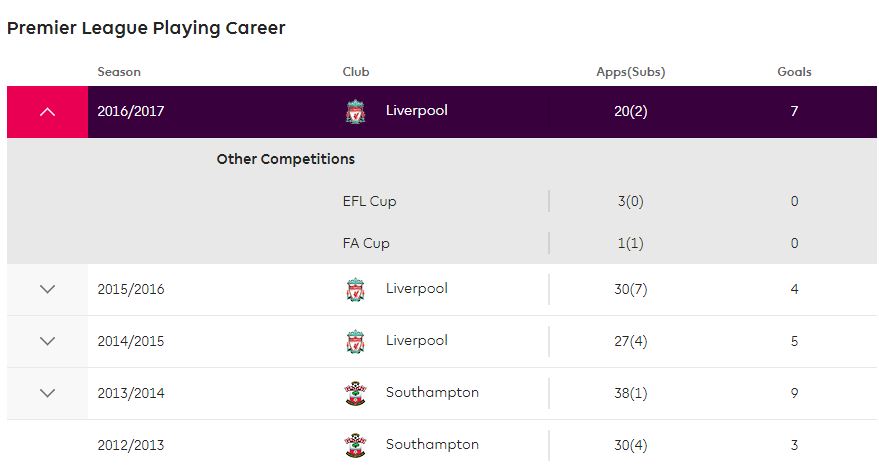 Caption: Overall Stats of Adam Lallana.
Photo Credit: premierleague.com
As a result of his dazzling performance, Liverpool Manager Klopp is looking to reward Lallana's rise to prominence with a new long-term contract. According to Metro, it suggests that Lallana is the first of many in line for talks over new deals.
Lallana joined the Merseyside club from the Saints on the eve of Luis Suarez's move to Barcelona but struggled earlier to replicate the influence he held on the south coast.
For previous two seasons, the England international played a peripheral role, with the likes of Brazilian duo Roberto Firmino and Philippe Coutinho outshining him. But Klopp's arrival revived Lallana's fortunes, and twice already this season he has broken the 2016/17 record for distance covered by a player in a Premier League game.
Lallana's contracts are set to expire in the summer of 2019, and it would be soon on the cards after Philippe Coutinho signing a new contract earlier this month. Currently, Lallana earns a salary of £65k a week and would surely be hoping for a wage rise after his performance in the current season of Liverpool.
This 28-year-old midfielder is well known for being one of the football's most stylish and iconic stars and frequently features in various campaigns with men's grooming brands in partnership with Liverpool Football Club.
Recently, Adam Lallana opted for a fresh and new haircut ahead of the Reds' battle with Manchester United. Although the match ended in a draw, Lallana's new hairstyle certainly caught the attention of viewers all over the world.