Sports
Former Duke Player Carlos Boozer Worries No More About Haircut Talks About The Time He Dyed;
Olympic goal Medalist, Carlos Boozer has had a content career in Basketball playing for teams like Cleveland Cavaliers, Chicago Bulls, Utah Jazz and Los Angeles Lakers. Currently marking his presence in China, Boozer has been reviving his career.
Carlos Boozer is also known for his weird hair in 2012. So what does he say about all these?
Weird Hairstyle!
Caption: Carlos Boozer tells stories from his NBA career and goes into hilarious detail about the time he dyed his hair.
Remember that time in 2012 when Carlos Boozer did a weird experiment with his haircut, where Boozer dyed his hair all black instead of going bald.
Boozer made an appearance on ESPN's Highly Questionable on October 28, 2015, to explain himself and why he did that during 2012. He said:
"Oh man. Man, listen, so ... truth be told, as you can tell, I started losing my hair a little bit, they came out with this -- it's like a hair dye, whatever, for men called the 'bigen.' Well, I had one guy that was like, 'Yo, have you ever thought about growing your hair out?'
Moreover, he added:
And I was like, yeah, I was thinking about it, until I saw some of these little bald spots on my head. So, I was like, you know, I just cut my hair off. And so he was telling me that he could -- you know, 'grow your hair out, I could cover it up a little bit, and make it look like you got a regular haircut.' So I tried it, and he just made myself look like shoe polish up there ... this is like five years later, and I'm still hearing about it."
Boozer also revealed that he showered his hair at least seven times and everyone made fun of him for it. He conceded with the fact that it was "a mistake" and he would never, ever do it again.
Impressive Stats of veteran!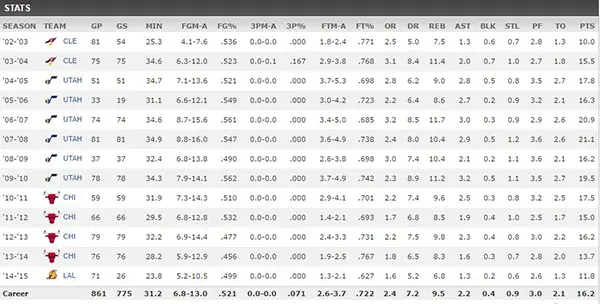 Caption: Stats of Carlos Boozer during NBA.
Photo credit: espn.com
Starting his playing career in college with Duke University, Boozer scored at least 600 points for the season of 2001-02. Boozer signed for Guangdong Southern Tiger of China in 30th of July, 2016. Although the length of contract has not been revealed, he is planning to make his return in NBA.
Carlos Boozer played 13 NBA seasons altogether, but after suffering through a dismal 21-win campaign with the Lakers back in 2015, Boozer ended up sitting the entire 2016 season out of the team. Guangdong Southern Tiger then signed him. Although he is 35, he has not retired from the game, and we might see more of his game soon.