Sports
Guerschon Yabusele Working On Stats While In G-League! Contract and Salary Detail
Guerschon Yabusele, a professional French basketball player, drafted by Boston Celtics, is considered to be one of the best prospects on 2016 NBA draft. Yabusele, who can block and then dunk, is on his way to add numbers to his stats with his distinctive size and playing style.
However, Yabusele was selected by the Celtics with the 16th overall pick in NBA draft, after playing in the 2015-16 season in the top French league. So, what does his stats reveal? Let's find out!
Guerschon Yabusele Works On His Stats Alongside Signing A Contract!
It's hard to pick one word to describe Yabusele's game that comes with versatility and creativity. Yabusele, the big man, who stands at the height of 6'7" and weighs 260 lbs is quick and can score the points for his team to win. 
Well, Yabusele began his basketball career with the youth section of Chorale Roanne Basket in 2012 competing with their under-21 team. A year later, he finished the season of LNB Pro B with average 1.5 points per game in 8 appearances playing for official Roanne team.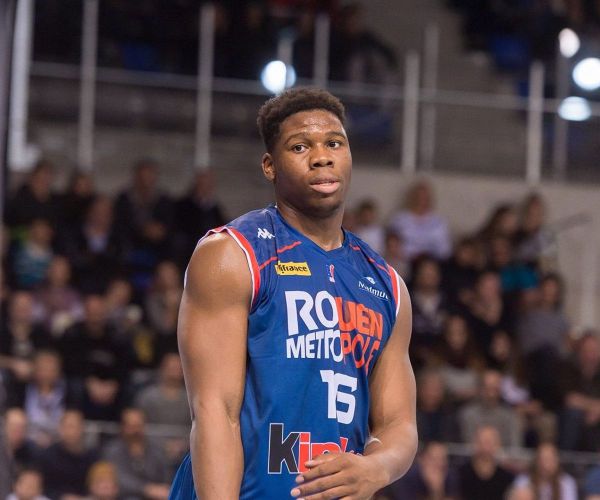 Guerschon Yabusele while in Rouen (DraftExpress)
While, playing for SPO Rouen in the top league of France, Yabusele worked for his NBA draft where he ended up being 16th as a first-round pick in the overall draft. Yabusele joined Boston Celtics in 2016 NBA Summer League. 
Meanwhile, Yabusele signed a contract with Shangai Sharks for season 2015-2016 of the Chinese Basketball Association where he played 43 games for the Sharks with average 20.9 points and 9.4 rebounds.
However, On March 29, 2017, Yabusele signed the contract with Maine Red Claws. He made his NBA Developmental League debut for the Maine Red Claws on March 31. In just 25 minutes, he was able to put up 17 points and nine rebounds which covered the headlines.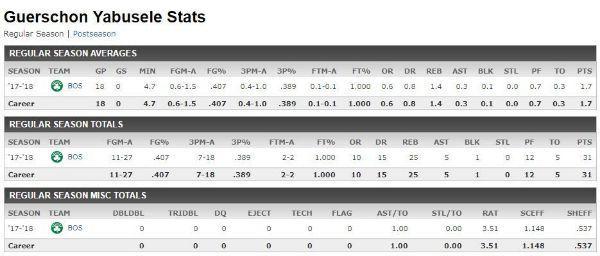 Guerschon Yabusele Stats (ESPN)
However, Yabusele who played basketball for 12 years, is on an assignment to Maine Red Claws of NBA G-League and as of now, he enjoys the salary of $2,247,480.
Guerschon Yabusele's Bio:
Guerschon Yabusele, who has earned multiple nicknames for himself is mostly known as 'Dancing Bears.' Well, he was born on December 17, 1995, in Dreux, France, under the wings of his boxer father and was to be one throughout the early portion of his life.
However, Yabusele who aspired to be soccer player during his youth, followed his father's advice as he grew his interest in dunking the ball into the nest. His parents encouraged him to practice basketball while he was growing faster than other children of his age.
Moreover, Yabusele was thinking of going to the US to play in the college but he couldn't as he was under contract with Rouen and was paid for playing. 
When Yabusele is inclining his professional career, he seems to have a girlfriend to accompany his success. Meanwhile, Yabusele was seen at the airport with his speculated girlfriend after leaving Shanghai Sharks in the Shanghai airport, China.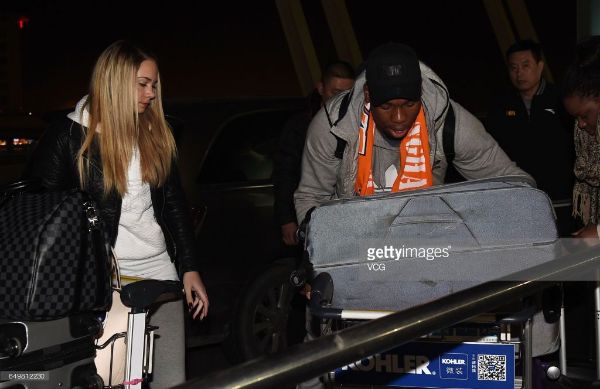 Guerschon Yabusele and his girlfriend at an airport in Shanghai, China. (Gettyimages)
Though Yabusele has been spotted with his girlfriend a number of times, the details of their relationship is still a mystery. Well, Yabusele's love life is quite private in comparison to his professional career. 
However, a rookie player Yabusele can play both defense and offense. He believes that he is smart and he needs to work on his ball-handling. Similarly, he can make 3s even when someone is defending him is his biggest asset.