Sports
How Is Justin Thomas Holding Up The U.S. Open 2017? En Route To Become The Best Golf Player?
It was earlier this month when a man in Pink pants, Justin Thomas made U.S. Open history. He is someone who has been doing a stellar job as a professional golfer and the moment he made history has firmly cemented his legacy.
Justin Thomas' 3-wood from astonishing 300 yards away turned his round from a special one into a historic one. So let us educate you on what exactly happened and discussed if all of these makes him the greatest golfer in the world.
The Record Breaking, History Making Moment. Sitting Atop With The Greatest In Golf?
Two men were there wearing pink, one was Jonathan Randolph who was wearing a pink shirt, and the other was in pink pants, Justin Thomas, who made U.S. Open history in the 3rd round of U.S. open 2017.
After he hit three-wood off the tee on the long par-5 18th, Justin was on the right side of the fairway. He had been in the very position previous Friday too, only six yards closer to the green. Then the three-wood he crushed on that occasion ran past the green, and this time round, he thought an iron might do.
Justin said,
"I probably would have hit 2-iron because I could have roasted a little hook-in two-iron and got it with the slope. But I felt like if I overcooked it and got in that left bunker, like a 40- or 50-yard bunker shot, that would have been tough. If I blasted it through, it wouldn't have been good."
The swing, which is more famous that anything in the golfing world as of now, then helped him launch a three-wood into the sky from approximately 300 yards away. If you missed out on witnessing the swing that made history, we have got it all covered for you.
Caption: Justin Thomas Makes History U.S. Open R3. Published on Jun 17, 2017.
After the round, his father Mike, said,
"That three-wood is just raw power, which is what he has,"
Thomas also broke the record for low score with relation to par at the U.S. Open history with total nine under par. But what did the man, who held the record, Johnny Miller, have to say on this?
The man, who has eight under par totals and held the record formerly, said,
"Taking nothing away from nine-under par -- nine under is incredible with U.S. Open pressure. But it isn't a U.S. Open course that I'm familiar with the way it was set up."
He continued,
"Justin Thomas is a lot like I am -- he's a streaky player. When I was in my prime, it was the same way. I could get it really low."
Miller does have a point here. Erin Hills, who is hosting its first major championship, has yielded surprisingly low scores for a U.S. Open. Miller also added,
"A 63 for a par 72 is a heck of a score, even if it was the Milwaukee Open."
Nothing but mixed reactions can be taken away from Justin, as he has firmly cemented his legacy in the golfing world now.
But is Justin now the greatest golfer in the world? Bold claim and bold question, but he was on the very day, and when he as asked the same, Justin said,
"No reason to answer that, I can't win with the answer to that question."
It is early to make this assertion, but with the way he has been going around in his business, he is certainly on the way up there to stand with the greatest ever.
Justin Thomas's PGA 2016-17 Results And Stats.
Justin Thomas' 2016-17 PGA Tour stats, earnings, and results suggest how great he has been in the recent times.

Caption: Justin Thomas PGA tour overview.
Photo Credit: espn.com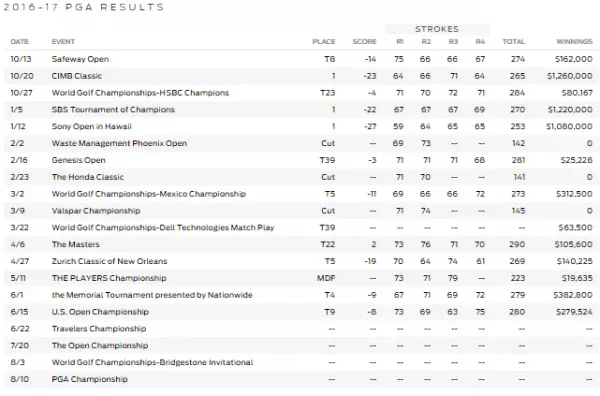 Caption: Justin Thomas' PGA Results and Earnings.
Photo Credit: foxsports.com
The earnings he made have undoubtedly made him boost his net worth, which is kept under the wraps by this aspiring golfer till this date.
A Short Wiki-Like Bio of Justin Thomas.
Born on April 29, 1993, in Louisville, Kentucky, United States, Justin Thomas is an American professional golfer, who attended his college at the University of Alabama. He was born as the child of Jani Thomas and Mike Thomas.
Injuries always plague a professional athlete's career, but it can be seen that Justin does a lot to keep him injury free.
Let us hope that Justin treats his fans more in the days to come!