Sports
Iker Casillas: The most capped player in European History:Most International Caps
In football, each member has a particular responsibility. Only when they fulfill them can they obtain victory. The two most crucial positions for a footballer are as a Goalkeeper and as a captain. However, one man has defined himself as one of the very best in both the positions. He is none other than Iker Casillas.
In football, each member has a particular responsibility. Only when each player fulfills his given responsibilities, they obtain victory at the maximum success rate. The two most crucial positions in football are that of a Goalkeeper and a captain. However, one man has defined himself as one of the very best in both. He is none other than Iker Casillas.
Iker Casillas's name keeps coming up as the greatest goalkeeper, captain, and player of all times. He has put together numbers of records in the world of football. He recently became the most capped player in European history after he made his 167th appearance for Spain playing in a 6-1 win against South Korea.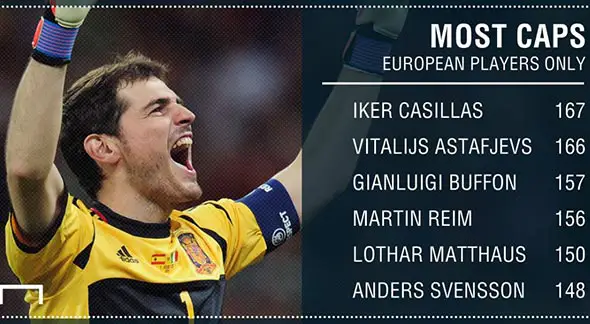 Source: u.goal.com
But this is not the first time Casillas has been titled as the most capped player. He became the goalkeeper with most appearances of all time in the UEFA Champions League in 2010 and in November 2011. He became the most capped player of all time for the Spanish national team with 127 appearances in 2011. Similarly, in 2015, he became the player with the most appearances in the UEFA Champions League with 152 appearances, which was one more than the former record holder, Barcelona's midfielder and his national teammate, Xavi Hernandez. Overall, he is the sixth most capped male player in the history of football.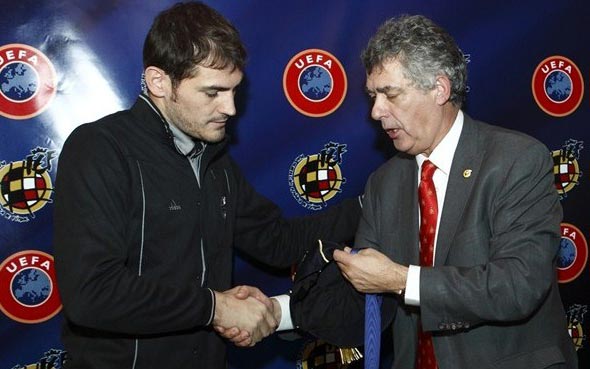 Caption: Casillas receiving the UEFA medal and Cap for playing 100 matches for his country
Source: www.uefa.com
However, Casillas's feats do not end here. After his promotion to the senior team of Real Madrid in 1999, he went on to win five La Liga titles, two Copa Del Rays Titles, two UEFA Cups and two Intercontinental Cups. He debuted for the Spanish national team in 2000 at the age of 19. He became the nation's first choice goalkeeper in the 2002 World Cup and was assigned as the captain in 2008.
In 2008, under his captaincy, Spanish team made it to their first European Championship in 44 years by winning the UEFA Europe. He also led his country to the FIFA World Cup title in 2010.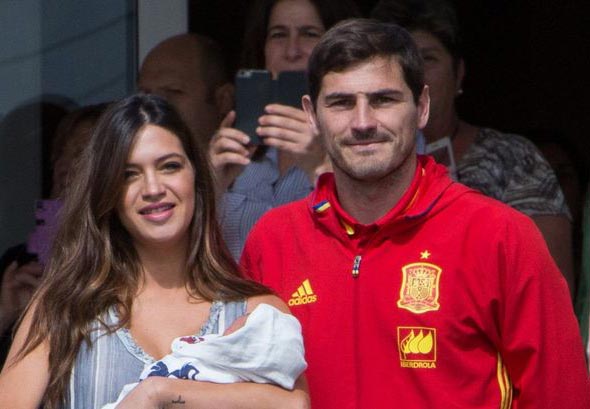 Caption: Iker, wife/ Telecino Tv presenter Sara Carbonero and son Lucas
Source: i4.mirror.co.uk
However, being honoured as the most capped player of all time might even not be the best thing that has happened to him. Casillas was seen recently presenting his newborn son Lucas (born on June 2, 2016)  before he jetted off to France for Euro Crown 2016. Iker first son Martin was born in 2014.
But it seems that all great names face one or another controversy. On July 20, 2015, Jose Mourinho took a money swipe at the national hero when he stated in an interview that Portugal being an economically backward country shouldn't be spending more than reasonable amount of salary for the coaches and players, stating Casillas' name as an example. The stories of feuds between the captain and coach had been heard for a long time.
It didn't sit well with [Mourinho] that I spoke with someone from Barcelona to ease the tension in the national team. I spoke with Xavi and Puyi [Carles Puyol]. But the words that we used were not 'listen, forgive me'. That was what a journalist linked with Mourinho said. What I said to Xavi was 'look, if we keep going like this, we're going to burden Spanish football with the image we give with two teams like Madrid and Barcelona," 

"I was the captain of Real Madrid but also of Spain. Everyone can believe what they want. I have a club I owe but I also have a national team."

Casillas in  an interview with RTVE on his feud with Mourinho
Caption: Iker Casillas (Left) and Jose Mourinho attending a Real Madrid press conference
Source: level3.soccerladuma.net
He is playing for the Portuguese club, Porto since 2015. But he is commonly known for his 15-year long Real Madrid days. He is the first to have won the IFFHS World's Best Goalkeeper award for 5 consecutive years. He is the third player in the history of football to lift the World Cup trophy, the Champions League trophy, and the European Championship trophy. His skill of making spectacular saves has earned him the nickname of 'Saint Iker'. Iker was awarded the prestigious sports award in Spain, Grand Cross of the Royal Order of Sports Merit, in 2015.
Not only his noble sportsmanship his praiseworthy, he is still competitive at the age of 35. Despite his Real Madrid exit and some sour performances over the years, Iker has managed to be the first choice goalkeeper for Spain since 2002. 
"De Gea is no longer the future but a strong contender. It's clear that all of us that are here, we think that we can play.We are 23 players that play as starters for important clubs and we all believe that we can help the national team, but deciding who starts is the coach's job."

"What I really like is that, besides being 35, I have the same hunger, enthusiasm and I continue to compete. Now I'm with De Gea and with [Sevilla goalkeeper] Sergio Rico and it's going well."

Iker in an interview with Cadena Cope radio on Euro 2016
In short, Casillas is a legend of football who has devoted his life to the game.