Sports
Indiana Colts' Scott Tolzien With Constantly Maintained Stats Gets Praised For Hard work
Although he's played only three games for Indianapolis Colts in 2016, there's no doubt that he is a workhorse. So, what do Indiana Colt's coach and the player himself have to say about his recent playtime? We'll reveal it all!
Although Tolzien was a two-star recruit out of William Fremd High School in Chicago, he attended the University of Wisconsin–Madison in 2006. He didn't play a single college match in 2006 as well as 2007 but bounced back in 2008 season where he saw his first major game for Wisconsin against Lowa. 
He had exquisite 2009 and 2010 season where he won Johnny Unitas Golden Arm Award in 2010 as well as smashed record for Wisconsin for completion percentage in a single season in 2010. 
His stats read completing 74.3% of his total passes in 12 regular season games. Moreover, Tolzien was ranked 4th nationally in passer rating, and that led the nation in completion percentage.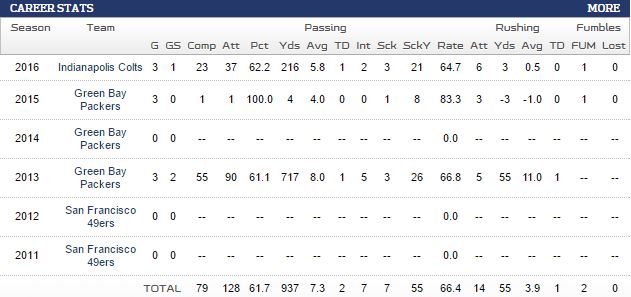 Caption: Career stats of Scott Tolzein, from 2011 to 2016.
Photo credit: nfl.com
Tolzein entered November 24, 2016, as a question mark, a sense of incredible uncertainty and the reason behind it was 100 percent of the pundits were picking the Indianapolis Colts to lose their first Thanksgiving home game in 2016 in franchise history.
And by the time he left the locker room early next morning, the appreciation followed Tolzein. His coach said that he played his expletive off. Another Colts player Erik Swoope said:
"He did everything he possibly could. On a short week, finding out on short notice. He's a tough man and I respect everything he gave to this football team."
For anyone those who watched the game which Colts 28-7 loss to the Pittsburgh Steelers on November 24, 2016, at Lucas Oil Stadium, Scott Tolzien one knew at the beginning of the match wasn't the same Scott Tolzien one knew at the end of it. He had some mettle and proved a point. He is a workhorse. Receiver T.Y. Hilton said:
"He put us in situations to win the game."
Four nights before the game he was starting his first NFL game three years to the day of his last game, on national television and in primetime. Tolzien said after the loss:
"Had been a while since I played in a regular season game. You're gonna have to settle in."
And there he was, he wasn't Colt's Andrew Luck, and never was going to be the player as Luck, but Tolzien proved every bit of a point being a capable backup quarterback on a night that Colts' defense shaken and dropped passes which buried them. The score won't indicate, but Scott played well enough to win.
The Indianapolis Colts signed a contract with Scott Tolzien in March of 2016 worth $3.50 million with a salary of $500,000. He will earn $2,000,000 in 2017 season.