Sports
Jack Wilshere Stats Taking A Toll After Injury; Reveals Future Plan With Girlfriend
Jack Wilshere Stats Taking A Toll After Injury; Reveals Future Plan With Girlfriend Let's take a look at the career of English midfielder Jack Wilshere, who is currently on loan to Bournemouth from Arsenal. He also was injured, and now he has been less effective as compared to the Wilshere of the past. Besides his professional side, we dig deeper into hi personal life as well.
Injuries are major setbacks in a professional athlete's life, and once you are injured, well, it takes quite a toll on your career as the chances of you being the same as before is diminished.
Let's take a look at the career of English midfielder Jack Wilshere, who is currently on loan to Bournemouth from Arsenal. He also was injured, and now he has been less effective as compared to the Wilshere of the past. Besides his professional side, we dig deeper into hi personal life as well.
Wilshere's Injury Issues Hampering His Stats. 
Wilshere is a product of Arsenal's youth academy and the thing he learned there was used for real good effect, and he made his first-team debut for Arsenal in 2008 becoming the youngest ever player to debut for Arsenal. Jack was simply 16 years and 256 days old back then. Throughout his career at his beloved club, he has accomplished a lot and even won the PFA Young Player of the Year award. Wilshere also got a selection to the 2010–11 PFA Team of the Year. Not only that, but he has also won the Arsenal player of the month on several occasions. 
However, in a career full of glory and highlight, he has also suffered several injuries which have led to the player diminishing in quality.
First, it was during the 2011–12 season when he suffered a stress fracture ankle injury against New York Red Bulls during an Emirates Cup pre-season friendly. The injury indicated that he was unable to participate in a single club match during the entire season.
Jack then returned in the 2012-13 season after missing out the action for 17 months. He came back against QPR and was even crowned the Man of the Match for the very game. He also played the North London derby against Tottenham Hotspur in its entirety, but his fate was not that good and thus ended up picking another injury which led him to miss the rest of the very month. 
Furthermore, back on 27 November 2014, Wilshere was ruled out for three more months following surgery on his left ankle after injuring his ligaments in a 1–2 defeat to the mighty Manchester United. On top of that, during the 2015–16 season, Jack broke his fibula during pre-season training in August which initially would have caused him a month out of action, but following surgery for the injury, he was out for a total of 3 months. Wilshere too admitted to being frustrated of getting injured on numerous occasions.
On 31 August 2016, he moved to Bournemouth on a season-long loan during the transfer window and was given shirt number 32 for the 2016–17 season. But injury prone Jack then re-injured his fibula following a clash with Tottenham Hotspur striker Harry Kane over at White Hart Lane that cost him the entire season. However, he is reported to be treated back at Arsenal as he is originally an Arsenal player.
Caption: Jack Wilshere gets injured in a four nil defeat against Hotspurs.
Published on Apr 19, 2017.
Arsenal boss Arsene Wender said that he is disappointed to see such a talented guy sit mostly on the sidelines due to his injuries.
"I'm sad about this injury because Jack is a great player with a great football brain. His career has been stopped by many injuries. At the top level the most important thing is consistency. When a player has been out for a while, the game is of such an intensity that it always takes you a while to get your confidence back.
Wenger also added,
"You have to be consistently present. When you look at all the players who are at the top level in the world like Cristiano Ronaldo, these guys play 50 or 60 games a year. They have the luck of not being stopped by injuries. You're always sad when a guy of Jack's quality is stopped by problems."
Wenger is disappointed because his injuries have cost him to get low regarding performances, thereby hampering his stats.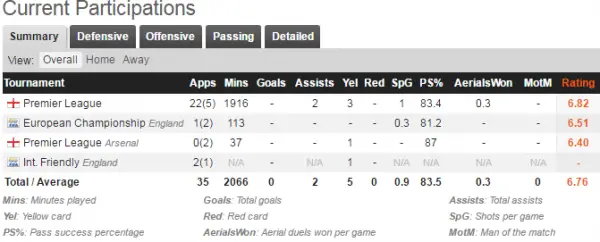 Caption: Jack Wilshere's current participation summary.
Photo Credit: whoscored.com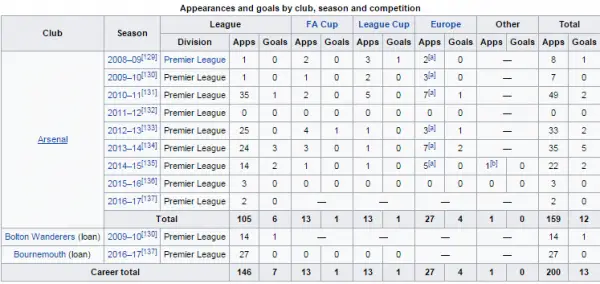 Caption: Jack Wilshere's Overall career stats as of 15 April 2017.
Photo Credit: wikipedia.org
Also, who can forget the famous smoking row which he was involved in back in 2015 which grabbed a lot of media eyes? He was being photographed holding a shisha pipe, and that raised a lot of eyebrows. That was not the first time he was involved in a smoking row as following England's world cup exit; he was seen smoking in a swimming pool over in Las Vegas.
Wenger though defended Jack.
"You make a case of Jack Wilshere, but I believe he's like any other player. He will face competition and if he's really fit then he has a good chance to play and it's exactly the same for everybody."
Furthermore, Jack also was famous for his crew-cut hairstyle which he had back in 2016 as he returned to training with Arsenal following England's humiliating Euro 2016 exit at the hands of minnows Iceland.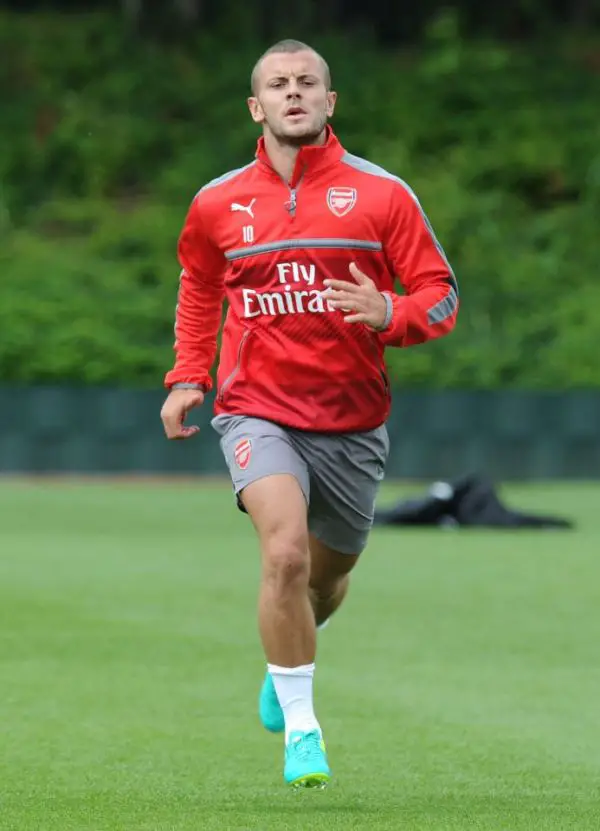 Caption: Jack Wilshere sporting a new haircut in 2016.
Photo Credit: mirror.co.uk
Jack and his plans with his girlfriend? Getting Married Soon?
Jack has been dating Andriani Michael for a very long time and not long back, in 2016, he popped out a proposal to her during her 25th birthday party, and now they are engaged to get married and share a husband-wife relationship. Wilshere took over his social sites to confirm this happy news.
That very moment is still really special to Jack as he tries to relive it now and then.
Jack has been very vocal about his relationship with his girlfriend turned fiance over on social media, and by the looks of it, the two could tie the knot real soon despite the fact that they have not set any dates till this date.
We would like to wish Jack and his fiance all the very best for their relationship's future and would also like to wish Jack a speedy recovery!
Stay with us for more news on Jack Wilshere!