Sports
Jamie Benn Gets A Massive Contract Extension; When Will Captain Return From Injury?
If the Dallas Stars are going to build an empire, Jamie Benn is going to be the foundation for it.
The Dallas Stars signed Jamie Benn to an eight-year contract extension worth $76 million, close to a $9.5 million average annual salary. The Stars captain has been offered a lucrative contract by the franchise that will run through the 2024-25 season.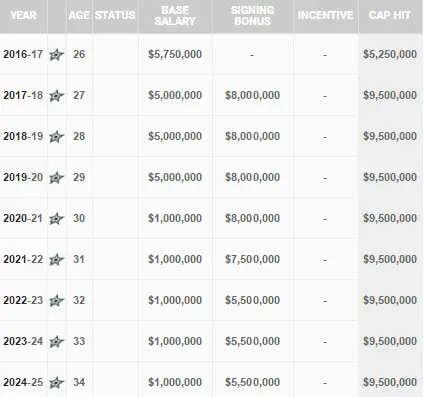 Caption: Jamie Benn's contract extension and annual salary details.
Photo Credit: spotrac.com
On the extension, the veteran spoke,
"The Stars are the only organization I know and Dallas is home to me,"

 "In working with the Gaglardi family and Jim Nill, they have made it clear that they are dedicated to winning, and winning the right way. I'm happy to commit to that process for eight more years. My teammates and I value the passion and dedication that we receive from Stars fans and we're looking forward to getting this season started."
Benn has amassed 448 career points in 508 regular-season games, and astonishingly, all of those career points have come as a member of the Dallas Stars. That shows how committed he is towards the stars. Moreover, his stats show how bigger asset he is to the Stars.

Caption: Jamie Benn's Stats, Overall and this season.
Photo Credit: nhl.com
Benn finished the 2015-16 season ranked second in the National Hockey League and first on the Stars list with 89 points in 82 regular-season games and also recently has undergone surgery to repair a core muscle injury.
The injury he sustained back in March this year was a big blow to the Stars and the fans hoping to see the veteran on the field.
But still, no fixed date for his return has been provided by Benn or the Stars management which is why we might need to wait for further updates on his injury and return.
Jamie Benn And The Controversial Fight!
Back in March 2017, Benn responded to a hard hit by Vancouver Canucks defenseman, Nikita Tryamkin and got tangled into a fist fight which was not beneficial for Benn as he then suffered an eye injury and missed a game for the Stars as well.
Stars coach Lindy Ruff explained,
"[Jamie] got scratched,"

"He saw their eye doctor. He got a glove in the eye. Right now it looks like that's all it is."
But this was not his only fight as a month before his fight with Nikita; he was engaged in another fistful incident with his old foe David Backes.
The two fought right of the opening faceoff, and it was proved that they despise one another.
Caption: David Backes and Jamie Benn involve in a fight.
Video Credit: nhl.nbcsports.com
Surely, Benn does not back down from a fight!
Jamie Benn's Love Life.
As good as Jamie is on the field, he is an equally better person off the field as well. Well, at least in his personal life!
Jamie has a girlfriend, Katie Hoaldridge and he is madly in love with this beauty.
The two got together back in 2015 and have been a successful couple ever since.
Jamie wishing his partner on Valentine's day over on Instagram is adorable to see.
Furthermore, him wishing Katie on her birthday shows how much he loves her.
But he still has not revealed if the two are married and share a husband-wife relationship, which is why we might need to wait to learn more about their relationship.
Stay with us for the latest updates on Jamie Benn!