Sports
Jarome Iginla Is Not Ready To Retire! Those Stats Won't Stop To Escalate Either
Jarome Iginla or Iggy as people call him is a star name in the history of NHL. The man is a great leader on and off the ice and is mostly known for his services at the Calgary Flames, and he recently played for the Kings from Los Angeles.
Jarome's career has seen some highs and some lows and most people think that it is about time he hangs up his boots and retires. But the man himself has made it clear that he is not thinking about retirement and is not done until he achieves further glory in his illustrious career as an ice hockey player.
Backing him up is his stats, which shows he has got more up his sleeve. Today, let's take a look at his career in brief along with his blessed family life.
Jarome Iginla's Career Stats: Is Not Thinking About Retirement Anytime Soon!
Having represented Kamloops Blazers in his college days, Jarome Iginla made his NHL debut back in the 1996 Stanley Cup playoffs, when the Calgary Flames bagged him for a lucrative contract.
That was just the start; the platform Iggy was looking for, as he then started making inroads in his career right away. I
n his very first NHL game, Iggy assisted the iconic Theoren Fleury to register a goal to record Iggy's first point and that is not it; he then ended up scoring his very first goal in his second game for the Flames.
Jarome then ended up earning a spot in the 1997 Rookie Team of the Year, and that proved that he was one good signing for the Flames.
Moreover, he then started touching new heights in his career with every season, and that led him to be named as the 18th captain for the Flames during the 2003-2004 season.
It seemed like the captaincy added more to his confidence, as the man then broke the Flames' franchise record for total games played when he represented the Flames in his 804th career game on the 29th of November 2007 against the Anaheim Ducks.
He also went on to break Theoren Fleury's franchise record for the number of goals when he scored his 365th career goal on the 10th of March 2008 against the St. Louis Blues.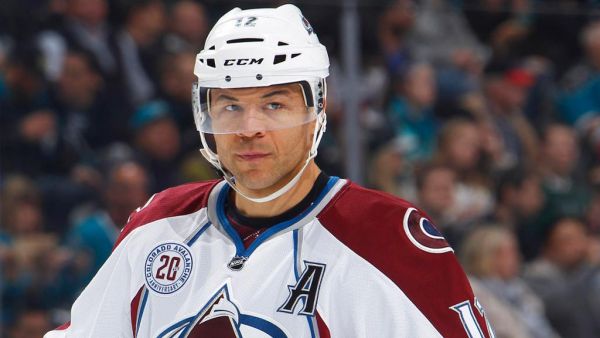 Caption: Jarome Iginla will go down in history books as one of the all time NHL greats.
Photo Credit: nhl.com
Iginla then represented his beloved Flames in his final contracted season during the 2012-2013, and with his team languishing at the bottom, there were questions regarding his playing future at Calgary. Eventually, he ended up leaving the club being a draft pick by Pittsburgh Penguins in the 2013 NHL draft entry.
Further, after a season with the Penguins, he utilized his free agent status to good use and ended up representing Boston Bruins, who signed him to a $6 million 1 year deal.
However, even with an impressive season with the Bruins, Bruins were unable to re-sign him due to salary cap constraints, following which free agent Iggy then joined the Colorado Avalanche, with whom he signed a three-year contract worth $16 million.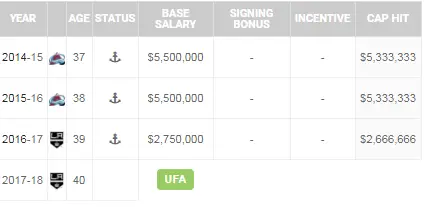 Caption: Colorado Avalanche signed Jarome Iginla for three years.
Photo Credit: spotrac.com
His contract with Avalanche included a $16,000,000 guaranteed amount and a yearly average salary of $5,333,333.
He reached a great milestone when he was with the Avalanche, playing his 1,500th NHL game; only 15 others have reached this amazing milestone.
But, he was then traded to the Los Angeles Kings on March 1, 2017, for a 2018 conditional 4th round pick. The earnings he will make from his services at LA is not disclosed, but it is surely going to add up to his already splendid net worth of $18 million.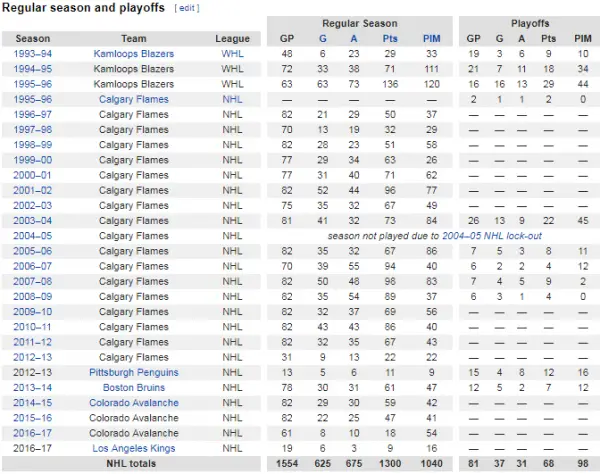 Caption: Iggy's career stats.
It seems Iggy is looking to add more to his tally as he has expressed his will to carry on playing and not retire anytime soon!
In an interview with Denver Post, he said,
"I'm not trying to save myself for anything, I want to come back and be physical, a net-front presence, and I still enjoy playing a lot. I still feel good."
He expressed his willingness to get better than what he was in the previous year,
"I want to be better than I was last year, I had a good start last year, a tough middle and a good last quarter, as far as my play. At times I got away from being gritty or aggressive enough. I'd like to get back to that."
Iggy concluded,
"It's not about getting a certain amount of goals or any of that, I want to be part of the playoffs and ultimately win it. ... I feel strong. I want to be a part of, first of all, the playoffs, and I feel that we can do that. And once you get there, you never know. But with this group it's getting better and better."
No wonder he has people looking up to him for a long time, admiring his mettle while on the ice!
Jarome Iginla's Family Life:
Jarome Iginla married his high school sweetheart turned wife, Kara back in 2003. The relationship between Iggy and Kara goes a long time back, as the two started dating since they were in the eighth standard.
The couple shares three children together; their daughter Jade and sons Tij and Joe.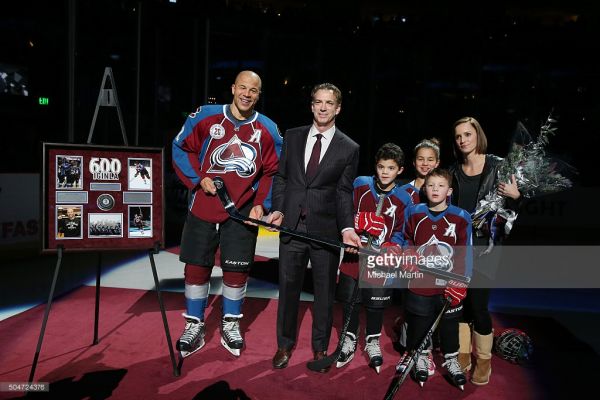 Caption: Jarome Iginla with his wife Kara and kids being presented a ceremonial 600th goal, silver stick on Jan 2016, Colorado.
Photo Credit: GettyImages
Iggy, as everyone probably knows, is a successful man in his family life as well which makes him a great person on and off the ice.
We wish him further success in his life ahead!
Stay with us for the emerging updates on Jarome Iginla!