Sports
Jarrod Dyson Secretly Married And Has A Wife? Or Having An Escalating Career Is More Important?
The center-fielder of The Seattle Mariners, Jarrod Dyson is fundamentally known for his speed and base-stealing abilities. And above all, his assistances to make the Kansas City Royals win the 2014 Al Pennant and the 2015 World Series titles are most discernible.
With these achievements in hand and ongoing sound performance from this American baseball player, he entirely seems centered on making a sturdy career stats.
But apart from his ever growing performance in his Baseball career, his fans are equally eager to know how much he has progressed in his personal life.
Let's take a peek into the personal front of this outstanding player and find out if he is married to someone is indulged in a dating relationship.
Is Jarrod Dyson Maintaining A Concealed Married Relationship?
Jarrod Dyson is now in the 33rd year of his life and the twelfth year of his professional sporting career. However, the on and off-field expert seems to be lagging behind in achieving the expertise related to a married life. Jarrod seemingly is unmarried and still in search of a partner!
Now that makes Dyson a single man; precisely a man without a wife. So, is Jarrod longing for the presence of any girlfriend in his life?
Well, he might be, but up until Dyson comes forth spilling beans about his relationship status; it remains a mystery for everyone.
Dyson, thence, is riveting in decorating his career figures to take his career a long way in the future; which is probably be the reason for him being a single man.
A Sneak At Jarrod Dyson's Baseball Career:
Jarrod Dyson began his professional gameplay on June 7, 2006, when he got first drafted by the Kansas City Royals in Round 50. For the very first year, he played for AZL Royals and recorded 19 stolen bases hitting .273 without any home run in total 51 matches.
Dyson was only called up to the major leagues in September 2010 by the Royals, and he began showing some best plays from the center field since that instant. He remained with the team for a long seven-season and played over 500 matches recording 260 hittings with 176 stolen bases in 1365 at-bats.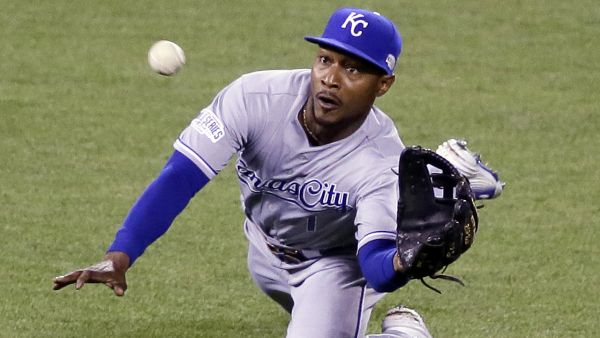 Caption: Dyson in action playing for the Royals.
Photo Credit: m.mlb.com
On January 6 this year, he got traded to Seattle Mariners for Nate Karns, signing a 1year/$2,800,000 contract with the Mariners a week later on January 13. According to the contract, he will earn a base salary of $2,800,000 while carrying a cap hit of $2,800,000 in 2017.
Dyson has already made his appearance in 111 matches playing for the Mariners and has five home runs with .251 hittings and 28 stolen bases in 346 at-bats.

Caption: Dyson's career stats according to Baseball Reference.
Photo Credit: baseball-reference.com
As per the CBS sports fantasy, he has three fantasy points in the twentieth week of this season. He is supposed to post 260/1 HR/35 RBI/40 SB type of line this season.
Stay with us for upcoming updates on Jarrod Dyson!