Sports
Joe Girardi With Wife of 26 Years: Protective Over Family and Players. Going to be Fired? Or Contract Extension?
Joe Girardi, who is regarded as one of the popular figures in baseball, both as a player and manager, has been married to his love of life for twenty-five years.
Joe Girardi, who is regarded as one of the popular figures in baseball, both as a player and manager, has been married to his love of life for twenty-five years.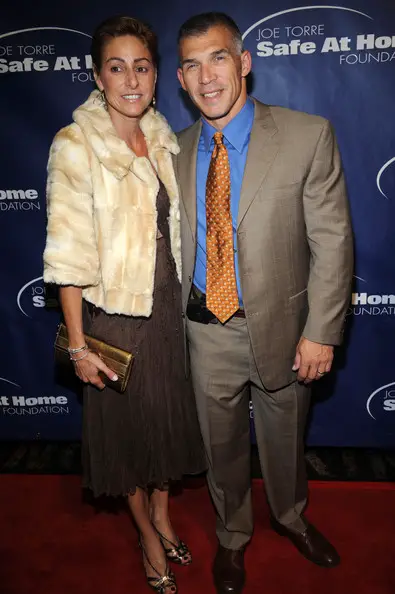 Caption: Joe Girardi and his wife Kim Girardi attending the 6th annual Joe Torre Safe at Home Foundation Gala at Pier 60 at Chelsea Piers on 7 November 2008, in New York City.  They are leading a happy life along with three children.
Source: bronxbaseballdaily.com
Married with a Love of his Life, Wife, Since 26 Years!
Kimberly Innocenzi and Joe Girardi got married in 1990. Innocenzi is the mother of their three children: Danste Girardi, Lena Yvonne Girardi, and Serena Girardi.
Evanston was the venue where Girardi met Kim Innocenzi, his to-be future wife, and mother of their three children. He first met Kimberly one night at the Alpha Tau Omega fraternity house at Northwestern University,
Kim had lost an earring. Girardi cashed the opportunity and discovered the lottery like a Hollywood romantic movie. Three years after their graduation, Girardi asked Kim to marry. This life decision was encouraged by his father who was asking the couple to settle down since their first couple of weeks into the relationship.
"She's been the wind beneath my wings, which was the song at our wedding," Girardi confessed in an interview dailynorthwestern.com in 2010. Girardi also said that his beloved wife Kim led him to the Lord, providing him a new type of strength which came handy to him while he was undergoing the most trying episodes in his life.
"Our relationship comes first and foremost."

 "We have put a lot of time into it, to make it grow year after year, and we have fun together."
And in a 2015 interview with nypost.com in 2015, Joe Girardi confessed that he likes to be protective of his family as well as his players.
Because I don't really let a lot of people into my personal life, because I think it's personal. But I'm also very protective. I'm very protective of my players because I've never forgotten how hard the game is to play. And I'm very protective of my family.
Is he Fired? New Contract?
Caption: Yankees beat reporter Brendan Kuty explains why it's too soon to start calling out for Yankees manager Joe Girardi's job in Boston on Friday, April 29, 2016.
It has been 8 years since New York Yankees signed Joe Girardi. But there has been speculations about Joe Girardi getting fired. But speculations are not always true.
He has already renewed his contract with New York Yankees two times in 2010 and 2013.  
Net Worth and House:
An agreement was signed in 2013 between the New York Yankees and Joe Girardi, a new four-year deal for $16 million. It made Joe the second highest paid manager in the game. Joe's net worth is estimated to be around $10 million.
Joe Girardi, the New York Yankees manager, lives in a lavish mansion. He purchased the all facilitated house in August of 2005 for $1.25M. Another house was purchased in Lutz, FL. He has also bought a mansion in Lake Forest, IL. He also owns his former home in Parkland, FL.
Joseph's Short Bio:
Joseph Elliott Girardi (born October 14, 1964) is an American professional baseball player as well as manager for New York Yankees. He was also named National League manager of the year after he managed Florida Marlins in 2006.
He pursued his education at East Peoria's Neil Armstrong grade school and also Northwestern University in Evanston, Illinois where he gained the degree of industrial engineering.
After retiring from his playing career in 2004, he became a commentator for the YES Network. As part of the network's pregame and postgame team, Girardi worked games three, four and five of the 2006 World Series for Fox.