Sports
Joe Mauer Secures A Place In Twins History! Will His Contract Be Renewed Even After Having A Stumbling Stats?
Minnesota Twins baseballer Joe Mauer is a name that every baseball fan is bound to know. He is someone who has been serving the MLB for more than a decade and now he boasts that he has secured a place in the Twins' history and that is a feat not many have achieved.
So we take a look at the proud achievement made by this man, and we also address the chances of his contract getting extended even though his records have not been that great as of late.
Joe Mauer: Basking In The Glory: Securing A Place In History.
On April 3, 2017, Joe secured himself a firm place in the Twins' history when he joined the now-deceased Hall of Famer Harmon Killebrew atop the Minnesota franchise list with his 13th Opening Day start as a Twins baseballer.
On achieving this very feat, he expressed,
"I'm honored to be able to do that. It's a big day. The excitement, the nerves, the emotion. It's a new start. It's a clean slate, and it doesn't matter what you did last year, good or bad. So it's exciting to see what this year will bring."
Moreover, his teammate and Twins second baseman Brian Dozier said,
"That's impressive. You don't play that long and put up MVP-caliber numbers for a long time, but Joe finds a way to still be productive."
Years after the Twins first drafted him as the first overall draft pick out of Cretin-Derham Hall High School, Joe' place in franchise history seemed certain as he has been nothing but spectacular for them
He has always been a valuable asset for the team, and it was made clear as to what value he added to the team when he received an 8-year contract extension.
Joe Mauer signed an eight-year contract worth $184,000,000 with the Twins from Minnesota. His contract included $184,000,000 guaranteed amount, and an annual yearly salary of $23,000,000.
Moreover, in 2017, Joe will earn a whopping base salary of $23,000,000 and carry a cap hit value of $23,000,000. This lucrative contract is set to keep him at Minnesota till 2018.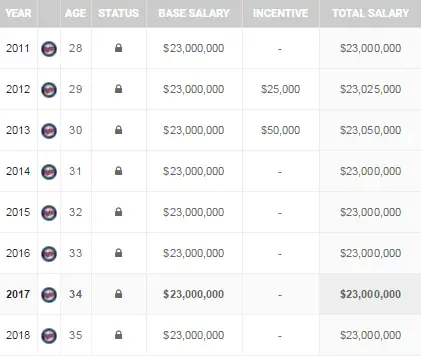 Caption: Joe Mauer's contract extension details with the Twins.
Photo Credit: spotrac.com
But will he receive another contract extension? That is the thing most people often wonder, as he has not been adding up to his tally and career stats in that good manner lately.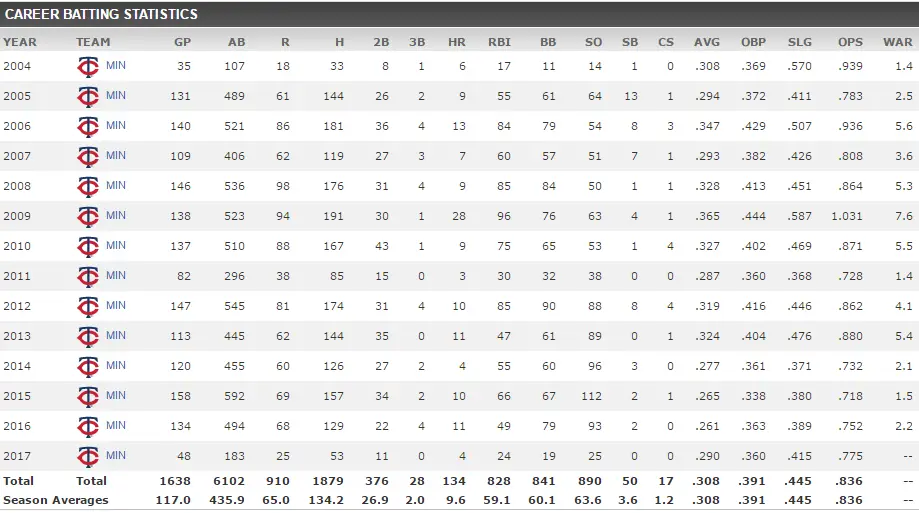 Caption: The stumbling yet strong career stats of Joe Mauer.
Photo Credit: espn.com
He has been a valuable asset for the Twins, and despite his downward slide in performances recently, the 34-year-old baseballer has a lot to offer. Thus, it might not come up as a surprise if he receives a second extension with the Twins.
The Personal Life of Joe Mauer: His Wife.
On the 11th of December, 2011, Joe Mauer announced his engagement to St. Paul nurse Maddie Bisanz, who was his girlfriend of around 18 months. The two attended and graduated from Cretin-Derham Hall High School together. They tied the knot on December 1, 2012, at Nativity of Our Lord Catholic Church located in St. Paul, Minnesota.
The relationship between them got even stronger when the couple welcomed fraternal twin daughters Emily Teresa and Maren Virginia on July 24, 2013.
The babies weighed 4 pounds, 15 ounces and Joe reached the hospital just in time to be there with his wife, Maddie.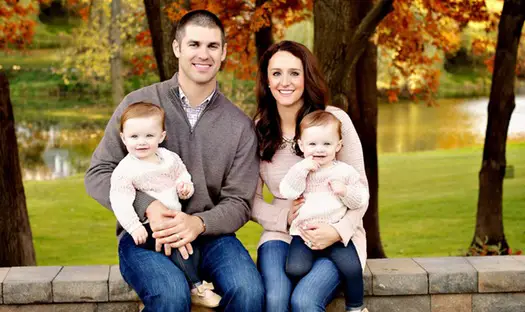 Caption: Joe Mauer and his wife Maddie with their twin daughters.
Photo Credit: startribune.com
Moreover, Joe made it crystal clear that he wants to raise his daughters in normalcy and far from his celeb shadow.
"I'm used to being a public figure and everything that comes with that role, but my wife and daughters are not. We will have to learn together as a family how to navigate through a very public world that Maddie and I did not have to face when we were young."
The family currently resides in their house in Sunfish Lake, Minnesota which Mauer bought in 2012.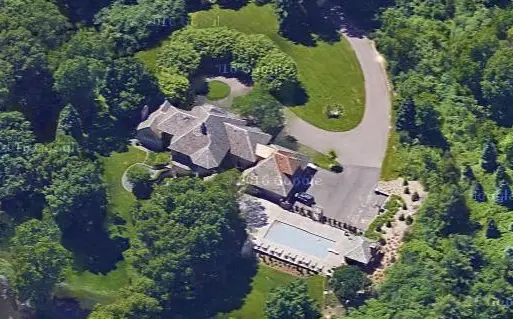 Caption: The aerial view of Joe Mauer's house in MN.
Photo Credit: virtualglobetrotting.com
The family is adorable, and we would like to wish them the very best for their relationship in the days to come.
Stay with us for the emerging updates on Joe Mauer!