Sports
Jonathan Toews Will Not Skate anytime Soon Due To Unprogressive Injury; Devoting His Time for Love?
Jonathan Toews is one of the remarkably accomplished athletes with an Olympic Gold Medal, two Stanley Cups, and a Conn Smythe Trophy and on his resume. But how well do you know about his relationship?
Sorry ladies, Toews is taken. So who is the lucky girl? On our story today we bring you with all the updates of Jonathan Toews.
Injury prone: Jonathan Toews!
Jonathan Toews would have played if the season was about to end or if these were plays offs but it isn't April or May. It is December, so Chicago Blackhawks is not willing to risk their captain and taking the time to make sure Toews is fully fit.
Toews has missed nine consecutive games due to his back injury. Although, but Hawks was placed on injured reserve Friday on Nov. 24, that is only a procedural move to create room on the roster for the return of Trevor van Riemsdyk, who was back in the lineup for the first time since Oct. 21 due to his long term injury.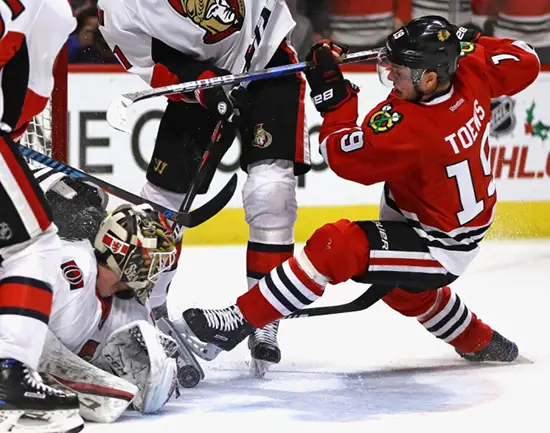 Caption: Toews in his comeback game against Ottawa on December 20.
Photo Credit: wgntv.com
Toews is that type of player who will have an immediate impact when comes to the field and said that he did not suffer the injury when he fell during the second period of that Nov. 23 in a game against the Sharks but was already playing through an existing injury. But Toews is optimistic.
"At this point the frustrating part is that I'm feeling pretty close to being able to play, (It's) the type of thing that most guys would be able to suck up and play if it were a playoff game and you're putting everything on the line."
Moreover, he added:
"But with the amount of games left in the season, it's not something to continuously deal with if you're going to aggravate it and it's going to keep coming back to haunt you."
Toews has returned after missing ninth consecutive games for Chicago Blackhawks. It seems like he has not had the best run recently and seems frustrated. It's been that kind of year for Toews where he has just four goals and hasn't scored since Nov. 6. He expressed his feelings after his match against Ottawa on December 20. He said:
"Even at the end, I don't know if I can stop the puck that way if I tried another 100 times. Yeah, it's frustrating."
Without their regular captain in the lineup, Hawks have earned 14 points out of possible 18 points. Jonathan Toews signed a deal of 8 years worth $84,000,000 contract with the Chicago Blackhawks which includes a $44,000,000 signing bonus and $84,000,000 guaranteed. Toews annual average salary is $10,500,000. Moreover, in 2016-17, Toews will be earning a base salary of $7,800,000 as well as a signing bonus of $6,000,000. Toews also has a cap hit of $10,500,000. In 2014 Toews signed an eight-year deal with an average annual salary of $10.5 million and being one of the top professional ice hockey players, his net worth is that as of $16 million.
With love of his life!
Jonathan Toews
has been dating
former Playboy model, Lindsey Vecchione. Toews's girlfriend Vecchione is a former model for Playboy as well as former Lingerie Football League player where she played for her hometown, Chicago Bliss. Jonathan is quite active in the social media and never misses to showcase his love for Lindsey through his Instagram, as we can see many posts of the lovely couple together quite often.
Lindsey Vecchione currently works as a hair stylist as she operates her own company, Hair by Lindsey. Lindsey's regularly spotted rink side in matches and is frequently seen with other Chicago player's wives and girlfriends at team-sponsored events and games.
Although he is 28, he is not married and would indeed be planning to marry his longtime girlfriend who can soon be his wife, but until the couple makes it official, we just have to sit back and wait for them to confirm the news.