Sports
Kansas City Chief Sign Eric Berry to an Outstanding Contract Despite Recent Injury and Past Cancer Issues
Eric Berry, American football Saftey of National Football League (NFL) is one happy man. He recently signed a contract worth millions and the deal proves that Chiefs made Eric Berry on top priority.
Eric Berry has one heck of a career. He's a fighter and a survivor. He fought back cancer, and today he is one of the top players in the game. Let's figure out his worth in contract as well as cancer-related issues!
Caption: Career highlights of Eric Berry!
A new contract worth millions!
Eric Berry on 28th February 2017 agreed to a new deal with Kansas City Chiefs worth $78 million over a period of six years with $40 million in guarantees as per sources. The current contract with Chiefs will make Berry the highest-paid safety in the NFL ahead of like Arizona's Tyrann Mathieu and Minnesota's veteran Harrison Smith.
It's a well-deserved deal for a player as well as Chiefs as both parties failed to reach a long-term agreement in last July after both sides were "miles apart" in contract talks.
That breakdown of contract negotiation left Berry to play under the franchise tag which is something that the seven-year safety had no plans of repeating coming in 2017 as he said earlier in February:
"I want to end my career in Kansas City. I want to play there. I love the city, I love the vibe, I love my teammates. I really look at them more than teammates. We've been through a lot and they supported me a lot. And the organization. But I don't feel comfortable playing under the franchise tag this year."
Eric Berry who was no 5th pick of Tennessee in 2010 draft and his recent contract includes $40 million for a guaranteed money which is most given to any other safety in the league. Chiefs head coach Andy Reid said on 1st March 2017 at the NFL Combine:
"It's great for your locker room. I'm stating the obvious because he's one of our team leaders and, really, the heartbeat of that defense. And we've got some great leaders on our team. But Eric's a special guy that way."
Berry recently picked up an injury in his heel during the Chiefs' 37-27 victory over the Chargers on January 1, 2017. But the injury wasn't that serious as he didn't miss any time in the postseason.
Fought back cancer!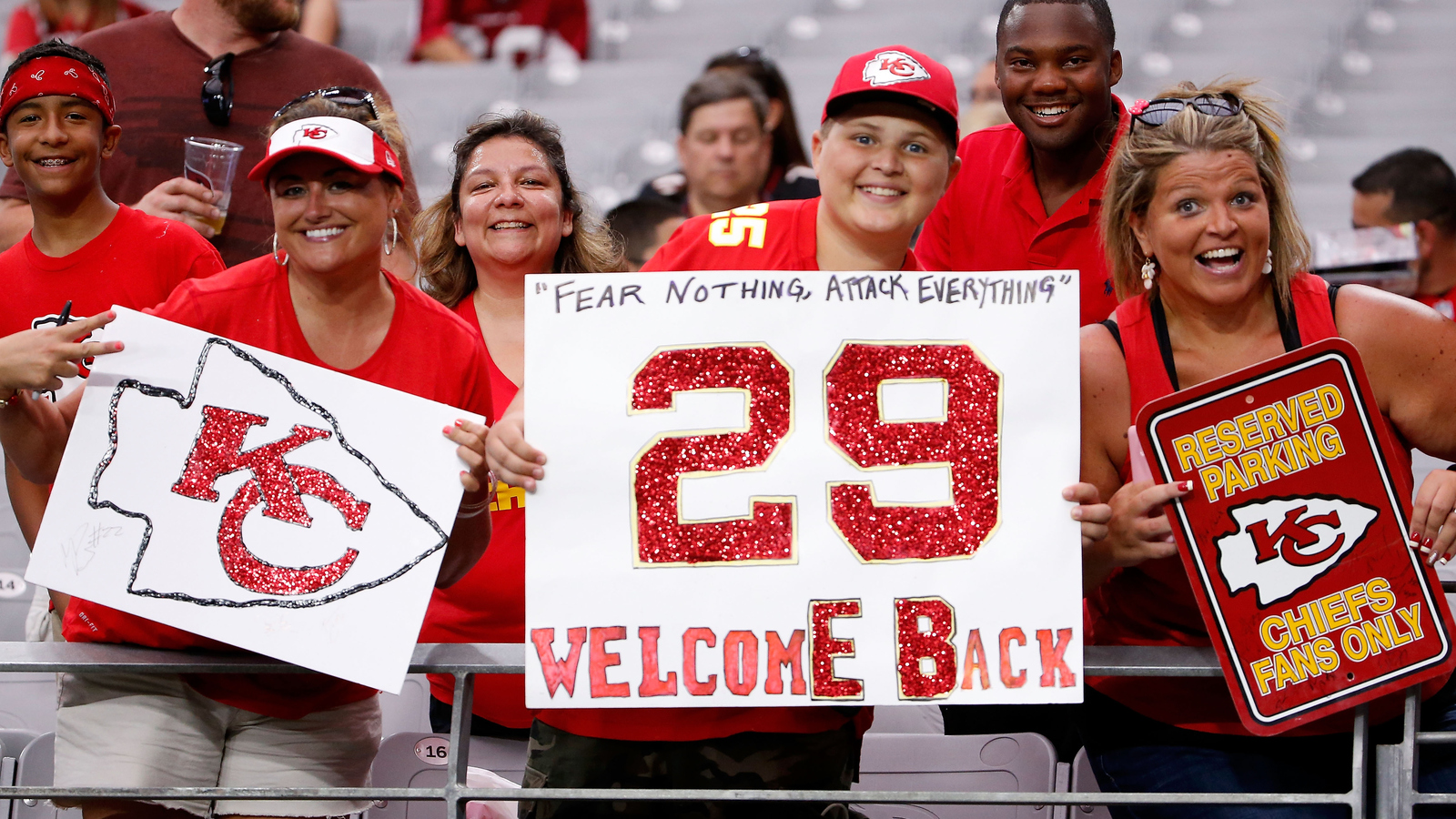 Caption: Eric Berry's fan welcomes him after he fought cancer.
Photo credit: foxsports.com
In December of 2014, Kansas City Chiefs safety of NFL Eric Berry was diagnosed with Hodgkin's disease as MRI revealed a mass on the right side of his chest. Doctors initially described the disease as cancer and as "very treatable and potentially curable."
After seven months, Berry learned that he was cancer-free. By the end of July 2015, he was cleared to practice, and during August he was on the field playing for the Chiefs' first preseason game. And he is now one of the marquee players for Chiefs.