Sports
Kevin Love Injury Won't Affect Stats Or Contract! Reason Along With Personal Update
American professional basketball player, Kevin Love is the NBA powerhouse, who has made a good name for himself in the basketball world.
Known for his three-point shot and tough rebounding, the NBA forward/center has been adding numbers to his stats and there's no stopping to it, even with the presence of injuries. The son of proud parents Stanley and Karen Love, Kevin has been building his basketball resume while keeping a beautiful girlfriend by his side.
Yes, he has been dating, and it's not just some girl! Kevin is seeing one of the hottest WAGS. 
Here are further details on his romantic life along with his wiki-like bio.
Adding Numbers To Stats Despite Injury, Contract
Following his father's footsteps, Kevin Love has developed talent and love for basketball. He began playing basketball from the earliest days and even played while in high school. At the end of his high school career, he was named the all-time leading scorer with 2,628 points.
While in college, Kevin verbally committed to play college basketball at UCLA which rose animosity from the Oregon fans who were expecting Kevin to play there. However, he thrived while playing there.
After the college, in 2008, Kevin entered 2008 NBA Draft. He was taken fifth overall by the Memphis Grizzlies. Following the draft, Kevin was involved in trade along with Mike Miller, Brian Cardinal, to the Minnesota Timberwolves.
Kevin played five seasons with Minnesota Timberwolves and added many numbers to his stats. Kevin had his career highs in rebounding, scoring (20.2), assists (2.5), free throw shooting (.850), double-doubles (64), 3-point shooting (.417)  while playing there in season 2010/11.
His career at Minnesota Timberwolves ended in 2014. The very same year he was traded to Cleveland Cavaliers in a three-team trade. In 2015, Kevin opted out of his final year of the contract.
He was resigned by the Cavaliers as he agreed to a five-year, $110 million contract. Since then he has been playing with Cavaliers. Back in season 2015/16 recorded playoff career highs with 28 points and 13 rebounds.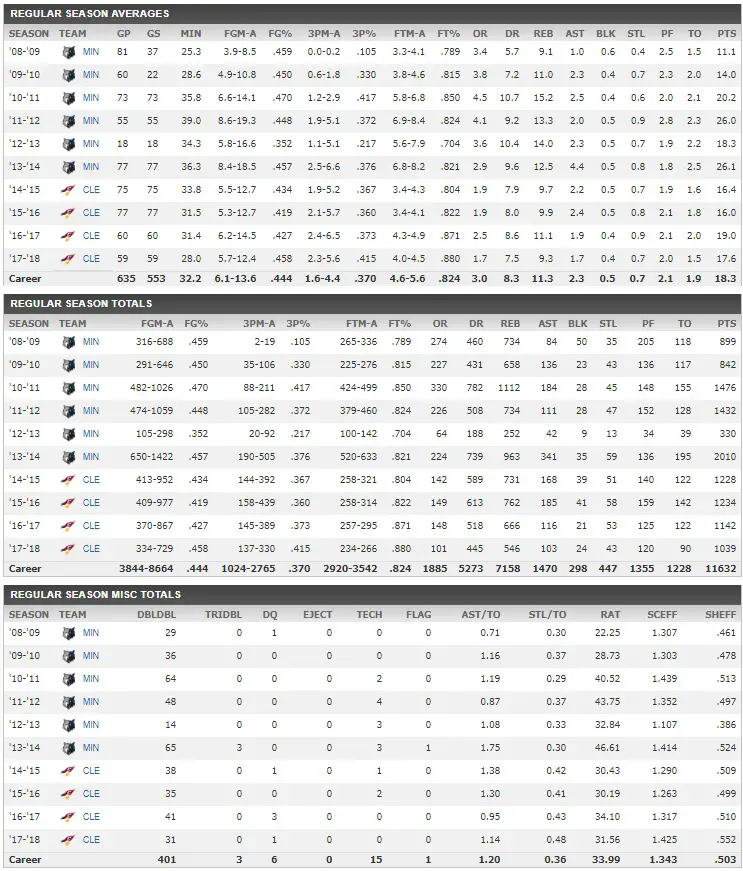 Kevin Love stats from 2008-2018. (Photo: espn.com)
Well, even though as talented as he is, Kevin has a history of missing time in Finals. He sat out entire 2015 finals with a separated shoulder and missed a game in 2016 final with a concussion.
Recently, Kevin suffered a concussion when he knocked heads with Celtics rookie Jayson Tatum in Game 6 of the Eastern Conference finals. 
However, he cleared the concussion at the end of May 2018 and was lined up for Game 1 of the NBA finals against Warriors which they lost.
Dating Life Details Apart From Stats
Well, just as interesting as his career is, his personal life is no less. He has been romantically involved with Kate Bock, a Canadian fashion model. The pair seems to share quite a bond together.
Even though how the couple met and fell in love is still a mystery they sure are going strong with their relationship even though they live miles apart from each other. As  Kevin is in Cleaveland and Kate lives in New York, they have a great distance between them.
However, they have been trying their best not to let the difference between the cities they live in bring a difference to thier hearts. It turns out they catch up and meet each other very often.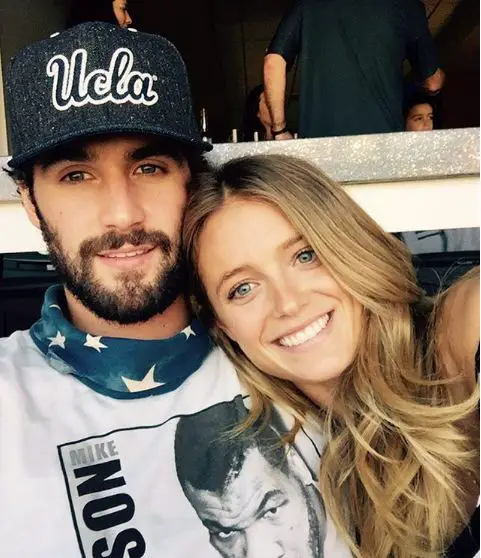 Kevin Love with his girlfriend Kate Bock in January 2018 (Photo: Kevin Love's Instagram)
Kate who travels most of the times for her job makes time to meet Kevin during her travels. Well, they sure are making their relationship work. 
Moreover, the couple also appeared together in a Banana Republic ad campaign. Kevin, who has a net worth of $44 million, was their brand ambassador in 2016 featured along with his girlfriend Kate in the advertisements.
Well, they sure seem a perfect match for each other and if Kevin is to get married now Kate could also be his possible wife.