Sports
Ice Hockey Winger Kyle Okposo's Married Life with his Girlfriend Turned Wife, His Career History and Daughter
With a lot of passion and love for ice hockey, Kyle Okposo was able to be the 7th overall draft in the 2006 NHL Entry Draft. And with the similar passion, he was even able to get the girl of his dreams. We might have seen Kyle rip his opponents apart in the rink, but he is a different person when it comes to his family. Let's find out what is so different about him.
Happily Married Life: Who is his Wife?
Kyle Okposo is in fact, a happily married guy, with a beautiful, longtime girlfriend turned wife and two amazing children. Kyle met his wife Danielle for the first time while at the movie theater around 14 years ago. After falling in love and dating for 14 years, Kyle and Danielle had a fairytale wedding on July 28, 2012.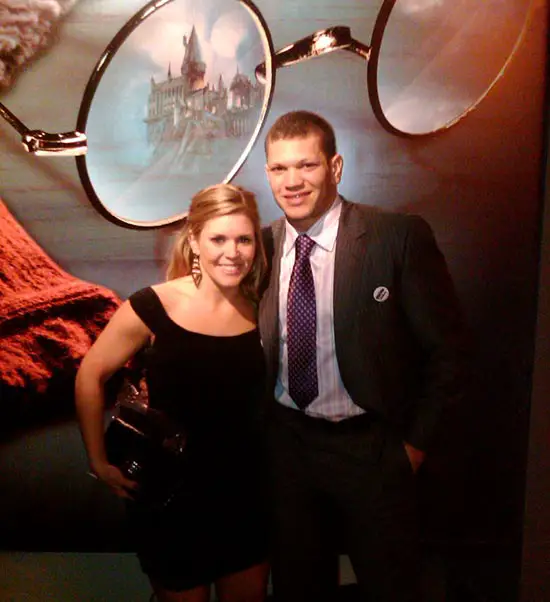 Caption: Kyle and wife Danielle attending the grand opening of Harry Potter: The Exhibition
Source: photoshelter.com
After about a year into the marriage, Kyle revealed that his wife was pregnant and finally Danielle gave birth to their first child, a daughter, Elliana. It was even said that after the birth of his first daughter, Kyle's performance got better and he was very dominant in his games.
Caption: Kyle right after the birth of his firstborn daughter Elliana and wife Danielle back in 2014.
Source: tumblr.com
After two years of giving birth to their first child, Kyle's wife Danielle again gave birth, this time a son, Odin, in April 2016, making Kyle and Danielle the proud parents of two.
Career Highlights:
The 28-year-old right winger was the seventh overall draft at the 2006 NHL Entry Draft by the New York Islanders as a right winger. Before being drafted, he used to play at the University of Minnesota. He also played a season in the United States Hockey League with the Des Moines Buccaneers. Apart from that, he also played for the U.S. National Junior Team.
Once he got drafted, he made his NHL debut on March 18, 2008, against the Toronto Maple Leafs and his first score was against New York Rangers.
Being an athlete, injuries are very common things. It depends highly on whether it's a career ending injury or not. And Kyle's career is one that is filled with injuries. 2015 was probably one of the most injury surrounded year for Okposo; he suffered an eye injury that was severed and career-threatening.
He again had to miss a couple of games due to a nagging lower-body injury, and in 2016 he suffered from yet another career-threatening knee injury, which he suffered during practice as a puck hit him. But as a true athlete, he was strong enough to get over the injury and get back to the game as soon as possible.
He started playing while he was in college and got drafted by New York Islanders and played there from 2008 to 2016. In July 2016, he became a free agent and got himself a seven-year, $42 million contract with the Buffalo Sabres, so currently, he plays with the Buffalo Sabres.
Recovering from unknown illness!
Buffalo Sabres ice hockey right winger Kyle Okposo is showing signs of improvement from an undisclosed illness, although there is no timetable yet as to when he might be released from the hospital, a source told The Associated Press in April 2017.
Okposo has been undergoing a battery of tests at Buffalo General Hospital's neurosurgical intensive care unit since April 2, 2017. Okposo has been sidelined since his complaining of an illness hours before the Sabres game at Columbus on March 28, 2017. Back then, Okposo had just returned to the lineup and played two games after missing ten because of a rib injury.
Following practice on April, Coach Dan Bylsma said that he had no update on Okposo's condition. Bylsma said:
"It's something we're all playing with right now. It's a difficult situation and a difficult time for Kyle and his family, and one we want to do everything we can to be with him and help him through the time that he's in right now."
Stay with us for latest updates on Kyle Okposo!