Sports
Leeds United Appointed Garry Monk as New Manager: Is He the Right Choice Over Steve Evans?
Steve Evans was sacked from Leeds United following his patchy spell. Being the manager of one of the reputed club of England is never an easy job especially with the club having Three First Division league titles along with an FA Cup and league cup. Following the drama, Gary Monk was appointed as new manager of Leeds United.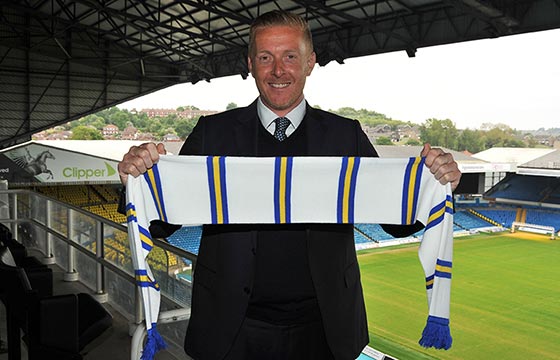 Caption: Gary Monk appointed as new Leeds Manager.
Source: leedsunited.com
Monk is 'The Whites'!
Gary Monk, who is the former manager of Premier League side Swansea, was announced as new Leeds Manager on 2nd June 2016. Gary Monk played his professional football for The Swans in between 2004 to 2014. Following his playing journey in Swansea, he was appointed Swansea Manager in 2014. But he was eventually sacked following 18 months in charge of the English side.
The 37 years old has penned down a one-year contract with Leeds with 'The Whites'. Monk has expressed few words about being the manager of Leeds United.
"It feels great to be here. I'm extremely honoured to join Leeds United Football Club - we all know the history of the club and the standing it has in English football."
"I feel really honoured to be here and I'm really looking forward to the challenge ahead. The passion of the fans, the history and the ambition of the owner all ties in with what I wanted to do."
"I want to be challenged and really get my teeth into a big project. That was the underlying factor throughout the whole process and that's the reason why I'm here today."
"This is definitely the right challenge for me and I'm really happy to be here."
The Boss is a happy man!
The Leeds chairman Massimo Cellino was determined about signing Monk as his new manager.
Cellino had heaps of praises to shower on Monk,
"Garry is part of a new generation of coaches in England and has a lot of potentials to develop, which is something we were targeting for the new season."
"I believe he's very suited to continuing the growth of our young and improving team. He will bring new strengths and a lot of energy to the squad."
"He was a fighter as a player and now he's the same as a manager - as we saw when he did very well at Swansea City. I feel he can really bring the best out of the team."
Evans vs Monk!
Steve Evans Tenure as Leeds Manager was short lived from October 2015 to May 2016. One thing is for sure, Steve Evans has an upper hand over Monk in terms of experience. Evans has managed 782 games for 4 clubs and also has 8 honors to his name. On the other hand, Monk has only managed 77 games for Swansea.
Gary Monk has managed Swansea in top flight Premier League while Evans is yet to manage one. Monk has Won 28 games, drawn 17 and lost 32 games for Swansea Whereas Evans has won 14 games, drawn 13 and lost 11 games for Leeds United.
Gary Monk has the win ratio of 35.8 % in top flight whereas Steve Evans has the win ratio of 36.84 % for Leeds. Although Evans has a slight edge in win ratio, managing 77 games and managing 38 games are different in many other terms. The most important fact is that Gary Monk enjoyed the best win ratio of any Swansea Manager in the Premier League.
Moreover, according to Opta, Garry Monk enjoys the 10th best win ratio of the 47 English managers to have taken charge of 50+ Premier League games.
Now it's up to you all to decide, Is Gary Monk best one for the job?
Caption: Garry Monk Exclusive 2.6.16
About Garry
Garry Alan Monk (born 6 March 1979) is an English football, manager, and former professional footballer. He is currently the head coach of Championship club Leeds United. Gary Monk played his professional football from The Swans from 2004 to 2014 (most of the games) as captain of the team. Monk managed Swansea Football Club from 2014 to 2015 for 18 months. He was named as the new Manager of Leeds United on 2nd June 2016.