Sports
Linford Christie's Family: Does He Have a Wife? What About Children?
He is one of the controversial players to step onto the field. Don't believe? Drugs? Doping? Is illustrating Britain a Jamaican? Linford Christie has done it all! 
Although he is a winner across the globe what about his personal life? What about his girlfriends and children? He has children with more than one partners. What else? We'll reveal it all!
Who is his Girlfriend? And Sons!
Linford Christie has again become a father of two more sons taking the total number of a tally of children to eight.It is pretty sure he has a huge family. Christie, who is also known to have six children aged between 11 and 37 with three women, had also fathered one of the sons with his long-term girlfriend, Mandy Miller.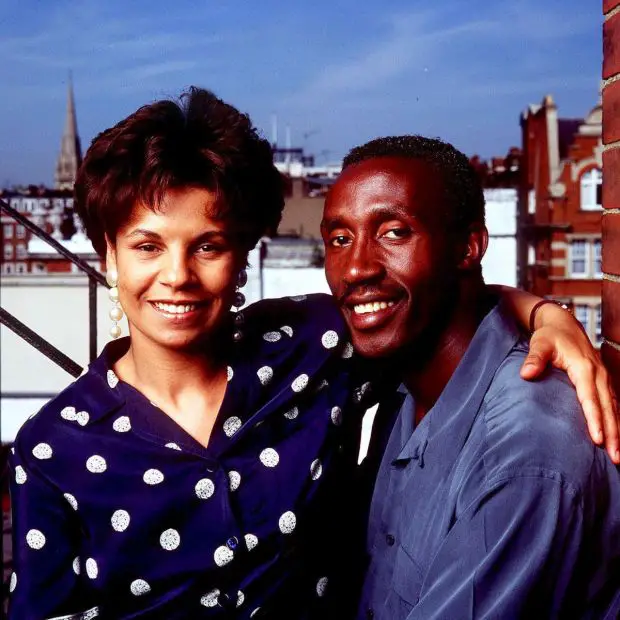 Caption: Linford Christie along with Mandy Miller as per the Sun published on 7th February 2016.
Source: thesun.co.uk
The 55-year-old Olympic legend and TV personality have fathered the children with Letitia Rathbone( not sure his wife) although he has his girlfriend of 26-year-old Mandy.
Christie has financially supported 35-year-old Miss Rathbone and also pays his visits her at her home, this revealed information is according to a report in The Sun by reporter Laura Armstrong.
A source told the newspaper on 7th February 2016: 'Her eldest son is nearly at school-going age, and he will soon be asking about his dad. What is she supposed to tell him when that happens?
'She lives in a very small neighborhood, and Linford has been visiting for years, so it's always been common knowledge that her sons are his.'
The Sun made a claim that Miss Rathbone and Christie had their first child in June 2012 while he was still in the relationship with Miss Miller, and the second child was born in November of 2014 after Christie's relationship with Miss Miller was no more.
Christie has a Briannah, 18, a daughter aged 14 and a son aged 11 with Miss Miller, and he also has Merric, 37, with girlfriend Judith Osborne, and twins Liam and Korel, 31, with Yvonne Oliver.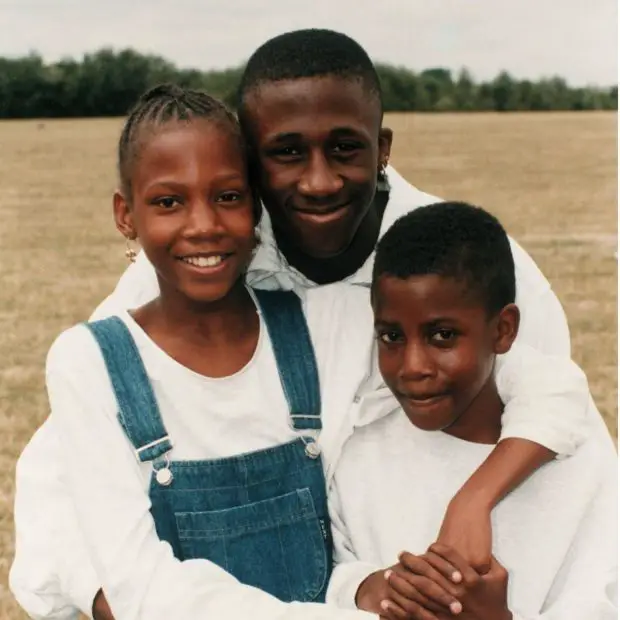 Caption: Christine with his son and daughter as per the Sun published on 7th February 2016.
Source: thesun.co.uk
Drugs ban!
In 1994 European Championships, Christine was caught red handed in a doping incident after Solomon Wariso, a 400 m runner who was making his international championship debut was tested positive for the stimulant ephedrine, banned drug. Wariso then revealed that he had used an over-the-counter pick-you-up called "Up Your Gas," which Christie had bought at a Florida pharmacy.
Then again in 1999 in Germany, Christie was again found guilty of using the performance-enhancing drug nandrolone following a doping test.
The IAAF gave Christie a two-year ban from athletics.Along with the ban, the British Olympic Association also announced that Christie would not be accredited for any future Olympic Games.
In a statement, the organization said on August 4, 1999:
"UK Athletics confirms that it has been notified of the suspension by (the) IAAF of Linford Christie, following an adverse finding of metabolites of nandrolone in a urine sample."
However, Christine denied the fact and in the same statement said;
"I have consistently opposed the use of banned substances, and it is ridiculous to imagine that I would take them after my retirement.
"Obviously I am completely innocent of any wrongdoing, and any case against me will be vigorously defended."
Is Bolt a freak?
Linford Christie who is the last British Olympic 100 meters champion, believes that the 'freak of Athletics' Usain Bolt is untouchable.
Linford Christie won 100m gold in Barcelona in 1992, and Coaches James Ellington who is one of three British athletes along with Chijindu Ujah as well as British champion James Dasaolu. Christie said:
'We always say the race is won before you get on to the track. Everybody now is thinking, who's going to come second or that we have to run 9.5 seconds to beat him.
Moreover, he added:
'Bolt has this way of taking people out of their comfort zone. He'll stand on his line and he'll do his hair and the lightning bolt thing, and now everybody is trying to have some sort of gimmick. I don't think you can ever write off Bolt. His presence alone is part of that. He's tall and on top of all that height the speed at which he can turn his legs over is like that of a short person — a freak of athletics in the nicest sense of the word.'
All three above British 100m entrants broke ten secs in the final of the national trials held in Birmingham in June of 2016, but the three meters per second wind reading was a full meter above the legal limit in the game.
Linford Christie's Short Bio:
Linford Cicero Christie was born on April 2, 1960, is a former British Jamaican sprinter and had a strange career. He is the only British player, although he was Jamaican to have won gold medals in the 100-meter race at all four major competitions which include: the Olympic Games, the World Championships, the European Championships and the Commonwealth Games.
Christie had also won the 100 meters at the Olympics at the age of 32 in Barcelona in 1992. Information about his net worth is not announced officially, but he is expected to be paid a handsome amount of salary.