Sports
Logan Ryan Rock Solid Stats Got Him A Pretty Fat Contract With The Titans! Something Patroits Should Worry About?
When you have a dominant career stats, you are bound to attract several clubs and franchises towards you. The same can be said about Cornerback Logan Ryan, who has now been signed by the Titans of Tennesse on the back of some amazing stats. But does this ring any alarms for the New England Patriots who Ryan once represented?
Logan Ryan Is Now A Titan; Worrying Signs For The Patriots?
Logan Ryan, who solidified himself as one of NFL's more dependable CBs with the Patriots has now ended his four-year run with the powerhouse of American Football, as he is now signed with the Tennessee Titans. Ryan took over his official Instagram account to share this news with his fans and followers.
Logan Ryan signed a 3-year contract worth $30,000,000 with the Titans of Tennessee, and his contract includes a $2,000,000 signing bonus, a $16,000,000 guaranteed amount and an average yearly salary of $10,000,000.
In 2017, Ryan is set to earn a base salary of $5,000,000 plus a signing bonus of $2,000,000, and a locker bonus of $3,000,000, along with a cap hit value of $8,666,666 and a dead cap amount of $12,000,000.
But does this deal between the Titans and Ryan ring any alarm for the Patriots who drafted Ryan back in the 213 NFL draft?
Other than a quarterback, a team mostly relies on the cornerback, and the Patriots did not re-sign Ryan, who has been a perfect complement and support to Malcolm Butler by playing technically sound defense and taking on the bigger receivers in the league. If we are to go by history, over the past five seasons, every single team has had a legit #1 shut down corner and a solid #2 corner.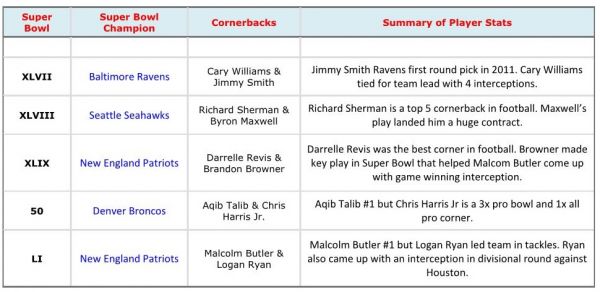 Caption: The Record of Cornerbacks in the last 5 Superbowl seasons.
Photo Credit: patriotswire.com
Logan is someone who is not an injury prone athlete and has only injured his shoulder once back in 2015, which is the most valued quality in a player. So the Patriots might struggle without Ryan this time round as he was a great asset to them.
Caption: Logan Ryan's Career Highlights during his time with the Patriots (Published on Mar 15, 2017).
So let us see if the Patriots do indeed rue the fact that they let go of one of their greatest assets.
Logan Ryan Is A Married Man Now!
Ryan is now a married man, as he and his long run girlfriend Ashley Bragg are now married and share a husband-wife relationship. The two got married back in April 2017.
Logan and Ashley first met at Rutgers a few years back. The two share a daughter named Avery, who was born on August 21, 2015, One year after their daughter was born, Ashley accepted the marriage proposal by Ryan.
These two go way back in time as the two first adopted a dog together while they were in school. The two are also huge lovers of dogs, and they also run a canine rescue operation which is called "Ryan's Monthly Rescue" which helps a lot of orphan and stray dogs find a home.
The couple is all loved up in their life, and also their daughter has played a huge role in making their bond even better.
We would like to wish Ryan and Ashley the very best for their married life in the days to come.
Stay with us for the emerging updates on Logan Ryan!