Sports
Luke Shaw's Fitness Issue After Injury On The Field; Denies Gay Rumors For Good
England, as well as Manchester United left-back Luke Shaw, is a young and upcoming name in football scenario. He is a great talent and is now getting better with time and every game he plays.
So today, we take a look at his career, stats, wages and his most talked about sexuality.
Shaw's Career Stats, Wages, and Injury.
Shaw was initially a member of Southampton Youth System, and he made his debut for the club back in January 2012. He was offered the contract in May the same year. His impressive run at Southampton made a great name for himself which that led him to get signed to the mighty red devils Manchester United in 2014. He was signed for the then record transfer fee for a teenager, which was £30 million.
On June 2014, he was signed by the red devils for four years and made his debut in the first match of Manchester United's pre-season against LA Galaxy, a game which Manchester United won 7 goals to nil with Shaw playing 45 minutes.
His performances for the club in the season enabled him to get shortlisted for the Golden Boy Award, an award that is given to Europe's most productive player under the age of 21. That was just the beginning of what would later turn out to a thriving career as his career stats suggest he has got way more talent than people have seen him put on display on the field.

Caption: Luke Shaw's career stats as of games played till 20 April 2017.
Photo Credit: wikipedia.org
However, during the opening game of the Champions league on 15 September 2015, he was caught by a sliding tackle from Hector Moreno which caused a double leg fracture and Shaw was provided with Oxygen and was taken off on a stretcher. That threatened his career a lot.
Caption: Luke Shaw's double leg fracture against PSV Eindhoven.
Published on Sep 16, 2015.
But given the fierce competitor he is, he returned to training in April 2016 and during his rehab, he showed tremendous character which the then boss Louis van Gaal explained in such words.
"He is already here every day, walking with a brace and starting his rehabilitation. It is unbelievable,"

"But he has a long way to go. At the moment, the progress is steep, but at the end it will be flat and that is difficult to maintain your mentality. But now he is fantastic."
Also, he shared a picture of him walking with a brace on his legs to keep the fans up to date on his recovery path.
His grit and dedication allowed him to recover quick and on 7 August 2016; he made his comeback against Leicester City, a game which his team won and lifted the 2016 FA Community Shield 2 goals to 1. And although he has been having some fitness issues, he gives it all on the field whenever he has donned a football shirt.
Speaking of his salary and wages, he earns 70,000 pounds a week. Manchester United is the richest club in football, and a man of such quality deserves to be paid in such amount.
He is great in real football, but even in FIFA 17, he has a great rank, and those who have him on their teams must surely be loving it.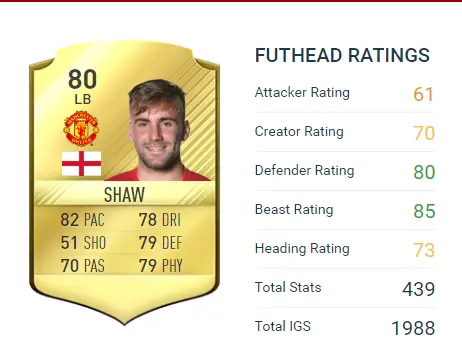 Caption: Shaw in FIFA 17.
Photo Credit: futhead.com
Moreover, he has put on shirts of various numbers on his back.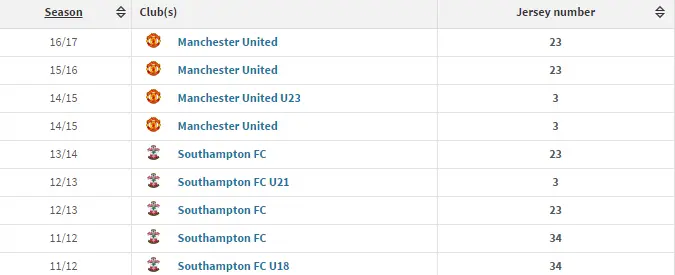 Caption: Shaw's shirt number for Southampton and Man U.
Photo Credit: transfermarkt.com
A treat to watch, we would like to wish him all the best for his future career!
Is Luke Shaw A Gay?
It was back in 2015 when Luke Shaw was termed a gay, as two people were planning to come out as gays and everyone thought it was Shaw. But he came forth and denied those rumors.
'It's not me so everyone can shut up now.'
He took over his Twitter to falsify those rumors.
Shaw has never been vocal about his love life and back in 2013, he said he did not have a girlfriend.
Everyone saying they feel sorry for me? I haven't got a girlfriend So don't be feeling sorry ha ?

— Luke Shaw (@LukeShaw23) February 18, 2013
However, come 2014, there was news that he had found a girlfriend and she was a model.
Also, in 2016, he was spotted with a girl at a London night club.
Quite a man of few words, he has not been advertising his love life in public.
But regardless, we would like to see him do even better in his life, both professionally and personally.
Stay with us for more news on Luke Shaw!