Sports
Maria Sharapova Isn't Married Or Has A Husband! But Also Won't Tell Anything On Her Boyfriend
Maria Sharapova's tennis career has lived through both the highs and the lows. She has won several silverwares in her life and is considered one of the greatest to ever grace the court.
But while she has enjoyed her glory and success she has earned in her career; Maria has also made some headlines with her drug suspensions issues.
However, there is one more thing that has made further headlines, and that is her love life. It is clear that she is not married and does not have a husband, but what about her dating status? Things are even not clear in that regard, as she prefers keeping those pieces of information to herself.
Let's dig into the hidden personal front of Maria to get acquainted
Maria Sharapova's Mysterious Dating Life: Is Not Married, A Boyfriend Or Dating Partner Perhaps?
Maria Sharapova is a beautiful lady, and along with her beauty, she is a five times grand slam champion. She has enjoyed the limelight in her career and has faced her share of struggles too.
But is there anyone in her life right now who is there to support her through the struggles? A boyfriend perhaps?
Well, she has not revealed anything about her having a boyfriend, and whenever the press and the fans ask about her dating life, she volleys those queries back to them in a very diplomatic manner.
An example of that can be taken from when there was some awkward grill between her and a media presenter during the post match interview after her first-round win at the Italian Open in Rome over Christina McHale this year.
A presenter once asked her if she is happy without a boyfriend in her life. When Sharapova replied she was happy in her life, the interviewer further queried, "even without a boyfriend?"
Responding to the query, she replied,
No comment.
Moreover, when the interviewer continued; 'it would be nice,' she reacted,
Is it? It would be nice. OK — for you. Are you married?
This is how she handled and handles the queries related to her love life, and that is why it remains unclear if she has a boyfriend at present.
However, it is a no brainer that she once dated Bulgarian tennis player, Grigor Dimitrov. The two dated for two years before calling it quits back in July 2015.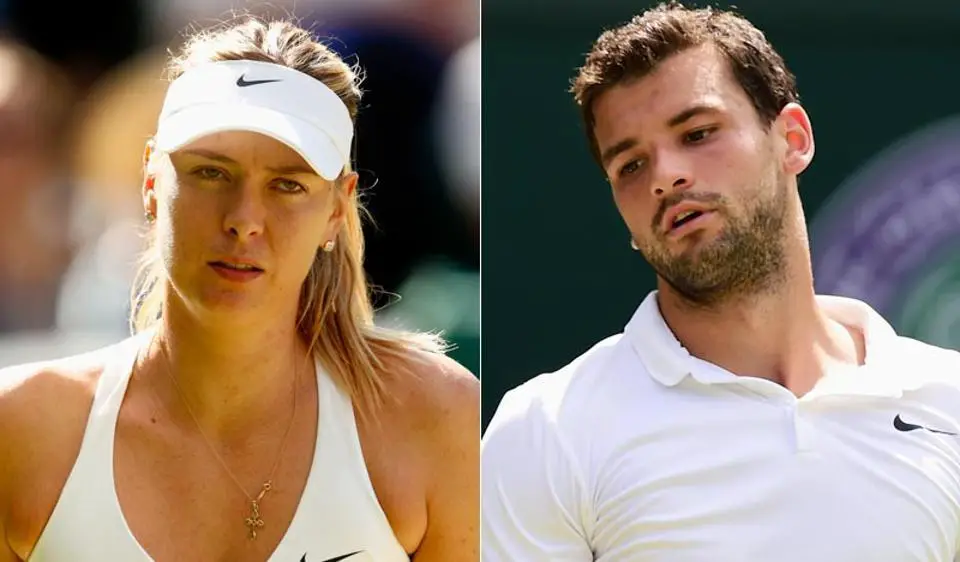 Caption: Maria Sharapova and Grigor Dimitrov dated for two years.
Photo Credit: hindustantimes.com
After the split, there have been some bold claims at times about one another too.
When Grigor addressed Maria's ban from tennis, which was initially for 20 months before being cut down to a 15-month ban; he indirectly indicated that Maria deserved the ban.
"If you do something, I mean obviously there are circumstances. And whoever does something deserves what he gets for sure."
However, he quickly added,
"I think tennis misses her, As a competitor, she's just going to come back and she's going to be so hungry to play and excited and motivated,"
Grigor also claimed that his relationship with Maria was the reason why his career took this long to launch.
"I think when I was younger, I was struggling to kind of differentiating love from a personal love or a tennis love or whatever else. There was time that I wasn't sure how to deal with both things in the same time.
He continued,
"But you learn. I guess we grow. I mean, I don't want to say I've learned from my mistakes, but I've learned myself a little bit better. I think that helps me. Hopefully it's going to help me for the future through any kind of falling-in-love stuff."
But even after all of these, they have been spotted cozying up with one another on several occasions, and that kept the relationship between Grigor and Nicole Scherzinger on thin ice.
And did you know, Maria's family has been very instrumental in her rise and the success she has tasted in her career thus far?
Maria's father Yuri has formerly worked with her as her coach for several years while her mother, Yelena's focus was on cultivating Maria's other interests. These kinds of support are what has made her the woman she is today!
Stay with us for the emerging updates on Maria Sharapova!