Sports
Baltimore Ravens' WR Marquise Brown Injury Update, Stats, Parents
Marquise Brown is a rising player who made his NFL debut in...possesses elite speed and...high school days at...his first season from Oklahoma University...impressive college stats...he suffered an ankle injury in... was born on...raised by his single mother...very close to his cousin Antonio Brown...uncle the legendary AFL star... in a relationship with girlfriend...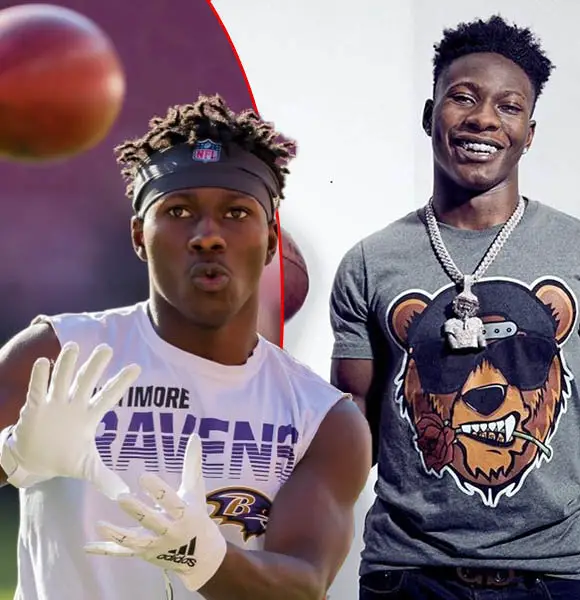 Marquise Brown is a rising player who made his NFL debut as the wide receiver for Baltimore Ravens in 2019. 
Despite being undersized (measurements, 5-feet-9 or 1.75m and 166 pounds) as per the NFL standards, the Ravens' wide receiver, who comes from a football bloodline, possesses elite speed and extraordinary talents on the field.
Read on to know about the rising athlete's career, family, stats, and other info.
Baltimore Ravens' WR Marquise Brown Stats/ Injury
Marquise Brown started playing football at a very young age. In his high school days at South Broward High School in Hollywood, Florida, he was a valuable player for his school's team.
As for his college career, he didn't receive any scholarship offers initially, but that changed after a year in junior college. During his first season from Oklahoma University in 2017, he caught 57 passes for 1,095 yards and seven touchdowns in 13 games. Further, in 2018, he caught 75 passes for 1,318 yards in 12 games.
After such impressive college stats, he was drafted by the Baltimore Ravens in the 2019 NFL draft. 
Another NFL Star:- Mason Rudolph Dating, Family, College
But unfortunately, the rookie athlete did not have the smoothest opening session as he suffered an ankle injury in October 2019. The injury kept Marquise out of the lineup for two weeks and missed many practice sessions.
Following his injury, the rookie player is cautious about his ailment. But in the recent matches against the New York Jets (13th December 2019) and Buffalo Bills (8th December 2019), Marquise has performed much better. 
Marquise Brown's Parents/ Family
Marquise Brown was born on 6th April 1977, in Florida. He was raised by his single mother, Shannon James, alongside his older sister, Shanice Brown.
Things were not easy for the family in their early days, but Shanon always strived to provide the best life for her children.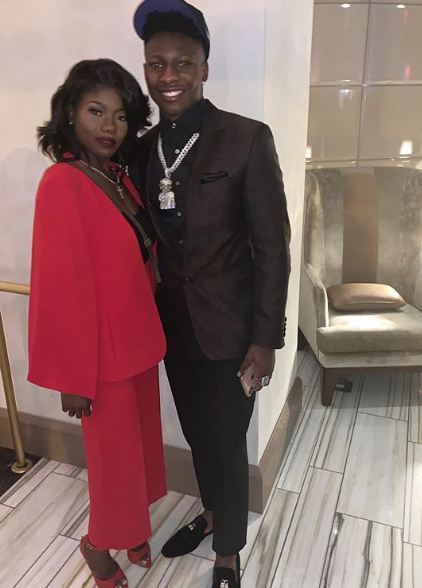 Marquise Brown with his mother Shannon James in May 2019 (Photo: Marquise Brown's Instagram)
For his mother's resistance and toughness, Marquise admires her the most, and the two remain extremely close to each other. Further, in June 2019, Marquise made his love for his mother pretty apparent as he bought her a big house and a car too.
Apart from his mother and sister, Marquise is also very close to his cousin Antonio Brown- New England Patriot's wide receiver and Antonio's father, his uncle, the legendary AFL star Eddie Brown. 
More About Marquise' Cousin Antonio:- Antonio Brown Married, Wife, Kids, Net Worth, Facts
So far, Antonio and Eddie Brown have been the biggest inspiration and mentors for Marquise.
Is He Dating? Girlfriend Info
Following his big NFL debut in 2019, Marquise Brown has gained quite a significant attention. Needless to say, that attentions also include queries regarding his dating life.
Well, the Baltimore Ravens' wide receiver is in a relationship with girlfriend Kennedi Jhonson. The details of their relationship remain a secret.
However, Kennedi is also an Oklahoma University Alumni so that the couple might have crossed paths during their college days.
For now, Marquise and Kennedi are going pretty strong. Further, they also do not shy away from showing off their PDAs on social media.