Sports
Matthew Stafford Gets His Contract Extended! Has The Most Expensive Deal In NFL History
NFL is going to witness the most expensive deal in its history!
This Monday came with a great news for Matthew Stafford, as he and Detroit Lions have agreed to a contract extension that is worth $135 million over five years. It will make the ninth-year quarterback, Matthew, the highest-paid player in NFL history for now.
Slightly more than $27 million being the reported annual salary, Stafford's contract surpasses that of Oakland Raiders' quarterback Derek Carr, who led the league for about two months after sealing the deal of a five-year, $125 million pact in June.
In 2017, Stafford will be earning a base salary of $1,000,000 along with a signing bonus of $50,000,000, while carrying a cap hit of $16,500,000 and a dead cap worth $66,000,000 in value.
People expressed their thought on the enormous paycheck Matthew will be receiving through an online poll, where 4% of them thought the deal isn't enough to justify his worth,
OK, #Lions fans. It's $27 million a year for Stafford from 2018-2022. Your thoughts?

— Freep Sports (@freepsports) August 29, 2017
Detroit Free Press elaborated the deal in details mentioning the negotiation started earlier in March this year.
"The Lions opened negotiations with Stafford around the NFL combine in March, and they bridged what one person familiar with the talks described as a "significant" gap in recent weeks."
The Lions is yet to win a playoff game since 1991, and Stafford, as a starter, is 51-61 in his career, including 0-3 in the post season. 
The first overall pick in the 2009 draft Stafford has the most franchise passing records that include; yards (30,303), attempts (4,285), completions (2,634) and touchdowns (187). This season has proven his abilities to its best!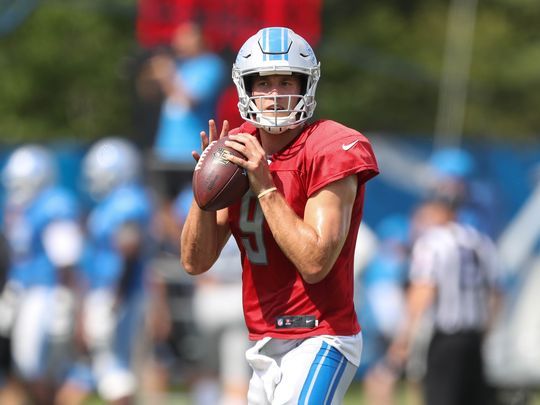 Caption: Matthew Stafford's pay check is something every body is batting an eye on!
Photo Credit: Freep.com
His stats from previous years seems impressive,

Caption: Matthew's playoffs passing stats!
Stats Credit: pro-football-reference.com
His college stats are also worth having a look at,

Caption: Stafford's college stats of passing!
Stats Credit: sports-reference.com
This emerging and skilled sportsman has a very bright future ahead of him, and we wish him further success in the days to come!
Stay with us for the latest updates on Matthew Stafford!