Sports
Baseball outfielder Michael Saunders Longs to Stay with the Blue Jays, But Will He be Offered the Contract?
One of the hottest news of Major League Baseball (MLB) is 'The Condor' being a free agent. If you're wondering who 'The Condor' is, it's none other than one of the hottest prospects in MLB, Michael Saunders.
A lot of clubs have shown interest in signing him, but what does he want? Will he get a contract once again from his beloved Blue Jays?
With the new season of MLB starting soon, the big question remains, which team will Michael Saunders play for! It is rumored that Michael Saunders was one of the favorites to receive a year contract worth $16.7million. But with months of speculations, there are news that Blue Jays could reconsider giving Saunders a red flag if his dip in form continues, given his lack of track record being an upper-tier hitter.
Michael Saunders hadn't had his best form during 27 games between August 16 to September 23; where his record showed just .207/.286/.427 with only four homers coming in over 92 plate appearances. Moreover, Saunders contributed in the 2nd half with altogether .179/.284/.375 slash line over 195 PA although eight of the 24 home on this season has come since his break for All-Star break. Saunders is till hoping that he gets a contract extension with Blue Jay. Saunders said to Times Colonist on November 8, 2016:
"I have spoken to Ross Atkins, the general manager, numerous times on the phone. No negotiations, just staying in touch and we both expressed our desire to stay in Toronto, at the end of the day, it's a two-way street, but my first choice is to remain a Blue Jay.
Moreover, he added that he wants to conclude his career with Blue Jays.
"I would love to finish my career as a Blue Jay. Obviously, it's a lot easier said than done, but that's my first choice. I thought, growing up, how cool it would be to wear a Jays' uniform. I've been very vocal about that throughout my ten years. Even though it's only been two years [in Toronto] it really feels like one."
On the other hand, Toronto Blue Jays GM Ross Atkins has made it clear that Saunders is not off the radar and the club is trying to understand all the alternatives and cost to build the team.
Saunders is often criticized as an injury-prone after missing nearly all of 2015 season with his knee injury. Saunders talked to the star on 2014 about the matter and said that:
If you want to label me as injury-prone, that's fine, but it's something I'm going to have to go out there and prove I can play every day. I prepare my body no other way than to play 162, and, hopefully, further on into October and November. I'm not going to change the way I play. I can't envision myself playing any other way."
It would be interesting to know whether Saunders will be offering a new contract and whether he can be fit all season.
A Perfect relationship!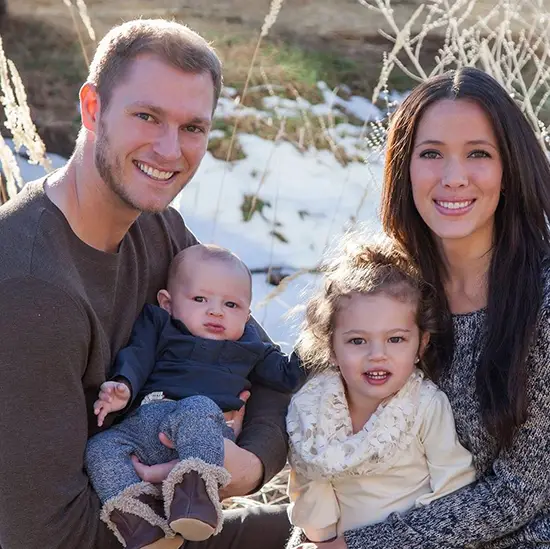 Caption: Michael and his wife Jessica Sanders along with their children.
Source: tumblr.com
Along with his career, Saunders has a healthy relationship with his family. Michael Sanders married his girlfriend Jessica in 2012. The couple has two children, one girl, and a baby boy.
All in all it, Sanders contract extension and its saga will be interesting to watch as all the team prepares for the upcoming season.