Sports
Mix Ethnicity Skylar Diggins Married To Longtime Boyfriend, Engaged And Sad!!!
Fans share a sturdy bond with the celebrities they love. They go to all extent in order to please their heartthrobs, have a photograph snapped along with them or get touched by them. Fan's emotions hinge on what is going on in the life of these celebrated figures. However, this case of American basketball player Skylar Diggins is rather an unusual one. The world is "mourning" her engagement.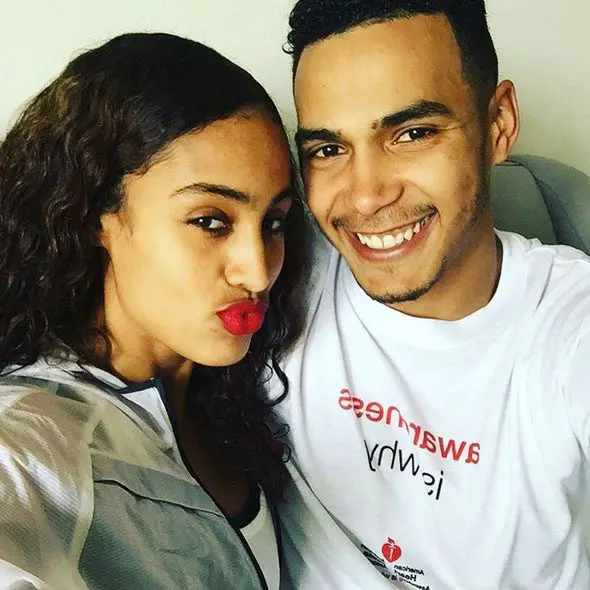 The decorated American basketball player, Skylar Diggins got engaged to her boyfriend in 2016, which was responded with mixed emotions. Her big day not only generated congratulatory responses but also made many fans unhappy.  
They dated for a long time until the Notre Dame former football player, Smith finally decided to hijack the beauty before anyone could lure her away.
The Indiana native got married to her fiance in 2017 and also changed her surname to Diggins-Smith.  
Met Boyfriend In University, Engaged In Art Gallery 
The favorite basketball player met the man of her life while both of them were attending the University of Notre Dame, and they started dating soon after. 
Daniel Smith used to play as a wide receiver for the football team of Clay High School before he started playing in the same position for Notre Dame. Their relationship grew after Diggins entered the WNBA in 2013.
Skylar Diggins got engaged to her longtime boyfriend, Daniel Smith at the Mary Tomas Gallery on 20 June 2016. She announced the news via social media on 20 June 2016.
During one of Daniel's art exhibits, Skylar's graphic artist boyfriend got down on his one knee and popped the question. 
Diggins boyfriend proposes her at the Mary Tomas Gallery in June 2016 (Photo: Skylar Diggins' Instagram)
Skylar's boyfriend-turned-soon-to-be-fiance brought along the professional photographer, Gavin Lueking to capture the memorable moment.
On the same day, Skylar Diggins took to Twitter to share the happy news, posting her proposal moment.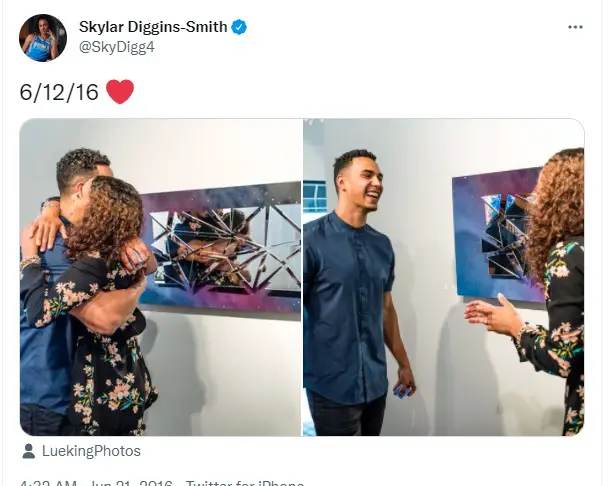 The photographer of the special moment, Gavin Lueking also congratulated the newly engaged couple via a tweet.
The three-time WNBA All-Star witnessed mixed reactions from the fans regarding her engagement. Some fans were heart-broken upon finding the engagement news.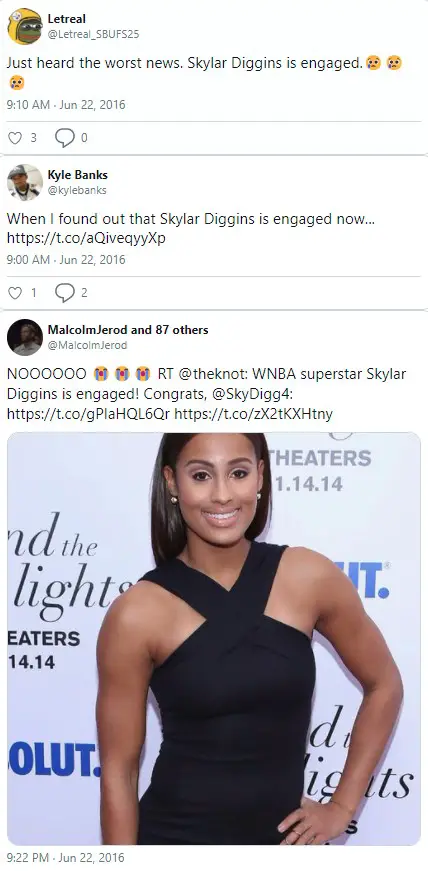 Skylar Diggins Gets Married
In May 2017, she tied the knot with Daniel over the weekend at the Museum of Contemporary Art in Chicago. The couple's lavish wedding was curated by Kesh Designs as per the wedding planner, Akeshi Akinseye of Kesh Events.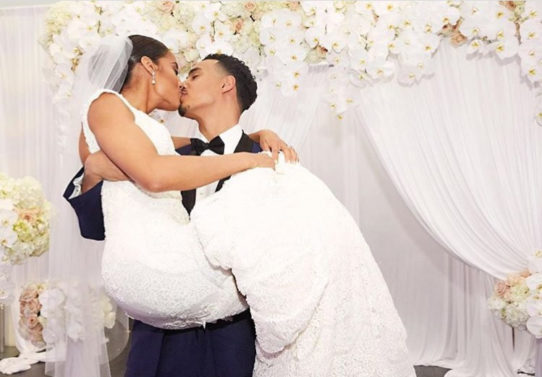 She took to Instagram to share her married news by posting a photo of her blissful moment on 4 May 2017.  She captioned the image as,
"Married my best friend this weekend, officially making me the happiest woman on earth! Thanks to everyone who has sent their love and support. To forever!"
Congratulations came in a bundle for the couple!
The Notre Dame's Associate Head Coach and Recruiting Coordinator at the University of Notre Dame, Niele Ivey congratulated the newly wedded couple by posting an Instagram image on 1st May 2017. Even the event organizing company, Kesh events gave their blessing and congratulations via Instagram on 1 May 2017. 
Prior to the wedding, she already hinted about her upcoming wedding by posting an Instagram image on 29 April 2017, where she updated her jersey's name. 
Boyfriend's Brawl With Drake:
In June 2014, while hosting the 2014 ESPYS, the famous rapper, Drake praised reciting a poem titled "Can I Dig In?." At the time, an incensed Smith called out the rapper for flirting with his girlfriend at the public event.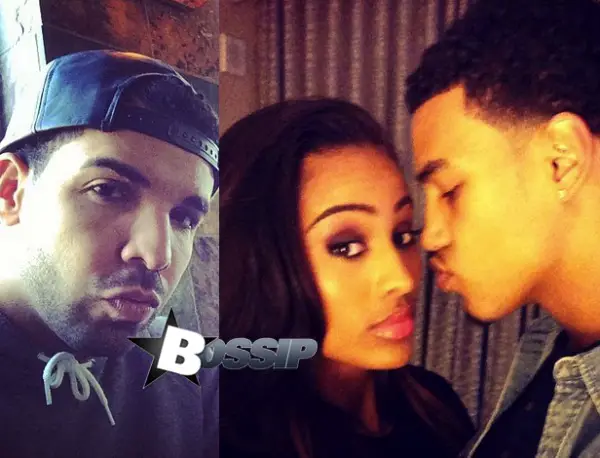 Daniel Smith and Drake, who often got into dispute for Diggins (Photo: Wordpress.com)
Later, Skylar's boyfriend-turned-fiance responded negatively which ended up as an online brawl with reputed rapper Drake in June 2014. 
"On and Off The Court" of Skylar Diggins:
Apart from her personal life, the daughter of Tige Diggins and Renne Scott, Skylar is the much-heard name in the basketball sport. The South Bend, Indiana native cemented her spot on the basketball radar after accumulating the record points in every category that includes 620 rebounds, 601 assists, 475 steals, and 161 blocks in her college days at the Washington High School.
The step-daughter of Sarah Diggins and Maurice Scott, who belongs to the black ethnicity, kept the momentum going while playing for Notre Dame in her collegiate career by compiling the record of 2,357 points.
Her excellence had no easing whether it was in the sophomore or senior year as the Nancy Lieberman Award winner helped in Dame's dominance in NCAA.
Skylar, who enjoys the net worth of $400 thousand, made her professional breakthrough after she was picked as the 3rd overall in the 2013 WNBA Draft. Coming into the fourth season, the success showed no sign of halting as she attained the superstar status with the second-highest points (20.1) per game in 2014.
In an interview in June 2016, giving credit to her teammates for her successful recovery, she stated, 
"I've been getting into the rhythm and getting into the game. My teammates have been finding me. The last game we were playing desperate, down 17, and just wanted to make it a game. We're just playing together. We're finally all on the court. All 12 of us are available to play. We're slowly starting to gel coming off of a six-game skid. Now on a three-game winning streak, two coming against a championship-caliber team."
Oozing with sex appeal and charm, Diggins also owes her fame to the sheer beauty she posses. She featured in the Sports Illustrated Swimsuit issue of 2014 along with Vogue's.
She was also reported on her link with pioneering hip-hop figure, Jay-Z as she was represented by the Roc Nation, Jay-Z's company.
The tales of her beauty includes the rappers Lil Wayne and Drake stalking her. Lil Wayne was frequently embedded Diggin's name in his lyrics addressing her as wifey while Drake too seems pretty obsessed with the lady.
Diggins also tried her hands in writing by publishing a book called The Middle School Rules about her childhood days.
"It means the possibilities are endless," Diggins says. "It means there's no mold for me. It means I can blaze my own trail. It means that I can knock down barriers. It means certain things are possible, and if I work at a certain level, they become probable."- Diggin
The twenty-five-year-old has the guts to take the accomplishments all the way. Currently, she is playing as the point guard in Dallas Wings.