Sports
Mixed Martial Artist Tito Ortiz: Interested to Fight With Kimbo Slice. Plus, his Married Life, Wife and Girlfriend?
Unarguably, Jacob Christopher "Tito" Ortiz is one of the finest mixed martial artists that America and Bellator MMA boasts of. Having undergone frequent surgeries, including modern neck fusion a year before, Tito was speculated to be retiring soon. However, it seems his final retirement isn't anywhere near after he decided to prolong his 19 years of career with probable bouts in 2016 that may see him trading blows with Kimbo Slice.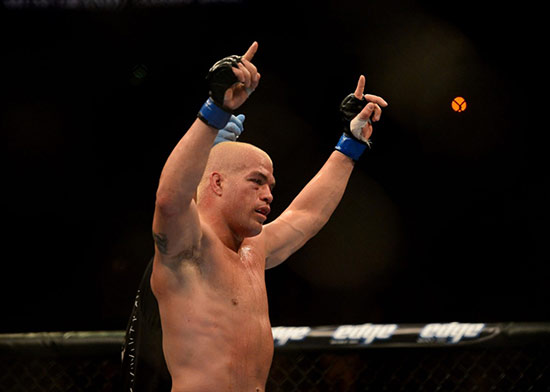 Caption: Tito Ortiz celebrates one of his many wins
Source: mmainsider.net
From Ultimate Fighting Championship (UFC), professional wrestling at Total Nonstop Action (TNA) to appearances at TV series and movies, Tito has been around the world showcasing his mixed martial art calibers.  "The Huntington Beach Boy" 's last few years have been spent on retiring and making comebacks after being dragged with injuries. However, he hinted that 2016 is going to be "bang", and he would be seen fighting big names of the industry.
"I'm a machine man. I'll be good in about a month. I'll fight this year, 100 percent," he said to MMA Fighting in an interview.
Legendary Fedor Emelianenko was the first name that fans speculated to be his rival in the first bout. But he denied the rumors saying, "I won't take Fedor my first fight. I'm coming off an injury, you know. I want a warm up first. Let's do a warm-up first and let's make it a big warm-up so that everybody wants to watch it."
When the interviewer immediately questioned, if he was eyeing to fight Kimbo Slice, Tito burst into laughter and said, "That's a pretty damn good name."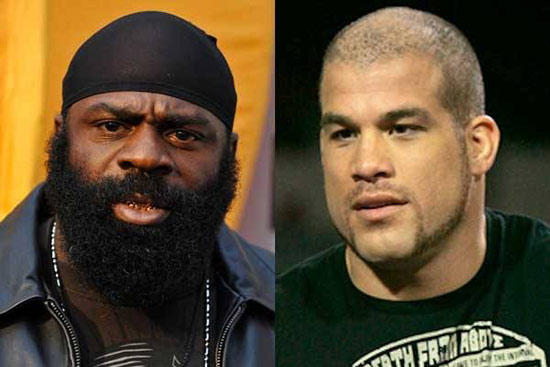 Caption: Kimbo Slice VS Ortiz would have made the best fight of MMA
Source: mmanews.com
Considering how hot an asset they are in Bellator, Tito VS Slice, if fixed, will surely make headlines as the most anticipated match of 2016. With the ring name of Kimbo Slice, Kevin Ferguson is a former Ultimate Fighting Championship (UFC) and Elite XC vet. Both Ortiz's and Slice's respective bouts with Stephan Bonnar and Ken Shamrock are rated as the highest cards in Bellator history. Scott Coker, the Bellator president, has ample reasons to make Kimbo Slice Vs Ortiz happen.
Back in 2015, the former Light Heavyweight Champion and inductee at UFC Hall of Fame had refused to fight with Kimbo calling the bout as step-down. He said to Ag.Fight, "Fighting Kimbo is a step down for me. In his last fight, he was choked out, and he is a street fighter, I'm a world champion. Fighting someone like Kimbo is step-down. I don't want to fight a street fighter."
Kimbo Slice too will be looking forward to the fight and made his opinions clear, when he said to MMAmania, "Shit, you know they could put Tito (Ortiz) on that plate, too. For sure, I got a bone to pick with that dude, man. Ain't no problem with him yet, but you know, from back in the strike force days, I was hearing shit about him calling me out and talking shit about me, so yeah, we could definitely put that in the making." He also yelled out a warning, "He's gonna have a problem with my hand game."
Tito Ortiz Vs Kimbo Slice will be a "dream come true" for many fans and is favorite to replace the highest rated fight of Bellator History.
Twitter is expecting:
Kimbo Slice vs Tito Ortiz would do huge ratings on Spike Tv. Surpass anything the UFC has done so far. We all know it's true. #bellator #mma

— JP (@JJJP) January 20, 2015
@Mirrorsawed has suggested Tito Ortiz vs. Kimbo Slice possibly in Dana Whites backyard... Any takers? #TheComback

— The Fighters Hub (@thefightershub) July 11, 2013
Ortiz's Married Life, Children and "Girlfriend."
Tito married in 2000 with his first and only official wife, Kristen, who he knew since he was 15 years old at college. The couple gave birth to a son, Jacob before divorcing in 2005 after five years of being tied in the conjugal knot.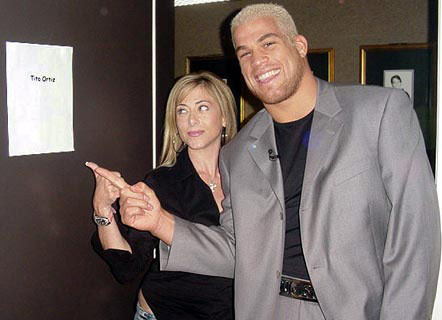 Caption: Tito and Kristin back then when they were a couple.
Source: fcfighter.com
He, then, started a monogamous Live-in relationship with his girlfriend of two years Jenna Jameson, a former adult film star. They were frequently witnessed in parties and movie premieres engrossed in love. The strong bond was clearly visible when he refused to attend the United States Marine Corps, after Jameson was denied the entry on November 12, 2006.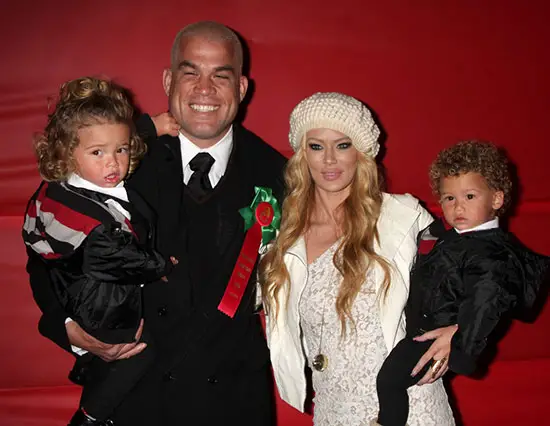 Caption: Ortiz and Jameson with their twins as they attend some program
Source: posh24.com
However, things turned sour following the birth of twins: Jesse Jameson and Journey Jett in 2009. The rift continued to widen during their stay in Huntington Beach and reached the legal battle in 2010, with Jameson accusing Ortiz of Domestic Violence while Ortiz alleging Jameson to be addicted to Oxycontin. Ortiz was initially arrested in the charge of a felony but late bailed out. Even his ex-wife Kristen came to his rescue by claiming she never faced any abuse from Ortiz. Their troubled relation formally ended in March 2015, and Ortiz was provided the custody of his twins.
While he was going through this rough patch with the responsibility of 4-year-old twins resting on his shoulder, he met his current girlfriend Amber Nichole Miller. Miller was a ring girl in UFC, and the couple had been in touch since that time. These days, Miller is staying with Ortiz in star's castle themed mansion in Huntington Beach along with the twins.
"We're Lucky. She's been amazing. She's so caring. The boys love her, she has patience with them, and she teaches them. She makes me happy," Ortiz explains his relation with Amber talking to The San Diego Union. " I feel like God sent me an angel so I can have someone who takes care of me. I've found someone who's my best friend."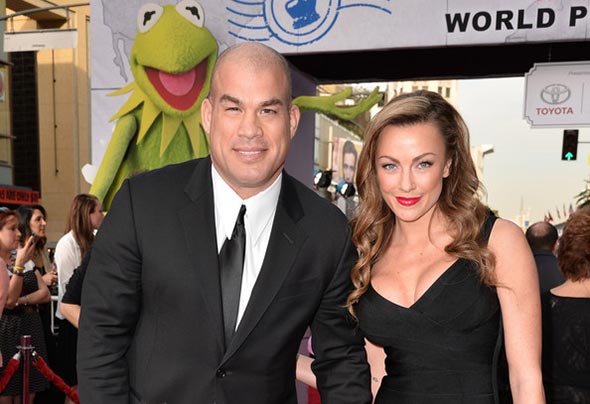 Caption: Tito Ortiz and Miller are speculated to go long
Source:foxsports.com
The relation they are enjoying fuels the rumors that this pleasant couple may get married soon.