Sports
NBA's JaVale McGee To Get A Contract Renewal? Will All The Slick Stats Come To His Aid?
Golden State Warriors tasted the NBA glory this season with a comprehensive win over the CAs from Cleveland, and one of the key members of the winning squad is JaVale McGee.
JaVale is someone who has been a success ever since he stepped foot in the NBA circuit back in 2008 and has never looked back.
So now that he has achieved the biggest highlight of his career is he staying at the Warriors for the next season? Will his contract get extended and will his slick stats help his cause? Let us find out!
Will JaVale McGee Stay At Warriors Next Season? Will His Contract Get Extended?
JaVale McGee is now an NBA champion. But what does the future seems like for him with the reigning champs?
Rumors have hit regarding his future with the Warriors that goes both ways, positive and negative.
So let us hear it from the man himself and know what it would be like to stay with the Warriors or leave the Warriors as he discussed this in a recent interview.
When he was asked as to how it feels like to be a free agent, he replied,
I feel great. I'm just trying to stay in the gym, staying focused, making sure I keep my mind on the task at hand.
But being a free agent, there are possibilities of him leaving the Warriors, and he also shared how would it feel for him to exit the team which made him an NBA champion when he said,
Oh man, it would be horrible to leave here. This is the best situation I've ever been and I love it here. But I definitely have to make the best decision for my family, I guess.
The Warriors franchise has taken no major decision as of yet, but if you are to go by his career stats, he might as well prove to be someone that the Warriors might want to keep with them.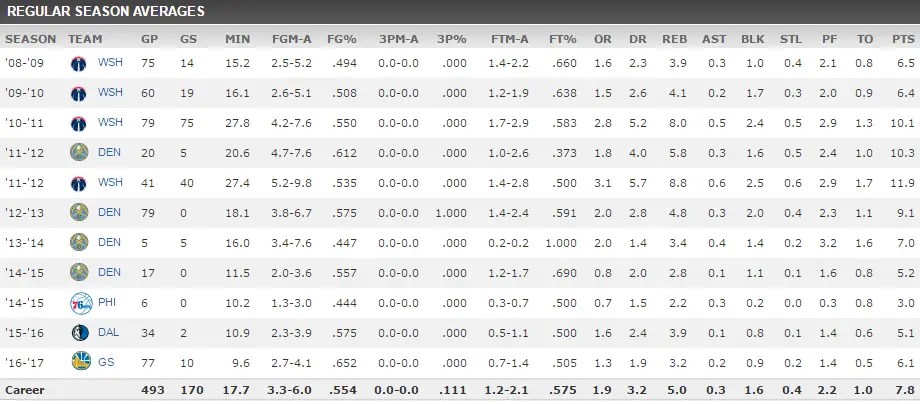 Caption: JaVale McGee regular season average career stats.
Photo Credit: espn.com
JaVale has always been injury prone and has been injured on some occasions, but still, he has not let those injury setbacks dent his stats.
He previously played for large teams like Washington Wizards, a team which drafted him as the 18th overall draft picked back in 2008.
His team includes Denver Nuggets where she spent three seasons (2012-2015), Philadelphia 76ers and Dallas Mavericks before being a part of Golden State Warriors in 2016, a time where his career was at crossroads.
JaVale McGee signed a 1-year contract worth $1,403,611 with the Golden State Warriors. His contract included $1,403,611 guaranteed amount as well as an average annual salary of $1,403,611. That has had some significant impact on his net worth too which currently dwells around $14 million.
More You'd Like To Know About JaVale McGee.
Born on January 19, 1988, JaVale McGee is a professional basketballer, who is a soon to be a free agent in the NBA market. He is an NBA champion with the GS Warriors and has also played for several other teams in the NBA since being drafted back in 2008 by the Wizards of Washington.
He comes from a basketball family. His parents, his father, 6'10" tall George Montgomery was a 1985 second-round draft selection of the Portland Trail Blazers while his mother, Pamela McGee, was a WNBA star for the Los Angeles Sparks and Sacramento Monarchs and a USC standout.
JaVale is the first son of a WNBA player to play in the NBA ever. His sister, Imani Boyette, too plays in the WNBA for the Chicago Sky. Too much basketball in the genes, right?
But for the fans who have been wondering if he has a girlfriend in his life, he has not revealed anything as of yet which indicates that he might not be willing to disclose anything about his love life or there are prospects of him enjoying a single life.
So let us hope he comes forth and reveals anything about the romantic aspect of his life in the days to come.
Also, did you know, his Warriors teammate and basketball heavyweight, Kevin Durant, was once in a relationship with Monica Wright before breaking up?
Well, now you do!