Sports
News Has It That Jimmy Rollins Not Make Into Giants' Roster; Will Affect On His Contract?
The San Francisco Giants of Major League Baseball (MLB) have informed veteran infielder Jimmy Rollins that he won't make the team out of spring training and are waiting to hear back from him or his representatives about what Jimmy's options might be next. So what's the news behind it? We'll follow it up!
Goodbye to Giants!
Jimmy Rollins, the 2007 National League MVP, wasn't at AT&T Park on 30th March 2017 night for an exhibition game against the Oakland Athletics. Now San Francisco Giants general manager Bobby Evans said that he has spoken to Jimmy Rollins about his status with the club.
Jimmy signed a minor league deal in December of 2016 and was a long shot to make the 25-man roster. Manager Bruce Bochy said to reporters earlier this week:
"We've talked to Jimmy, and he knows the scenario and the situation. We're just waiting to hear back from him."
Rollins, now 38, grew up in the Bay Area and hoped to play for his home team for the first time in 17 seasons in the major's league. He was batting .119 (5-for-42) with eight strikeouts in 17 Cactus League games.
Rollins showed that he could still play shortstop and looked better at second base than even many have been predicted. He made virtually no hard contact during the spring games and had only three hits until he hit two doubles against the Reds on 27th March 2017.
All the signs pointed toward fellow spring invitee Aaron Hill for getting the job for which both players competed. Hill was headed for the team's top flight, which is significant because he survived a deadline on 27th March to be cut or paid a $100,000 retention bonus for agreeing not to opt out of his minor-league contract.
If Aaron Hill were not going to make the team, he and the Giants probably would have parted ways ahead of that deadline.

Caption: overall career stats of Rollins.
Photo Credit: mlb.com
Most importantly, Hill did not have a great spring offensively, either, but he showed flashes of his gap power and proved himself adept at third, short and second, as well as showed he could play left the field if needed.
Earlier in 2014, Rollins was traded to the Los Angeles Dodgers in exchange for minor league pitchers Tom Windle and Zach Eflin.
Married and has a Daughter!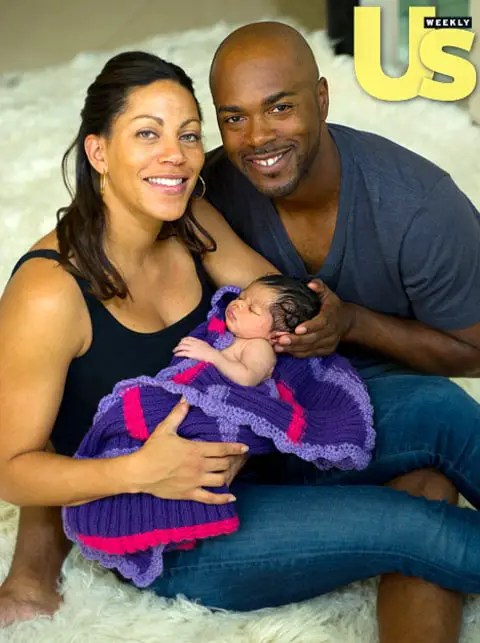 Caption: Jimmy Rollins along with his wife and daughter, Camryn Drew.
Photo Credit: usweekly.com
Jimmy Rollins married Johari Smith in 2010. Jimmy's wife, Johari Smith Rollins gave birth to a baby girl on May 22, 2014. Jimmy Rollins signed a year contract worth $1,000,000 with the San Francisco Giants, including $1,000,000 guaranteed as well as an annual average salary of $1,000,000.