Sports
Nick Fairley: The NFL Star Whose Stats and Career Justify Net Worth and Contract
Watching sports live or on TV is nervewracking but still fun, and behind such game lies the hard work of the sportsperson. 
Being a sportsperson might seem to very pleasant for the salary they earn out of playing; however, there is no denying that the pressure that those players undertake just to entertain their viewers, is praiseworthy.
Moreover, Nick Fairley, the NFL start knows the drill, as his successful career-stats supports the contract he makes and the net worth he enjoys.
Let's have a look at his career to date, as a whole!
Nick Fairley's Career at a Glance:
Nick, an American professional football player, started his career as a two-way lineman for the 'Williamson High School's' football team. 
Later in 2007, Nick played for 'Copiah-Lincoln Community College,' where he was redshirted during his first year with the team. In 2008 he was able to record 83 tackles and seven sacks. 
After that Fairley transferred to 'Auburn University,' where he played football for the remaining two years of his time in college. The year 2010 was indeed a productive year for Nick as he bagged 'Lombardi Award' and 'SEC Defensive Player of the Year.'
Furthermore, Fairley's professional career started during the 2011 NFL Draft, where he got chosen, as the first round-13th overall pick by the Detroit Lions. 
At Detroit, he recorded 5.5 sacks, 2 forced fumbles, and 26 tackles in his second seasons. Moreover, on March 13, 2015, he signed a one-year contract with the 'St. Louis Rams.'
Caption: Nick Fairley's 2016's highlights. (Published on Apr 27, 2017 )
After playing for St. Louis Rams, Nick then got associated with New Orleans Saints signing a four-year contract worth $28,000,000, starting from 2017. 
The contract included an average annual salary of $7,000,000 and $8,000,000 as a signing bonus. With such a massive contract in hand, Nick has garnered an impressive net worth of 9 million. Well, looking at his career stats, Nick deserves the money that he gets paid!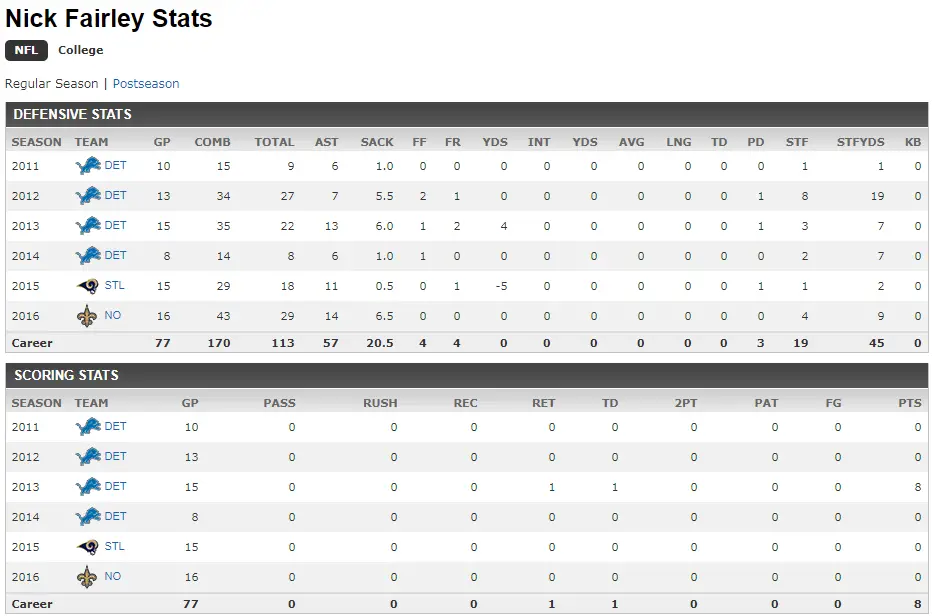 Caption: Nick Fairley's professional career stats by far.
Photo Credit: Espn
But, despite having a successful career, Nick had been prone to Knee, bicep and shoulder injury often. Also, in June 2017, Nick was ruled out from playing as he, unfortunately, got diagnosed with a heart condition. 
Fairley at the initiation of his professional career was already determined to have an 'enlarged heart;' however, the test held on 2017 raised further concerns. 
The first doctor that Nick visited told him to stop continuing his football career, but the second doctor's opinion was a little different, as per the reports.
Nick's career now seems to be in Jeopardy.