Sports
Nick Foles Likely To Run Out From His Contract; Set To Return To Eagles Soon?
Nick Foles might be returning to home soon as he prepares to serve his one-year contract with Kansas City Chiefs. But what has pleased Eagles fans is speculations of Foles returning to his boyhood club where he started his professional career, Philadelphia Eagles. But the biggest question, is he ever returning?
Contact set to finish in 2017?
Chiefs likely to pass on QB Nick Foles' option for 2017, making him a free agent-to-be, sources say. Was due $6.4m (not the reported $10.4m)

— Mike Garafolo (@MikeGarafolo) February 15, 2017
It is reported that The Kansas City Chiefs will be searching for a new quarterback in 2017, in a backup role as it is rumored that the Chiefs will likely release veteran quarterback Nick Foles before the new league year as per Mike Garafolo.
Veteran quarterback Nick Foles signed a surprising one-year deal with the Kansas City Chiefs before the 2017 season when it was clear that coach John Dorsey wasn't comfortable experimenting with unproven youngsters behind Alex Smith.
Players like Tyler Bray, Kevin Hogan as well as Aaron Murray were all competing for the backup role but none failed to grab the reins and seal the spot, so to speak, and only Tyler Bray remains on the roster in any capacity.
Originally, Nick Foles signed with an option for 2017 contract that comes with a $10M and cap hit that sent signals immediately that Nick Foles was simply a one-year stop gap.
Signing for eagles?
Interesting, it turns out that the Eagles may be in need of a new backup quarterback this offseason in 2017. Eagle's quarterback Chase Daniel is reportedly drawing interest from various teams on the trade market.
Philadelphia Eagles value him as a mentor to rookie Carson Wentz, and there's no doubt that they also appreciate the $6 million they can save in bank by trading him. Getting some draft pick in return would be the cherry on top of the cake for eagles.
If Daniel is gone from the team, there's a real possibility that Foles could be the right choice to replace him. Foles will likely be a free agent in 2017 when the new league year begins next week in March.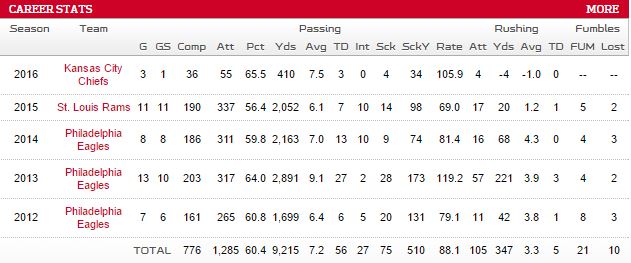 Caption: Playing career stats of Nick Foles as of 2017 season.
Photo credit: nfl.com
He has pretty good scores in fantasy league football in-game weeks eight and nine as he didn't start rest of the games in the season. According to the website dailyupperdecker.com, Nick Foles was known as "Big dick Nick" during his college career at the University of Arizona.
Nick Foles signed a year contract worth $1,750,000 with the Kansas City Chiefs in 2016 including an average annual salary of $1,750,000.