Sports
Phil Jones-The Man With Many Faces Celebrates Europa League After Successful Injury Comeback
Phil Jones, the big English defender who has made quite the name for himself by making funny and weird faces on the field. But regardless of his face, he is now enjoying the win of the only trophy Manchester United cabinet was missing.
So let us address how the team and big Phil celebrated the win and what was the road like for Phil to dream of winning the trophy for his team, who is immortal in the football history.
We also address some of his injury setbacks and shed more light on his family life as well.
Celebrating The UEFA Europa League Win!
Goals from Henrikh Mkhitaryan and Paul Pogba helped Manchester United secure a two-goal victory over Dutch giants Ajax to capture the Europa League trophy. The very trophy was the only thing Manchester United had not tasted, and the win was so important for them as they failed to capture the premier league trophy.
Caption: Manchester United Europa League Triumph: Dressing Room Celebrations(Published on May 24, 2017)
Thus, the players and the management were sure to celebrate it in a big way, and some celebrated it their way. Likewise, Phil went to his local chippy in Cheshire to celebrate the glory.
Phil visited Fosters Fish and Chip shop located in Alderley Edge, as the team secured a Champions League spot. Meanwhile, Jones has some big games ahead of him versus Scotland and France next month.
Jones' Face, Injury, And Career In Brief!
Jones has always been someone who has made people laugh at him because of the faces he makes. His most famous and hilarious face came when he put in a slip-swim-head-tackle against Arsenal. Moreover, his other faces show that not only is he versatile in not letting opponents score against them, he also is versatile in making the faces which make the fans and the viewers chuckle.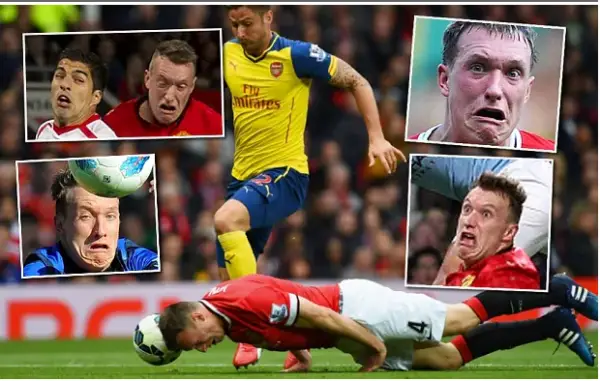 Caption: The Many Faces Of Phil Jones.
Photo Credit: telegraph.co.uk
Caption: Phil Jones' versatility in making faces Published on Apr 24, 2013.
But regardless of his face, it shall be safe to say that Jones is a precious defender and he has proven it time and again. His stats also show how good he is in not letting opponents score against his team.
Jones played for Blackburn Rovers from 2002-2011, before moving to the Red Devils in 2011. Having played pivotal roles of success Blackburn Rovers and Manchester United have achieved thus far, he boasts some impressive stats.

Caption: Phil Jones' Career Stats.
Photo Credit: espn.com
But like every other player, he too has faced some injury woes. He famously was injured on 21 December 2011, when he suffered a fatal facial injury in an away match versus Fulham. Moreover, his injury this season led him to skip participation in the Europa League semis and finals despite being present in training before the club's match with Celta Vigo.
However, he is someone who is strong both on the outside and inside and thus, he is sure to make the most of the injury lay off and come back even stronger.
However, rumors have circulated that he might not have a long run career as a Man U player. Back in 2015, he signed a contract with a lucrative salary with Manchester United which is supposed to keep him with the red devils till 2019. But rumors are circulating that he might not have a long future ahead of him under Jose Mourinho.
So let us watch and see what the future holds for the man who has been nothing but gold dust for every team he has represented!
Phil Jones' Love Life.
Jones has been dating his girlfriend Kaya Hall for more than a couple of years now. He and his girlfriend both have been open about their romance in social media.
Moreover, Phil was famously spotted enjoying coffee with Kaya after his team's win at Anfield. But the media found a new way to become happy for the couple when Kaya declared on Twitter about the couple's plans of getting married and sharing a husband-wife relationship.
Christmas Eve Service at the Church we're getting married at...???????????????

— Kaya Hall (@KayaStar_) December 24, 2016
No dates were revealed by the pair which is why we might need to wait and see if the couple reveals anything soon.
Regardless, we would like to wish them the very best for their marriage in the near or far future!