Sports
Posting Photo With Girlfriend, NBA's Miles Plumlee Shocked Fans in 2013: Dating Ariana For 2 Months?
In the arena of the basketball sports, Miles Plumlee is not a new name. This NBA athlete has an entire family soaked with the passion for basketball. He has left significant marks in the field of sport. Making the NBA debut on November 5, 2012, this basketball star was formerly involved in various high school, college and club games as well.
The former Orlando Summer League player has also appeared remarkably for the Pacers and Ft. Wayne Mad Ants setting various records including astonishing play moves and scores. Playing for Milwaukee Bucks and Phoenix Suns, this NBA sportsman shocked the entire fans in 2013. How? We will soon get to that: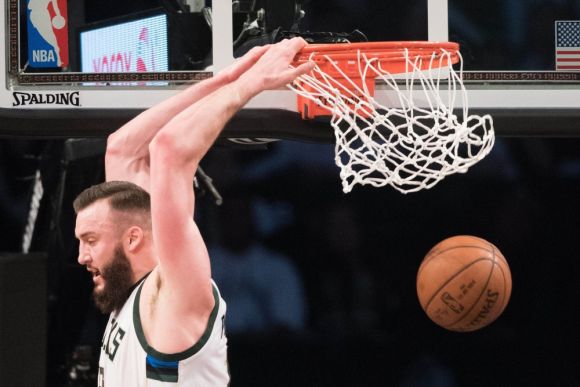 Caption: Miles Plum reverse dunk.
Source: thebiglead.com
Plumlee, in his 13-14 season (which was his second NBA season), appeared in 80 games (79 starts) and averaged 8.1 points, 7.8 rebounds, 0.5 assists, 0.6 steals and 1.1 blocks in 24.6 minutes. He has also posted several career high scores and rebounds. Some of his records include 10th double-double with 14 points and 13 rebounds at Philadelphia on Jan. 27.
Furthermore, he scored career-high 22 points with 13 rebounds for eighth double-double vs. Philly on Dec. 28. He also had career-high five blocks (four in the final six minutes of the game). In 14 games last season, he totaled 55 minutes, 13 points and 22 rebounds. Furthermore, in his Suns debut and first start vs. Portland on Oct. 30, he surpassed his previous career total for points in the second quarter. Wasn't his season amazing?
Caption: Michael Plumplee 2013-2014 Highlights reel.
Lackluster performance leads to Trade
Plumlee's performance in the 2015-2016 cannot be described as anything but disappointing. He was signed in by the Milwaukee Bucks for a 4-year contract of $50 million. However, He had a lackluster performance at the start of the year and was eventually replaced from the starting lineup by Thon Maker retaining a permanent position on the bench. Since then it has been all downhill for him. He even went on to gain the infamous 0-0-0-0 score in the game against New Orleans Pelicans in November 2016.
In just 9.7 minutes per game, Plumlee was averaging 2.6 points, 1.7 rebounds, 0.3 steals, and 0.3 blocks. The poor player barely got any time on the court considering he was competing alongside John Henson and Greg Monroe for minutes on the court. Originally signed over to help Giannis Antetokounmpo and Jabari Parker to lead the team, Plumlee barely got to fulfill his purpose, eventually leading to his trade to the Charlotte Hornets.
Reportedly he was brought over the Hornets to fill the same purpose as on the Bucks but with Kemba Walker and Nicolas Batum instead.
Plumlee has been a target of CHA for a while & they wanted to bring him in this past summer before he re-upped in MIL. Couldn't match $ then

— Keith Smith (@KeithSmithNBA) February 2, 2017
Girlfriend and Dating History:
Miles is said to be dating a girl since two months. Based on his posts in social media, he has been dating 26-year-old Ariana Gironde. They were seen together a couple of times by social media.
Caption: Pictures of Ariana and Plumlee both posted on each other's Instagram with some sweet words
His Salary and Net worth:
It is obvious that all the fans and concerned ones would like to know the net worth of their desired celebrity. And Miles is desired by many. How much does he earn? What's his net worth? Let's move on to that!
Having signed the contract of $8.5 million USD from 2014-2017 with Phoenix Suns and the $50 Million contract with Milwaukee Bucks and is currently on a one-year, $5 million contract with the Hornets. Sources suggest that Miles' market value is $18 million. His yearly salary is about $1Million, and his Net Worth is about $5 Million.
Hopefully, this value will increase over time and his career with the Hornets goes better!