Sports
Reliving the Moments Before Retirement: WNBA's Swin Cash, Married in 2015 with Longtime Boyfriend. Husband?
Having tied the nuptial knot recently in 2015, the name Swin Cash has been featuring in the headlines yet again. It is about the devastating news regarding the end of a glorious career and legacy this nice woman basketball player has built over the years.
Having tied the nuptial knot recently in 2015, the name Swin Cash has been featuring in the headlines yet again. It is about the devastating news regarding the end of a glorious career and legacy this nice woman basketball player has built over the years.
The forward with WNBA side the New York Liberty and US national team announced her plans to retire following the 2016 season via The Player's Tribune on June 7,
"Basketball has allowed me to live a life that I am fiercely proud of. And it has taken me to this moment- the beginning of my 15th and final season in the WNBA."

- Swin Cash

The thirty-six-year-old veteran has come a long way from suburbs of McKeesport to a prestigious berth in WNBA fraternity.
Take a ride with us as we recall this stellar career of Swin Cash.
Evolution of a Star
Swin credits her basketball attributes to her inspirational mother Cynthia Cash-Smith, who happen to be a leftie basketball standout at their standard McKeesport High School. The tender Cash embraced everything she could get her hands on ranging from track and cheerleading to drama and plays. But she was destined to flourish with basketball as she excelled in the WBCA High School All-America game with MVP performance.
The WBCA All-American would keep her momentum going at college with the University of Connecticut. Her four productive years at Connecticut earned her another All- American place when she helped them win two NCCA Women's Division I Basketball Championship, including the undefeated 2002 season.
The Detroit Shock became her first professional side following the second overall pick in the 2002 Draft. Her arrival shapes the escalation of Detroit as they will go on to win their first WNBA Championship title in 2003. Before her relationship with head coach Bill Laimbeer poured in 2008, the club had already added another WNBA title to their tally. With the new club, Seattle Storm, she put on another impressive performance to win the 2010 title. She spent her 2012-13 season with the Chicago Sky before moving to her current club New York Liberty in 2014. Aside from her brief stints at SGAU Samara, ZVVZ USK Prague, and Atlanta Dream, she has also featured as a studio analyst on ESPN and MSG Networks, and commentator for NBC.
Her performance with the USA National squad has seen no turning back since being invited to the training camp since fall of 2009. The two-time Olympic gold medalist also has a FIBA World Championship.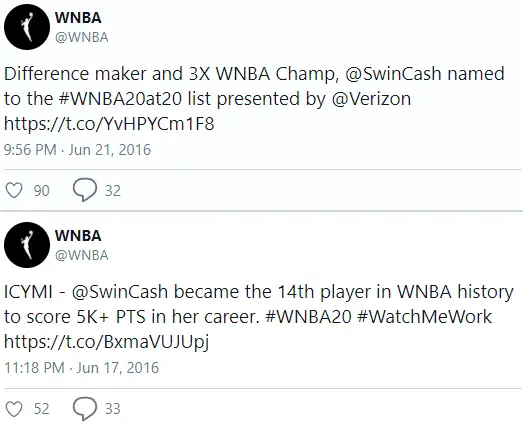 Battling cancer, Nude photoshoot and she say on stereotypes
The Dapper Dan Sportswoman of the year 2007 has to undergo through her share of injuries as well. A herniated disc was one problem she encountered during her title-winning season with Detroit in 2006.
However, she had to come across the biggest nightmare when MRI scan showed a cancerous tumor in the kidney. That still was too little to hinder her basketball determination as she kept on marching. With a couple of surgeries, dieting and a pretty big deal of basketball, she was back again at her finest.
Swin's gorgeous body has been featured nude in ESPN: The Magazine's body issue as well and she is happy with breaking the stereotype. In an interview with Bradley, she mentioned she did it with utmost support from her mother and the then fiancee.
Caption: Swin is seen posing nude for ESPN
Source: ytmig.com
In the same interview, she also talked about stereotypes in WNBA regarding sexuality.
"I think there are stereotypes in the WNBA—but I think that we've done a good job saying, "Hey, it doesn't matter what your sexuality may be—we're about diversity and inclusion and playing sports." All women should have an opportunity to play and not be judged by their sexuality or the color of their skin and so forth."
Her on-court career is nearing, but meanwhile, she will also be trying to make her final season count. She has also promised to continue contributing the basketball world even after this phase.
"While my playing career will soon be coming to an end, I will never be able to completely walk away. I care so much about whether the league will be around for another 20 years – and more. We had to fight to get where we are. We had to fight apathy," The Curtain Call on the Players' Tribune expresses her.
When "the Queen of the court" found her King!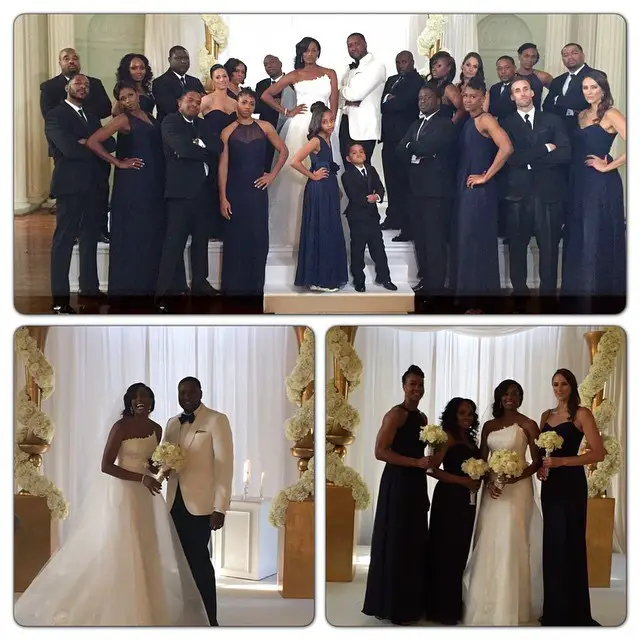 Caption: the photographs from marriage which includes the big names of WNBA as well
Source: embed.ly
On May 3, 2015, Atlanta saw a marital ceremony attended by some greatest names of basketball including Sue Bird, Tamika Catchings, and President Laurel J. Ritchie. It was this very occasion when Swin married her longtime boyfriend, Steve Canal.
Her husband is an executive stationed at New York and was previously a Fordham basketball player as well.
Other Works
Also as a noted philanthropist, Cash is seen sweating with her charity foundation Cash for Kids that emphasizes on training the children to be fitness conscious. She is also an author of Humble Journey: More Precious than Gold, which dictates her tale.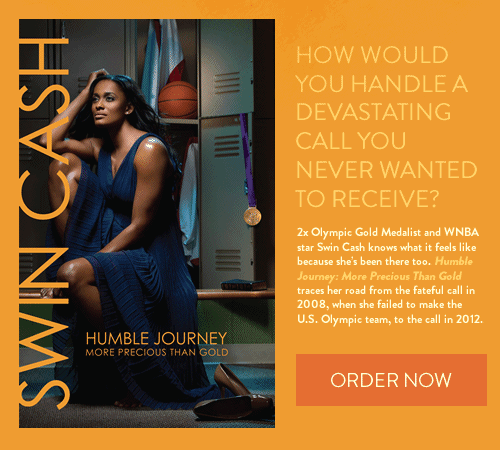 Caption: Swin Cash's Book Humble Journey that has hit the market
Source: liverampup.com (photo)
The entire world owes her a pretty big deal, and she will continue adding to it.