Sports
Ricky Hatton Career Record Reflects Fat Net Worth! Among Richest Boxers Now?
Former British boxer, Ricky Hatton is considered as one of the most successful players in the boxing history. Starting off as a cashier in his family's carpet business, Ricky went on to become a well-renowned figure in the super lightweight category. 
During his professional career, Ricky enjoyed some significant victories and also endured some heartbreaking defeats. But his fighting spirit has always been a dominating force. After initially retiring, he decided to come back to the arena, and his next fight will be an interesting one.
Let's take a detour around the glorious career of Ricky along with his losses and struggles.
Career Stats 
Ricky's career in boxing includes a record of more than 93.75% winning rate. His first big victory came when he fought with Kostya Tszyu for the title of Light Welterweight on 5 June 2005. Ricky won the match by technical knockout when the former Australian boxer failed to attend the bell in the 12th round.
In his 15 years career in boxing, Ricky won several titles including International Boxing Organization World Super Lightweight Title, World Boxing Association World Welterweight Title, International Boxing Federation World Super Lightweight Title, and more defeating numerous big shots like Paul Malignaggi, Jose Luis Castillo, Michael Stewart, Vince Phillips and so on. Ricky even earned a Member of the Order of the British Empire aka M.B.E. award the 2007 Queen's New Years Honors List for his contribution to boxing.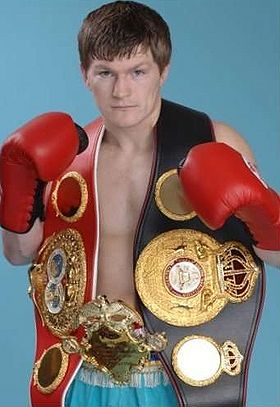 Ricky Hatton poses with his titles (Photo: BoxRec.com)
The Stockport native remained undefeated for 43 matches before finally losing to Floyd Mayweather Jr. on 12 August 2007. Later in 2009, he suffered a loss against  Manny Pacquiao in one of his most anticipated matches. Ricky became inactive in boxing after the defeat but attempted to comeback against Vyacheslav Senchenko on 
14 September 2012, which he lost miserably.
After his defeat to Vyacheslav, Ricky announced his retirement from the sport. He mentioned that he had retired as he no longer had the fighting spirit in him. He said, 
"I needed one more fight to see if I had still got it, and I haven't. A fighter knows and I know it isn't there anymore. It's too many hard fights, I've burned the candle at both ends, I've put my body through the mire in and out of the ring but it doesn't matter how hard I train, I couldn't have done any better."
The  5' 6" (1.68 m) tall boxer further mentioned that he had no regrets about his decision to retire from boxing. With his exit, Ricky left the sport with a total of 45 wins against three losses.
Further, Ricky also fought in WWE against Chavo Guerrero in a Boxer Vs. Wrestler match held in November 2009. The game ended with Ricky defeating the former wrestler. 
Though he retired from boxing in 2012, the 39-year-old former boxer still enjoys the fruits of his hard works from the past. Ricky has accumulated a net worth of $40 million with earnings of more than £300 million during his decade and half years long career. In 2015, he spent £5 million to build houses for students to rent. Further, he also invested £30 million in 2017 to create a commercial complex in Leicester City. 
Struggle With Fatness And Depression
Like every other individual, Ricky also had his high and low points. After his loss against Manny in 2009, Ricky went through some tough times and even gained pounds. His weight increased from ten stone (140 pounds) to 14 stone (196 pounds) and was even mocked as Ricky "Fatton" for his growing weight.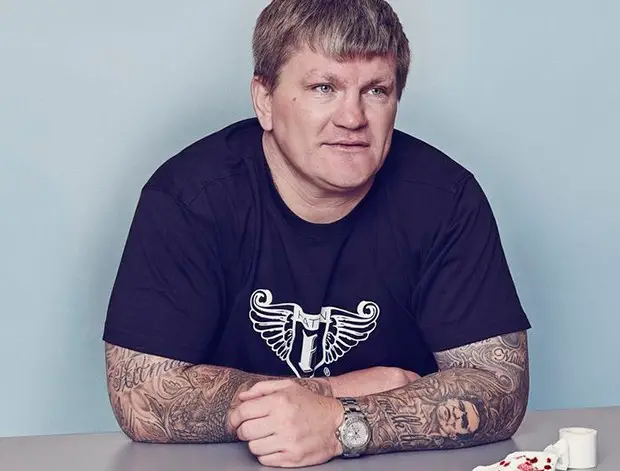 A fat Ricky Hatton appears in an interview (Photo: Men'sHealth.com)
However, for his fight against Vyacheslav Senchenko, Ricky worked hard to get back in shape and even became successful in doing so.
Similarly, Ricky also struggled with depression in the past. He revealed in a 2017 interview that after he lost to Mayweather, he combatted some serious depression problems and even contemplated suicide. He said in the interview,
"I used to go to the pub, come back, take the knife out and sit there in the dark crying hysterically."
He began taking alcohol and drugs to battle his depression, but it wasn't effective. Later, he brought his life together and faced his problems like a winner.
Coming Out Of Retirement
Back in November 2017, Ricky declared his will to come out of retirement and face Rio Ferdinand in a men's single. However, not much has been revealed about the date and venue of the upcoming match. 
As of now, The Hitman may not be a hot topic in the boxing field, but he made headlines after he attempted to fight a bull. In June 2018, a drunk Ricky was spotted at a nightclub trying to balance a mechanical bull. However, eyewitnesses claimed that he was way too drunk to remain balanced for a long time and got knocked out after a mere eight seconds.