Sports
Sam Burgess Married Girlfriend Phoebe Hooke in December 2015
The year 2015 ended quite well for our rugby star Sam Burgess. He had two great months at the end of 2015. On November, he announced his return to South Sydney following a massive contract of 1.5 million and the next month in December; he got married. Let's find more about marriage.
Sam Burgess' Wedding: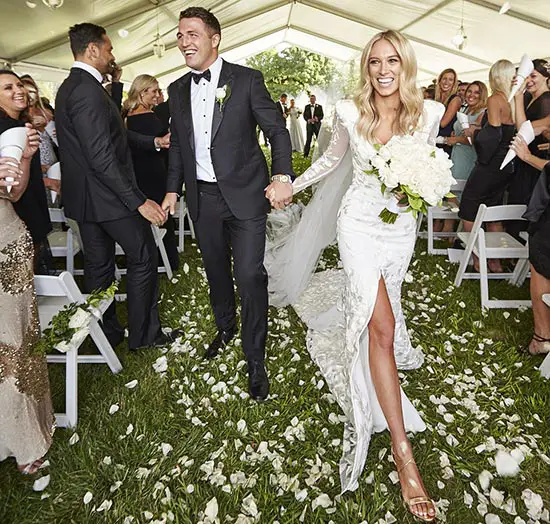 Caption: Sam Burgess with wife Phoebe Burgess (née Hooke)
Source: dailymail.co.uk
Our professional rugby player is a married man now and he is now husband to longtime girlfriend Phoebe Hooke (now Phoebe Burgess) who is a freelance writer. The couple got married on December 28, 2015, at her parent's rural property in Bowral, in the New South Whales Southern Highlands.
About 200 guests were present at their wedding ceremony to witness Sam's and Phoebe's day. To make her wedding unique, Phoebe wore a custom-made Alex Perry gown which showed her alluring body whereas, on the other hand, Sam was looking handsome than ever in his custom-made Giorgio Armani suits and so were his groomsmen.
Phoebe flaunts custom-made Alex Perry gown.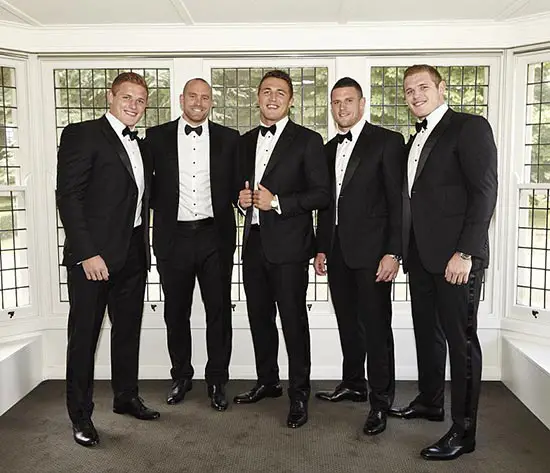 Caption: Sam Burgess alongside his groomsmen in custom-made Giorgio Armani suits
Source: dailymail.co.uk
Sam Burgess and Phoebe Hooke met each other in 2014 at an Avicii concert in Sydney and began dating after some time. For long eight months, the couples were off radar about their relationship to the media until they showed up together for the first time at the Dally M's. According to Phoebe's bio, she moved to the UK with Sam Burgess in November of 2014; however, they moved back to Australia just some month before their wedding.
Shortly after the wedding, the couple went on their honeymoon in Maldives. Looking at the pictures they posted on their Instagram account, they sure had a wonderful time in Maldives.
Finest Champaign with the finest woman.
The couples are now addressed as husband and wife and are living their life prosperously. We are just waiting for them to announce that a junior Burgess is on the way. Till then best wishes to the couple.
Career and bio of Sam Burgess:
Highlights from some of the matches of Sam Burgess.
Sam Burges was born on 14 December 1988, in West Yorkshire, England. Sam along with his three brothers, grew in a rugby influenced family as he had a father who was rugby league footballer for Nottingham City, Rochdale Hornet and Hunslet who died on August 9, 2007, while battling motor neuron disease. Burgess started his career playing against Leeds in 2006.
His start was so successful that the club honored him with Senior Academy Player of the Year Award.
With his return to South Sydney Rabbitohs with a three-year contract of 1.5 million per season has Sam to the point of making him the highest paid player in the NRL by some majority.