Sports
Record Holder Saul Alvarez With Badass Net Worth! Training Reflects Career Success
In any field, success comes to those who work hard. Numerous stories about a small town kid turning into a celebrity with hard work and dedication towards their passion are out in the media.
Canelo Saul Alvarez, a Mexican professional boxer, is also one of those public figures who share the same scenario as he transitioned from a wannabe boxer to current pay per view professional.
With his undoubted natural talent and determination to succeed, Canelo is considered as one of the best Pounds for Pound fighter currently.
If, you want to get close with the struggle and accomplishments of Canelo, Join in the preface below!
Canelo Saul Alvarez's Boxing Career
Canelo Saul Alvarez was born as the youngest son in a low-income family in a small town in Jalisco, Mexico on 18th July 1990. At the tender age of 15, Canelo turned into a professional boxer via hardcore training. 
Canelo, who has a record of 49 wins and just one loss, is considered to be one of the best fighters in the world at the moment. Canelo's winning record speaks the volume of talent he has got. The only loss he encountered was against Floyd Mayweather Junior, who retired with no losses in his 50 professional fights.
During his boxing period, Canelo had two reigns: one as a light middleweight world champion holding the WBA (Unified), WBC, and Ring titles between 2011 and 2013, and the other as a WBO title from 2016 to 2017.
At middleweight, Canelo also held the WBC and lineal titles between 2015 and 2017. He has fought 52 professional bouts to date altogether.
Canelo Alvarez's last bout was on 16th September 2017, where he faced Gennady Gennadyevich Golovkin aka Triple G for the WBA, WBF, IBF and IBO middleweight titles.
The match controversially marked a draw even though most of the observer pronounced Triple G as the winner.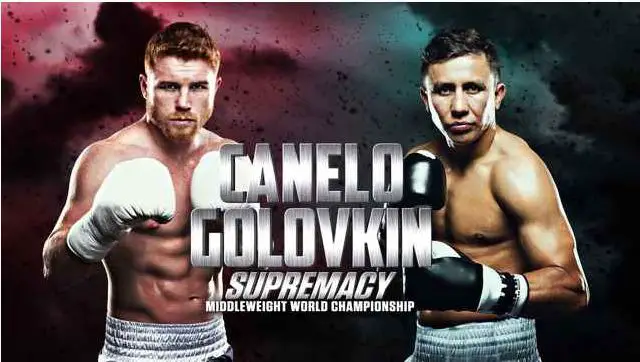 Canelo Alvarez VS Triple G fight poster (Photo: Forbes)
To clear up the controversy on who the winner is, the pair decided for a rematch which was scheduled for 5th May 2018.
Canelo was seen training donning a high altitude mask so that he could regain his peak fitness for his next fight with Triple G. His training shows the hard yards a boxer has to put in the bout. 
Though Canelo was preparing, the rematch had been put into doubts as Canelo failed the doping test after a high level of banned drug clenbuterol was found in his body.  
Despite Canelo maintaining his innocence and accusing Mexican meat as the cause of his failed drug test, the highly anticipated rematch has now been canceled.
Canelo Alvarez's boxing success has earned him not only fame and superstardom but also a hefty amount of fortune. Canelo's last eight fights made a massive sum of three hundred and seventy-five million in pay per view figures alone.
And, that earning has reflected in his net worth which is currently estimated to be $25 million.
Canelo Saul Alvarez's Love-life
Canelo has a history of dating with high profile women, and this has led to him being labeled a playboy off the ring. Canelo reportedly dated former miss Mexico Marisol Gonzalez from 2003.The couple was engaged and even had a daughter before splitting in 2011.
After the separation with Gonzalez, Canelo got linked with Kate del Castillo, who later denied the relationship accusing Canelo to have change girlfriends as gloves.
In 2017, Sun reportedly linked Canelo with a mysterious woman named Fernanda Gomez after she timely got spotted in Canelo's fights. However, the news faded away after Canelo confirmed dating model Shannon de Lima, former wife of musician Marc Anthony.
The pair can be spotted together at several events and even shared the kiss in front of the media once.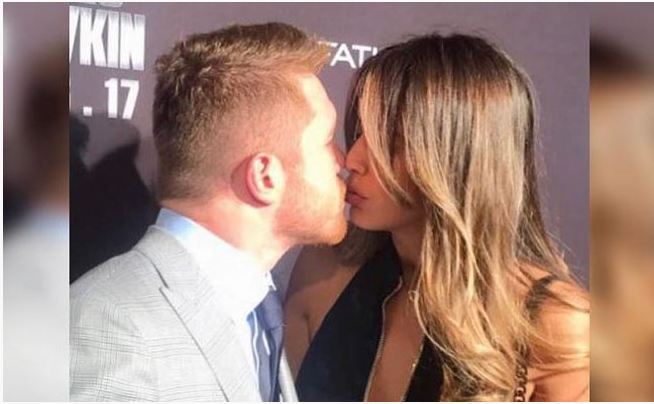 Canelo Alvarez and Shanon de Lima kissing during a public appearance (Photo: Pinterest) 
As for now, it seems like Canelo has found his perfect match but only time can say if the couple is together for real or for only some time. Hopefully, it lasts this time!